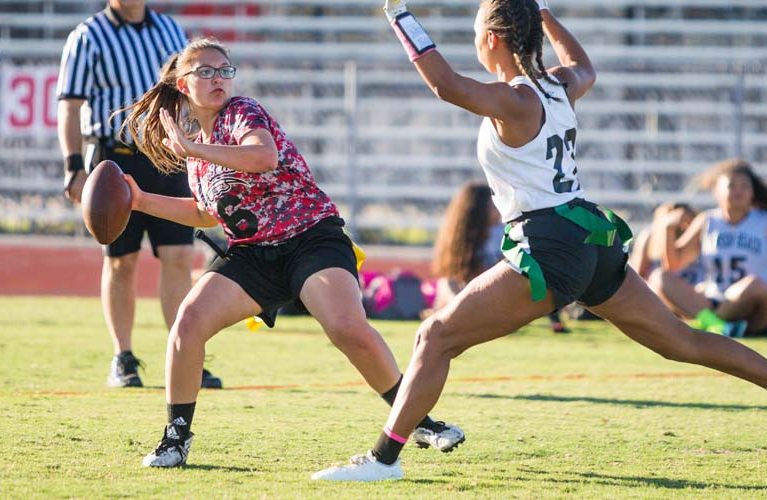 The season ended last week for the Vero Beach High flag football team with a 6-0 loss to Fort Pierce Central in the District 4-2A championship game. Defenses ruled the tournament as Vero had beaten Martin County, 6-0, in the semis, and Central handled Treasure Coast, 7-0.
For head coach Mickey Groody, this was his swan song with VBHS flag football. He will finish his six-year tenure at the school this spring and take over as athletic director and head coach of the varsity football team at John Carroll. He has recently been pulling double duty at both schools and handling the time-consuming complexities in genuine stand-up fashion.
"I've always had aspirations to be the head coach of my own football program," Groody said. "(AD and varsity football coach) Lenny (Jankowski) is obviously going to be here for a while. He has helped groom me toward being a head coach. I coached the freshman football team for the past four years and I've taken on more responsibilities over that time to prep myself for this move.
"I've always had my eye on John Carroll. I went to St. Thomas Aquinas High School in Fort Lauderdale, so I'm familiar and comfortable with the Catholic high school setting. So that's pretty exciting, and the fact that I will be the coach and athletic director just makes it a true dream job.
"The transition is definitely unique. Normally when you take this type of job you give two weeks notice and you'll be at your new position full time. Luckily for me the AD at John Carroll is staying until July, which is when I will take over that position. I've already taken over football responsibilities at John Carroll and I'm going to teach here at Vero until the end of the school year."
All of this produced a hectic schedule for Groody during the flag football season. He is a math teacher in the morning before making the short trip to Fort Pierce to oversee spring football workouts and practices later in the day. Before the season ended in the district title game, his early afternoon in between was devoted to the girls practicing and playing flag football. He was not about to give up the sport he coached from start to finish at VBHS.
"A lot of people asked me if I was going to stop coaching flag football right away," Groody told us. "I've coached this team for six years and I try to be a man of my word as much as I can. These girls have done everything that I've asked them to do. It wouldn't have felt right to just give that up.
"I told them exactly that as soon as it went public that I had the job at John Carroll. I made sure they knew that I would be there with them until the end. I was in it just as much as they were."
The Fighting Indians lost twice to FPC and finished 7-3. Left behind is an established program that should remain competitive in a tough district.
"It wasn't a year full of the best athletes that I've ever had," Groody said. "But the girls came to work every day ready to learn. They listened to what the coaches preached and implemented it in the games, and it really showed."
Dual sports athletes Madzi Rhodes (soccer) and Catie Jacobs (volleyball) were one-two in receptions, touchdowns and interceptions. Center Addie Teske was flawless on snaps and snuck past the line of scrimmage often enough to be third in receptions.
Groody lauded first year starter Irelynd Kane at quarterback. She passed for 1,000 yards and 15 TDs. Further, Groody said, "she was able to read my mind and do everything on the field."
Standouts on defense were linebackers DaJah Farr, Alanna Liebman and Audra Teske. They led the team in flag pulls; Farr had 10 in the playoffs and totaled 44 during the season.
"So there's a lot going on at both schools right now," said Groody. "I love what I'm doing here, I love being here, and leaving is definitely a hard thing to do. But my wife and I thought it was great for us and our family to finally get my own program.
"On top of that, Lisa gave birth to our first child (McKenna Faith was born April 21). So we are getting all of the big changes out of the way, all in one month."