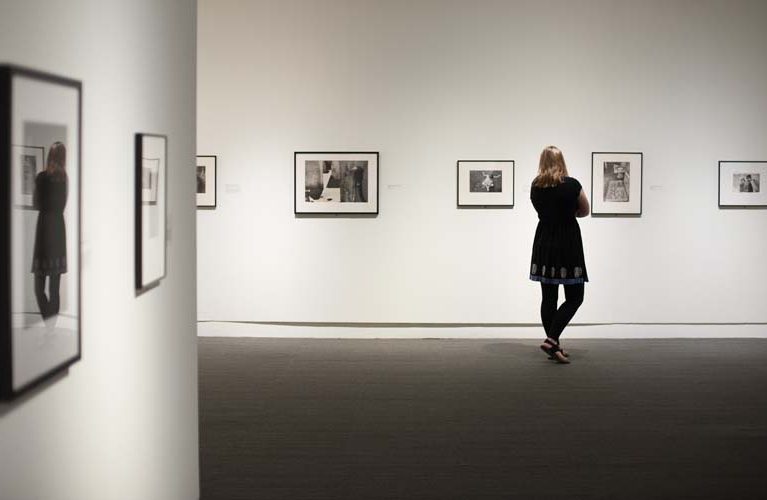 If you could time travel to an era in art history and meet its principle players, which one would it be?
From now through May 19, Florida Institute of Technology's Foosaner Museum of Art makes a good case for what it calls the golden age of French photography, from 1900 to 1940, with the show "French Twist: Masterworks of Photography." The lion's share of the 100 black-and-white photographs on display were taken of all things French: people, places and ideas.
The Gallic stars of photography are here: Eugène Atget, documenter of the medieval streets and structures of a rapidly modernizing Paris; prodigy Jacques-Henri Lartigue, whose photos of the wealthy at play were taken between his six and 16th birthdays; Henri Cartier Bresson, the father of the "decisive moment" in street photography; and Laure Albin Guillot, photographer of creative celebrities such as Jean Cocteau, whose 1934 portrait is included in this show.
For many foreigners, France means "Paris." In the early 20th century, Paris was the place to be for artists of every nationality who longed to be free of the social mores that fettered free expression back home. Also represented in this exhibition are photographers who found their voice in Paris: Hungarians Brassaï and André Kertész; German Ilse Bing, Austrian Lisette Model, Russian Dora Maar; and Americans Lee Miller (who was a fashion model in New York before she arrived in Paris) and Man Ray (born Emmanuel Radnitsky in South Philadelphia).
Of the latter artist, it could be argued that the supremely French movements of Dada and Surrealism would not have their cachet but for Man Ray's contributions. A friend and collaborator of both Marcel Duchamp and Francis Picabia, Man Ray's work was included in the first group exhibition of Surrealism in Paris in 1925, along with that of Hans Arp, Giorgio de Chirico, Max Ernst, Paul Klee, André Masson, Joan Miró, Pablo Picasso and Pierre Roy.
In the current show, stunning portraits of gorgeous females represent the milieu in which May Ray moved. Here are his lovers, the exotically maquillaged cabaret singer Kiki de Montparnasse in 1923, and fellow expat Lee Miller with a "friend," circa 1930. Another favorite model, Jacqueline Goddard, is shown in a 1930 portrait with her blond hair backlit and streaming from her face as though electrically charged. Also here is a famous image from Man Ray's "Erotique Voilée" series that reveals artist Meret Oppenheim wearing little more than printing ink smudges on her raised palm and forearm. Photographer Dora Maar is the subject of a May Ray portrait created in 1936, the year before she inspired Picasso to paint "Weeping Woman." At the Foosaner, Maar's own photographic works are hung not far from May Ray's.
Rounding out Man Ray's aid to the cause of French photography, the show displays examples of the photogram (or as Man Ray called them, rayograms) and a print from a solarized negative. In the former technique, objects are placed on photographically sensitized paper, exposed to light and chemically developed to create semi-abstract compositions. In the latter, a negative is said to be "solarized" when the dark and light areas of an image exposed onto film are partially reversed through re-exposure to light during development. The effect was rediscovered by Lee Miller, who accidently switched on a light while developing film in Man Ray's darkroom. Man Ray developed the technique for use in his own work. The show includes Man Ray's solarized self-portrait from 1932.
With its focus on early 20th century photography, "French Twist" is made to order for Florida Institute of Technology. For one, the pictures in the show are historical artifacts, printed by the artists themselves close to the time they were taken. Technologically speaking, these objects represent a period of time when tripod-mounted view cameras and box cameras with limited shutters speeds were supplanted by successively smaller and faster hand-held cameras. The Leica 35 mm camera was developed during this time, and became the camera of choice for documentary street photographers like Bing (known as "Queen of the Leica"), Brassaï, and Cartier-Bresson.
Technology did not create the idea of photography as an art form, but it did democratize it, put it within reach of young artists who, in an age of innovation, used the medium to expand the boundaries of art.
Another technological tie-in: The photos on display are from the extensive photographic collection of retired physicist Michael Mattis, and his spouse, linguist Judith "Judy" Hochberg. The couple began collecting in the early 1980s, when they were Ph.D. students at Stanford University. After graduating, Mattis was the Enrico Fermi fellow at the University of Chicago; from 1989 he was the J. Robert Oppenheimer fellow at Los Alamos National Laboratories, where he did research in particle theory. Hochberg worked there also, performing research on speech recognition and computer security. In 2000 the couple left science to pursue full-time careers as curators for their mushrooming collection.
History and technology, however, will take you only so far in the appreciation of "French Twist." The aesthetic beauty of the pictures on display and their intriguing, sometime challenging, subject matter is purely l'art pour l'art.
The show is divided into six overlapping categories: "The Life of the Street"; "Diversions"; "The Lower Classes"; "Paris at Night"; "Art for Art's Sake"; and "The Figure."
Brassaï's work, for example, is seen in "Diversions" with a dizzying view of performers resting against stage scenery at the Folies-Bergères; in "The Lower Classes" he is represented by two scowling street toughs who appear to be around 15 years old; "Paris at Night" comprises several of Brassaï's brothel scenes. Among them is a circa 1932 print that shows the foyer in one such maison where three nudes stand cheek to cheek before a customer. The tableau is familiar from comparable scenes by Degas and Lautrec.
Other astounding Brassai prints on display include 1932's "Madame Bijou in the Bar de la Lune, Montmartre" whose subject, Brassaï noted, was "an ageless woman" covered in jewelry: "a veritable Christmas tree of garlands, of glittering stars." Also on view is his 1933 nighttime "View of Paris" where we see the glittering city from the vantage of a gargoyle atop Notre Dame.
A fine grouping by Henri Cartier-Bresson includes a number of his most famous images, among them a decisive moment arrested in 1932. The place was the seaside town of "Hyères," where the arcing sweep of a stair case is echoed by a speeding bicyclist in the street below.
"French Twist" may be the last traveling exhibition of its quality that we will see at the Foosaner. In the wake of Florida Institute of Technology's administrative decision to eventually close the museum and sell its building, FIT President Dwayne McCay said that museum operations will be "economized" until July 2021 when, unless financial support is found, Melbourne's community museum will close forever.
"Over time, it's just become an untenable situation to continue to pour money (into the Foosaner) with very little outside support. We hope that the community will step up to preserve this community asset," he said.