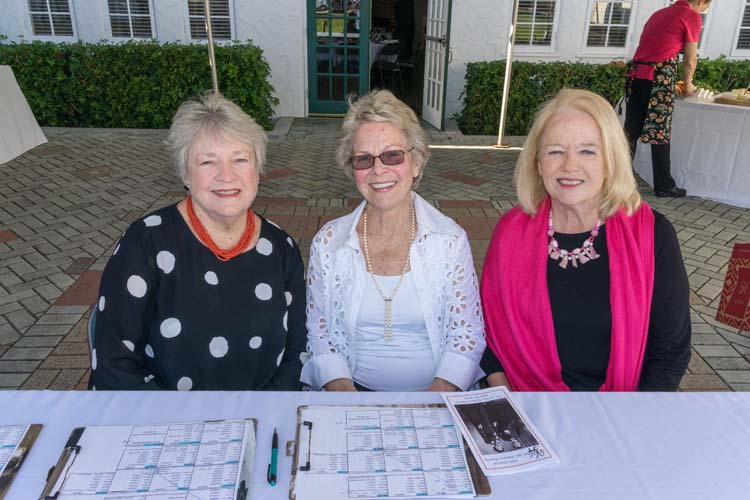 The 1923 Fordson tractor parked outside the Heritage Center last Saturday evening was a clear indication that something special was happening inside. Roughly 40 descendants of Dr. J.C. DuBose were joined by friends and longtime Vero Beach residents at the annual Pioneer Dinner to benefit Vero Heritage Inc., which manages the Heritage Center and adjacent Citrus Museum.
Guests were treated to a trip down memory lane featuring a museum-quality display of antique clocks, watches, eyeglasses, photos and other artifacts collected and preserved by six generations of the DuBose clan.
The DuBose family has Florida roots dating as far back as 1860, when Ezekiel Dossy DuBose and wife Cassie Ann Thompson, hoping to escape the Civil War, left their South Carolina home and took a six-week-long journey by wagon, children in tow, to settle in Worthington Springs, Florida. As fate would have it, their eldest son, James Isaiah DuBose, did serve in the Confederate army. After the war, he married Mahalie Frances Pinkston and they had 12 children. It was their fifth child, James Calvin DuBose, born in 1878, who would begin the Vero Beach DuBose legacy.
James Calvin, known simply as J.C., graduated from high school in 1898 and received his teaching certificate. After meeting his future wife Alice Eleanor Jones, who was also pursuing a teaching degree, they wed in 1899. J.C. took a teaching job at Pine Grove for $25 a month and worked side jobs as a carpenter and watchmaker. When his wife became gravely ill during childbirth, he became a Baptist preacher and moved his family to Fort Pierce in 1911.
"He was only preaching every two weeks, so he would travel from Fort Pierce to Sebastian, Wabasso and Quay to do ministry work," said great grandson Mike DuBose. "He'd travel by bicycle on sandy dirt roads, but he always said it was better than walking! To supplement his income, he did watch repair, carpentry and opened a quality used clothing store. He started the First Baptist Church in Vero in 1915, moved his family to Vero in 1917 and preached until 1922."
Because eyeglasses were then sold in jewelry stores, J.C. became an optometrist, opening his first store in the Seminole building in 1919 and passed down a legacy of entrepreneurship and community activism to subsequent generations.
"All six of my siblings worked in the family business into the '90s," said Mike DuBose, a fourth-generation jeweler. "We had seven stores at one time, but as the economy slowed and we got older, all retired but me. I'll continue for a bit, then let my son Todd carry on the tradition."
Amid the chatter and laughter, loving stories were shared about the enduring impact the DuBose family has had on the community.
"I got my 'Sweet 16' bracelet at DuBose Jewelers," said Chris Sexton.
"We got our wedding rings at DuBose in 1968," interjected Carole Jean Jordon. "And I'm wearing this bracelet my husband had made at DuBose on our third wedding anniversary."
It was obvious to all that the custom jewelry crafted by the DuBose family over the years has created lifetimes of lasting impressions.
Article by: Kerry Firth, Correspondent
Photos by: Gordon Radford
Click HERE to see more or buy photos