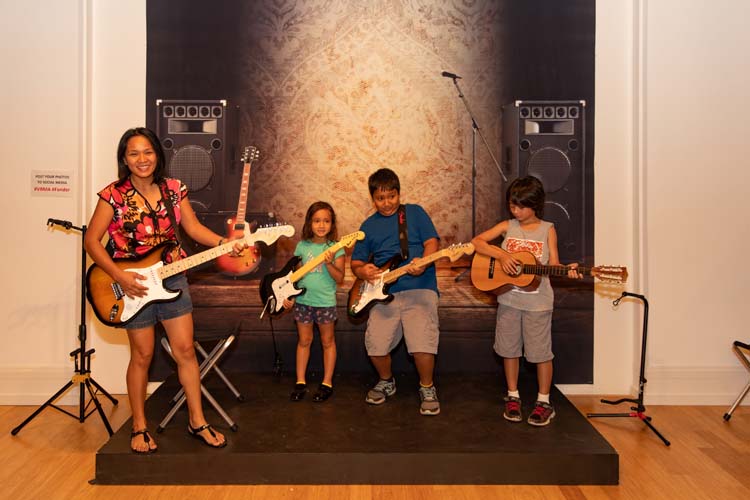 The Vero Beach Museum of Art was a beehive of activity last Saturday as little ones buzzed from one creative experience to the next at the 37th annual Children's Art Festival.
The inaugural 1981 festival served as a catalyst to elicit interest in the creation of a community museum and the annual event has since evolved into a spectacular sensory shindig that today attracts nearly 4,000 children and families.
Boys and girls moved happily from studio to studio dotted with creative badges of honor – paint-smeared cheeks from easel painting, inky fingers from printmaking, and fingernails showing bits of clay from sculpting pottery masterpieces.
As one youngster announced to no one in particular, "This is so awesome!"
Others were busy painting tiles or pouring paint on a giant guitar while sporting bandanas they had screen-printed themselves. Children enjoying the recently opened Art Zone – a multi-sensory, hands-on experience – jumped with glee as they watched their creations come to life in the Sketch Aquarium.
In addition to artwork on display in the 2018 Indian River County Juried Student Exhibition (through May 20), there were entertaining performances of music, dance, karate, singing, baton and theater.
"Art is so important for everyone, from age 2 to 100. You don't have to be wealthy to enjoy it; everybody can do it," said event chair Barb Dorvee. "You can take a cup of paint and pour it and actually make art."
The focus of the Children's Art Festival has always been to make the museum accessible to everyone.
"When you walk into a museum and see all these paintings it can be overwhelming, but these activities help everyone feel more comfortable," said Dorvee. "A lot of the people here today don't usually come to the museum. They don't have the wherewithal, so having a free family day allows everyone to experience art."
"We tried to spread the activities out and organize them in a way that people get to experience everything: making art, looking at art and seeing the performances," said Pamela Sommers, VBMA youth and family programs manager.
"I was trying to engage kids in looking at art and thinking creatively. A lot of the activities are very participatory and child-friendly for whole body learning. We have props and tools that children and families can use to look at art and view art and be participating in art."
Some of those tools were employed for people to enjoy the museum's current exhibits – Medieval to Metal: The Art & Evolution of the Guitar, through May 6; Paul Outerbridge: New Color Photographs from Mexico and California, 1948-1955, through June 3; and Shadow & Light: The Etchings of Martin Lewis, through May 13.
Photos by: Denise Ritchie
Click HERE to see more or buy photos