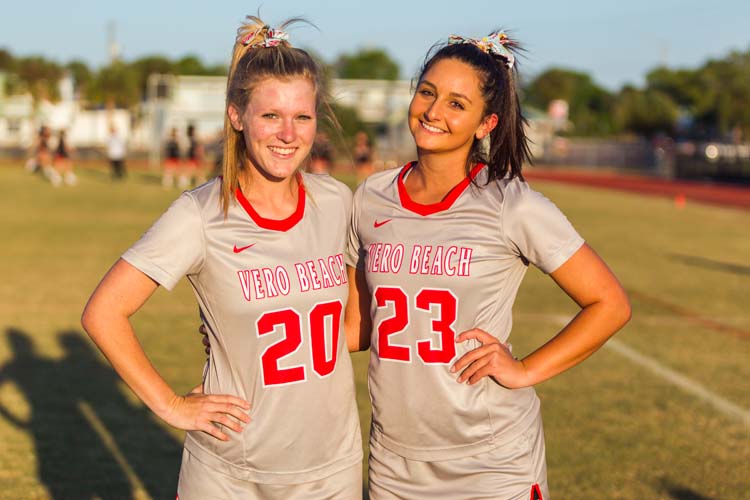 Last week the Vero Beach High girls lacrosse team captured another district championship – something they own outright and have never surrendered even once – this time taking a pair of matches by a combined score of 30-5. Sebastian River High was the next team up in the regional quarterfinals this week, and Vero was not expected to encounter stiff resistance in that one.
The real challenge from this point forward is to end the two-year drought that followed 10 straight state championships. The players know that head coach Shannon Dean routinely toughens the schedule with powerful out-of-state opponents in preparation for a title run, and the time has arrived to see if that pays off.
The 12 seniors on a roster of 22 were freshmen when the trophy was last presented. Experience has taught them that reputation means nothing.
"Coach calls it playoff mode," senior defender Kaylee Coleman told us. "Practices are more intense because we focus on specific defenses and specific attacks. He also incorporates a lot of new drills into practices. It's harder on us, but we are better prepared for the upper-level teams."
When VBHS lost in the round of eight a year ago, Coleman was on the shelf with a torn ACL. She rehabbed and was ready to go at full strength when the season began.
"I see us going pretty far," Coleman added. "Last year the team had a disappointing loss, but we are a lot stronger now, especially on defense. Another defender was also injured last year and we were missing half of our defense. So I definitely see us going deeper this year."
The name of the game is controlling the ball on offense and eventually blasting it into the net. One of the best at that is senior Gabby Sposato. She has been scoring consistently all season long and added six more goals in the district tournament.
"We want to play every game like it's the state championship," Sposato explained. "We can hold our own and I definitely think a state championship is realistic. We've grown, become closer as a team, and work really well together.
"We like the challenge of playing against tough teams with girls that are really good. But we are not aggressive about it. It just pushes us and lets us know what we really have to do. It makes us determined to win. It helps to be hungry."
Whatever the outcome, vying for state titles is not the only feature of this program. Most of the seniors have played lacrosse together from an early age. The coach has been a mentor extraordinaire for the entire time with the club team Stickbenders and at VBHS.
"Every person on this team is a wonderful young adult," Dean said. "It's been a pleasure for me to watch them grow from fifth- and sixth-graders to seniors in high school. Think about that, you've watched children grow from adolescence, to teenagers, and now they are young women.
"It's been an honor to be a part of their lives to this point – and to get them ready for the next chapter. … It's been fun."
With some decisions still pending, at least seven seniors will play lacrosse when that next chapter begins.
"(Former VBHS lacrosse player) Abby Shields was a senior when I was a freshman, and she went to Furman," Coleman said. "I went up there to visit her and felt at home when I walked on campus for the first time. I attended a clinic and was very happy when the coach wanted to recruit me.
"Furman is a great match. They have my major and it was academics before lacrosse that I was really interested in. I will be studying health sciences and want to become a physician's assistant. I want to go into sports therapy because my therapist had a big impact on me when I tore my ACL."
Sposato will combine academics with athletics at Babson College, a D3 business school near Boston. After playing lacrosse at such a high level for so long, she says her main focus will shift to the classroom.
Sposato expressed enormous appreciation for her longtime coach, telling us, "I really look up to him. He began coaching us at such a young age. We have all just grown super, super close to him. We are really comfortable around him, we trust him, and we can have fun with him. He knows a lot, but when he's serious, he pushes us hard."