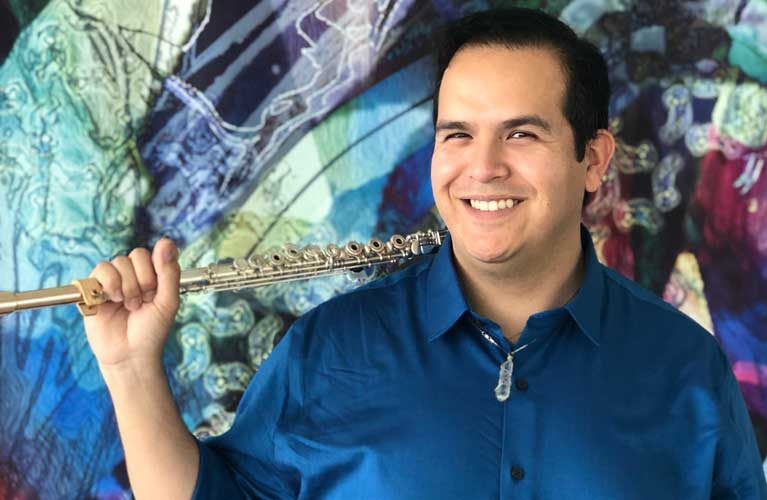 Musicians typically pack their pockets with reeds, picks and rosin. When flutist Emilio Rutllant moves to Minneapolis in September, he will be packing lip balm; cracked lips are the last thing the Vero Beach High School graduate needs when he starts his two-year fellowship with the Minnesota Orchestra.
"Chapstick's going to be in every pocket," he says. "That, and gloves. I can't have frozen fingers."
And he may want to keep his cellphone handy – silenced, of course. As Rutllant adjusts to the climate, his mother back in Vero will be aching for the warmth of her son's voice.
"I'm excited, but I'm going to miss him a lot," says his mom, Clara McCullough. "He is the treasure of my life."
This Friday, April 27 at 7 p.m., the rest of Rutllant's Vero fans can hear him play at First Presbyterian Church. He will be accompanied by the church's music director Jacob Craig on piano, who is "super-stoked," according to Rutllant, about getting to play together again. The farewell concert will have a free will offering rather than an admission price, in the hopes of raising money for a new wood flute for Rutllant to take to Minneapolis.
The fellowship was awarded in part because of Rutllant's roots. Born in Chile, he and his mom moved to the U.S. following the death of Emilio's father. Emilio was 10. His mom, who has since remarried, says it was Emilio's idea to move even though he, like his mother, spoke no English. "It's the best country, the best life," he told her, having visited before on vacation.
A year later, when he entered Oslo Middle School as a sixth-grader, Emilio was managing well enough to want to learn music. "It was kind of funny. I walked into the band room and I saw the flute there and I said, 'I'll play that.'"
Rutllant recalled that random choice in his fellowship interview last month, when he was asked how he would present himself to a fourth-grade class.
By the end of that semester at Oslo, he had mastered the entire first-year book.
When he moved on to Vero Beach High School, he followed the founder of the orchestra program at Oslo, Matt Stott, who was developing an orchestra program for older students. Rutllant's training was supplemented with private lessons from Vero flutist Jane Weise as well as Christina Burr Apelgren, principal flutist with both the Brevard Symphony and the Atlantic Classical Orchestra. Rutllant quickly rose to first chair in the school orchestra.
He went on to become principal flutist at Stetson University's orchestra while earning his B.A. in music, and ultimately did his graduate studies at the Frost School of Music at the University of Miami.
It was there that in May Rutllant was awarded a doctoral degree. The gathering his family staged in Vero to celebrate was "incredible," he says. "All my uncles – my late father's brothers – came from Chile, which was really special."
One uncle took over the kitchen and made enough paella for 50 guests and then some. "There were enough leftovers that I'm pretty sure everybody got to take some home too," he added.
Rutllant will be leaving Miami City Ballet's Opus One Orchestra to begin the two-year Rosemary and David Good Fellowship. Now in its second year, the fellowship was designed to encourage diversity in orchestras by funding study and performance by musicians of African American, Latin American or Native American descent.
Rutllant, who turned 28 last month, has been auditioning steadily with orchestras since earning his doctorate. He has moved to Boca Raton to work on an artist's diploma at Lynn University's Conservatory of Music, training under artist-in-residence Jeffrey Khaner, principal flutist of the Philadelphia Orchestra.
Rutllant was one of 48 applicants for the Minnesota fellowship. Of the half-dozen finalists who flew to Minnesota last month to audition, two were invited for a final interview. It was there that Rutllant made clear his interest in community outreach, particularly teaching young people. The fellowship specifies that its winners will not only be mentored, they will mentor music students through the Minnesota Orchestra's Education and Community Engagement Department.
In addition to receiving expert coaching for future auditions, Rutllant will be performing with the orchestra at select concerts; observing and participating in rehearsal; and studying with orchestra musicians, not only fellow flutists but players of other instruments, with the intention of broadening his understanding of the orchestral experience.
"This is a really big way to develop my professional chops with a major symphony, taking lessons with every member of the flute section," he says. "I get to dip my toe in the water in terms of professional experience, but it's at the same time that I'm being nurtured."
He may also serve as a stand-in for any of the orchestra's four flutists in the event they travel or fall ill.
Like the Opus One Orchestra he is leaving, Minnesota Orchestra has seen renewed success after surviving a serious rough patch. The Miami orchestra shut down altogether in 2008 due to lack of funding, reopening two years later thanks to a $900,000 Knight Foundation challenge grant and the hiring of Gary Sheldon as principal conductor.
The Minnesota Orchestra had its existential crisis in 2012, when musicians refused to accept pay cuts and were locked out by the orchestra's governing body, just as the city of Minneapolis was renovating its home, Orchestra Hall. The entire season was canceled as the lock-out continued for 16 months, and subscribers bailed at record rates – a third of its regular audience cancelled. The respected Finnish conductor Osma Vanska backed his musicians, staging concerts independently to tide them over.
Finally, in 2014, the two sides found a compromise. "It may have been just the wake-up call the orchestra needed," wrote John von Rhein, the Chicago Tribune's longtime classical music critic, in a January article. "All agree that a leaner, meaner Minnesota Orchestra has risen from the ashes, a better-run institution whose musicians enjoy a greater say in a wide range of policy decisions, from programming to touring to work rules."
Last year, for the third year in a row, the orchestra balanced its budget.
"When you see an orchestra in that moment, it's really scary," says Rutllant. "But they came back stronger than ever."
Minnesota's emphasis on inclusion extends well beyond the fellowship. In 2015, it beat out better-known orchestras to become the first American orchestra to play in Cuba since relations with the U.S. began to improve, von Rhein points out. And in August, musicians will make history when they travel to South Africa for a series of concerts honoring Nelson Mandela's centenary. They will become the first professional U.S. orchestra ever to play there.
While Rutllant will miss that tour by a month, he expects to be included in future touring, "in case someone gets sick," he says.
In the meantime, it's his mother who may end up doing the traveling to Minnesota to hear her son play with the orchestra of his dreams.
"She gets very sad every time I bring up the subject, and I try to cheer her up," he says. "She's just going to have to come up and visit me often and she's going to have to get used to the snow. It was cold in Chile, but Minnesota is its own beast."