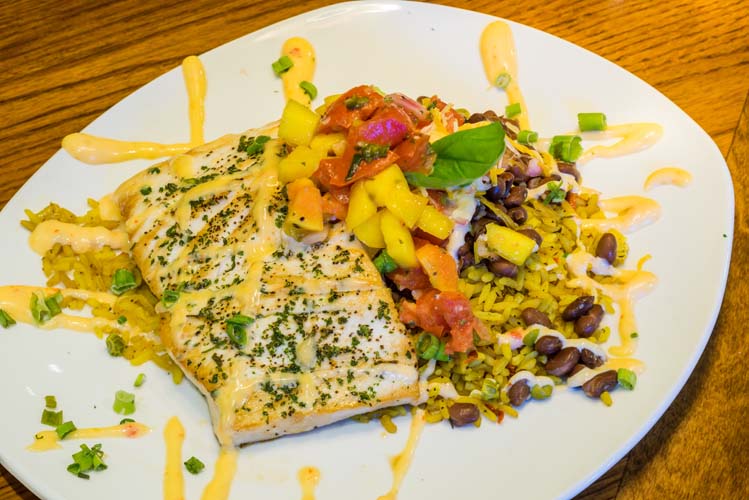 Here's this week's question:  When there is a locally owned seafood restaurant in Vero serving very good dishes at amazingly low prices, why would local diners be more inclined to go to a chain restaurant – even one part of a good national chain?
The Vero restaurant that deserves more Vero support is the Green Marlin, a casual eatery which since last summer has been serving fresh seafood in the large U.S. 1 building once occupied by the Outback Steakhouse.
While the Green Marlin – a creation of Chef Lou Kolbauer, the driving force behind the popular fast-casual Chive – appears to be doing OK, our guess is many Vero residents don't realize how good it is.  Or how affordable.  If they did, there would be lines out to the street.
On a visit a few weeks ago, we were quickly seated in a comfortable booth against the far wall, and an excellent server, Jodie, took our order for drinks and gave us a rundown on the evening's specials.
For starters, I ordered a bowl of the steamed clams ($13.95).  The sweet young clams were wonderful, served with a great garlic, lemon and herb butter sauce. While the dish comes with a couple of slices of toast for dipping, you will certainly want to ask for more to mop up every last drop of the broth. Very, very tasty.
My husband started with the ahi tuna bomb ($8.95). This consists of a center-cut tuna slice, marinated in a soy sauce, then placed in an egg-roll wrapper smeared with tahini paste, and fried at a super-high temperature. Seared on the outside, the tuna is rare on the inside. Served with wasabi ailoi and a seaweed salad, it was indeed what hipsters used to call "da bomb."
Then for entrées, we chose two from the night's specials. I opted for the grouper cheeks ($22.95) served "island style." My husband went for the wahoo served "in the weeds."
My grouper cheeks – tender, small filets that are consider a delicacy in much of the world – were served over rice and beans with a tropical salsa, topped with a sweet chili cream and green onions. Delicious. And my husband's gorgeous piece of wahoo was served over garlic spinach and grape tomatoes, topped with a lemon buerre blanc. A great combination.
For dessert, we shared a slice of orange blossom cake ($7) made by Chef Lou's mother. Awesome.
On another visit, I started with the burrata caprese ($9) and my husband decided to try the New England clam chowder ($3). The burrata was very good,  and my husband pronounced the clam chowder "passable" – not too shabby given that he is a bit of a fanatic about chowdah.
Then at the suggestion of Chef Lou, I ordered the corvina ($21.95) served "in the weeds" and my husband had (you guessed it) swordfish ($20.95). My entrée was one of the nicest pieces of corvina I have ever had, and the swordfish was grilled perfectly, drizzled with lemon beurre blanc and served with very tasty mashed potato.
Our total both times, including a bottle of a very nice chardonnay, was in the $80 to $90 range before tax and tip. It's possible to dine for even less by passing on the pricier appetizers and taking advantage of the Green Marlin's salad bar.
This restaurant is trying to develop a year-around following by keeping prices of its fresh fish entrées down, and offering a Monday "Kid's Night" special that makes dining out with the whole family a bargain.
If you haven't tried the Green Marlin yet, we would strongly encourage an early visit.
I welcome your comments, and encourage you to send feedback to me at tina@verobeach32963.com.
The reviewer dines anonymously at restaurants at the expense of Vero Beach 32963. 
Green Marlin Restaurant & Raw Bar
Hours: Daily, 11 am to 10 pm
Beverages: Full Bar
Address: 1475 U.S. 1
Phone: (772) 999-5248
Photos by: Gordon Radford
Click HERE to see more or buy photos