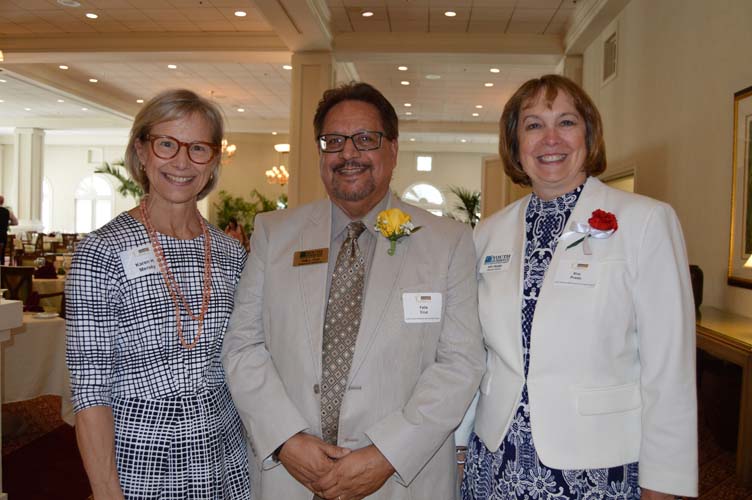 The ladies of Indian River Impact 100 met last Wednesday afternoon at the Oak Harbor Club for their 10th annual Impact 100 Grant Awards & Annual Meeting and selected four worthy nonprofits to become Community Partners as the newest recipients of $100,000 Impact grants.
After each of the seven finalists presented a brief recap of the programs they had submitted for consideration, Impact members took their responsibility to heart, carefully considering the merits of each of the nonprofit request before casting their votes.
After much deliberation, the Economic Opportunities Council of IRC, Tykes & Teens, Veterans Council of Indian River County, and Youth Guidance Mentoring and Activities Program were named as recipients of 2018 Impact Awards.
Outgoing president Suzanne Carter shared the inspirational words of Nelson Mandela, which she said mirror the fundamental mission of Impact 100 to collectively impact the lives of individuals and the community through transformational giving, saying, "Our human compassion binds us the one to the other – not in pity or patronizingly, but as human beings who have learned how to turn our common suffering into hope for the future."
The Economic Opportunities Council of IRC will use the grant to take its Early Bird Program Expansion to Dodgertown Elementary, to prepare 3-year-old, low-income, at-risk children for school through a comprehensive, holistic educational program.
The Tykes & Teens, Inc. plea for assistance hit home for its Little TYKES (Teaching Young Kids Emotionally and Socially) project, which will enable mental health therapists to identify and provide early intervention for preschoolers exhibiting problem behaviors in the classroom.
Retired Col. Sam Kouns, representing the Veterans Council of Indian River County, gave an impactful speech about the needs of local veterans. The grant will support the Veterans Helping Veterans Program – Safety, Accessibility and Home Improvements project, to repair homes and increase handicap accessibility for impoverished veterans.
"A few years ago I commanded an Army combat unit in Germany that consisted of 1,000 soldiers," said Kouns, lightening the mood when he admitted, "I brought them together often to discuss our missions and I have to tell you standing here in front of the Impact 100 ladies is much more intimidating."
As the longest-serving mentoring program in Indian River County, the Youth Guidance Mentoring and Activities Program will develop its Youth Guidance Mentoring Academy S.T.E.A.M. Magnet Program at its new facility, focusing on Science, Technology, Engineering, Art and Math enrichment as well as positive relationships with role models.
Impact 100 members contribute $1,000 apiece annually, with 100 percent distributed as grants. This year's record-breaking 466 members enabled a total of $466,000 grants to be awarded. This is the seventh year in a row that the nonprofit has distributed four $100,000 grants.
The remaining $66,000 will be shared equally by three Merit Award winners: The Buggy Bunch for its PlayFULL Education Groups; Indian River State College Foundation Inc. for an IRSC Pioneer Tech Camp for underprivileged children; and Vero Beach Rowing toward its program, Creating a Community of Caring.
"With this year's Impact grant disbursements, we will have donated over $3.8 million to nonprofit organizations in our community," said Carter, noting that they had much to celebrate after a decade of giving. "Not only that, we have helped thousands of people in the process. We are women who collectively impact the lives of individuals in our community through transformational giving."
For more information, visit impact100ir.com.     
Photos by: Stephanie LaBaff
Click HERE to see more or buy photos