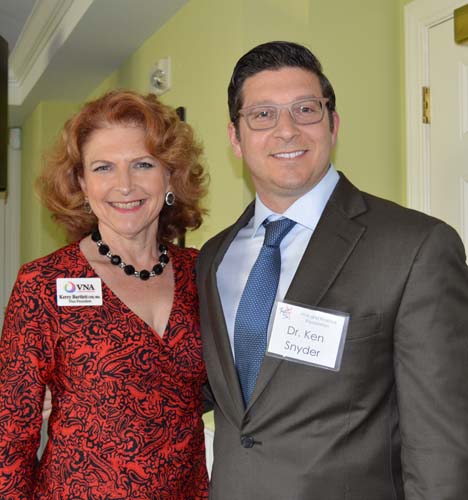 Supporters of the VNA and Hospice Foundation were feted at a Donor Appreciation Reception last Wednesday evening at the Riomar Country Club. Attendees were thanked by Kathy Orton, interim CEO and vice president of Clinical Services, for their help in enabling the VNA to continue its mission of providing compassionate solutions for patients and caregivers needing home-based hospice and community health services regardless of financial standing.
Keynote speaker Dr. Kenneth Snyder gave a presentation on 'Current Treatment Strategies for Acute Ischemic Stroke' that highlighted the strides in stroke research made over the past 10 years. "It is an incredibly exciting time in the treatment of stroke," said Snyder, sharing news about the physiologic imaging developed at the Gates Vascular Institute and University at Buffalo Neurosurgery that has broadened the timeline for stroke treatment and changed the standard of care. "There was no treatment option for you if you woke up with a stroke up to two months ago. In our lifetime we've seen a complete transformation of stroke care."
For more information, visit vnatc.com.
Photos by: Stephanie LaBaff
Click HERE to see more or buy photos