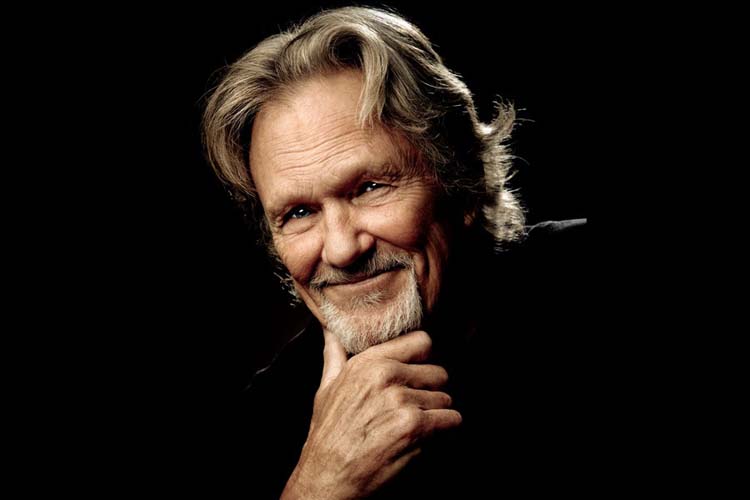 How about a little musical journey back to the 1960s this Saturday evening, beneath the moon and stars? It's next in the Sebastian Inlet's Night Sounds Concert Series, with music courtesy of the five-piece British pop-rock-playin' band St. Johns Wood, and the venue – the beautiful Sebastian Inlet – courtesy of the Florida Department of Environmental Protection. So bring your lawn chairs, bring your pals, and enjoy tunes from the Beatles, the Rolling Stones, the Who, the Kinks, the Zombies, the Animals, David Bowie, Eric Clapton and others who crossed The Pond during the British Invasion. The popular and unique Night Sounds series is hosted by the dedicated Friends of Sebastian Inlet State Park and takes place on the south side of the Inlet, in the Coconut Point pavilions. Admission is free with regular park entry fees. Concert time: 6 p.m. to 9 p.m. 772-388-2750/321-984-4852.
Hands down, one of the biggest of big names in the country music pantheon is singer/songwriter Kris Kristofferson, who made it huge with chart-topping mega-hits such as "Me and Bobby McGee," "Help Me Make It Through The Night," "Sunday Morning Coming Down" and "For the Good Times," which more than one generation has danced to, cried to, dreamed to, broken-up-and-gotten-back-together-to. And he'll be at the King Center in Melbourne this coming Tuesday, May 1. Kristofferson has not only earned three Grammys, recorded 30 albums (including three with pals Johnny Cash, Willie Nelson and Waylon Jennings) and toured the globe doing concerts for 30 years, he's also appeared in an amazing 70 movies, according to the show promo, nabbing a Golden Globe for one – "A Star is Born." Don't miss this probably once-in-a-lifetime chance to see and hear him for yourself. I'll see you there. Show time is 7:30 p.m. Tickets start at $43.50. 321-242-2219.
Looking to let your hair down and have a little fun? Then be at Riverside Theatre this Friday or Saturday and you, too, can Howl at the Moon. If you've been to one of these unique entertainment experiences, you already know how much fun it is. If not, you're in for a treat. Howl at the Moon touring shows pack 'em in at venues all over the country, with top-notch, versatile, high-energy, musician/entertainers who can play pretty much anything you can come up with: There's no set play list, it's all up to the audience. The Howl happens on the Waxlax stage: It's cabaret-style seating, and there's a dance floor. Plus, there's food, before or during the show, and a couple of full bars. This weekend's entertainers are Howl favorites Rob Volpe and Ken Gustafson. Admission starts at $12; reserved seating and special occasion rates are available. Show times are 7:30 p.m. and 9:30 p.m.