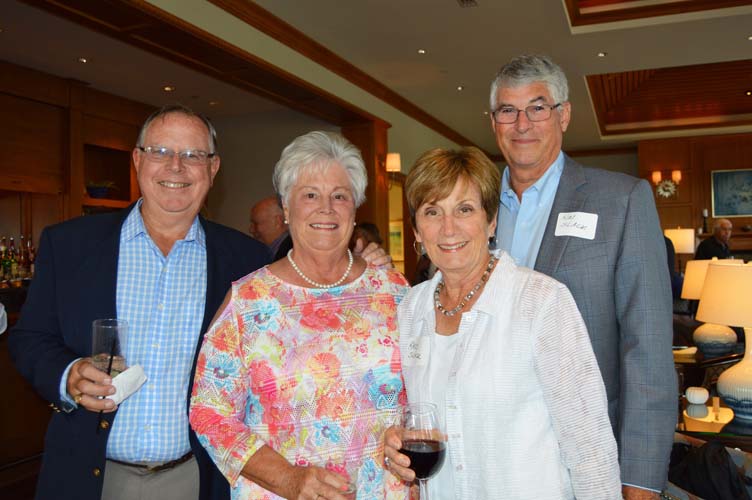 The Wheels & Keels Foundation hosted its eighth annual Antique and Exotic Car and Boat Show at the Moorings Yacht and Country Club last weekend, scoring a perfect game as the golf course overflowed with all things "wheels and keels" rather than golf balls and clubs.
Exhibitors from around the state took over the first hole, displaying an impressive lineup of rare cars and classic boats, while luxury yachts floated nearby at the club's marina.
Gavin Ruotolo, foundation president, said the event was initially borne out of a desire to support the Youth Sailing Foundation and has grown over the years to now benefit four nonprofits.
The Moorings was built with the boating community in mind and, having the most biologically diverse estuary in North America in one's backyard, has brought the welfare of the Indian River Lagoon to the forefront for most residents.
"We're lucky to be living here and we wanted to give back to the community," said Ruotolo. "These nonprofits all benefit young people, the lagoon and the environment; things that are important for future generations."
The Wheels & Keels Foundation has selected organizations whose activities strive to improve the lives of children and adults on the Treasure Coast with proceeds benefiting The Arc of IRC, Indian River Rowing Club, Navy SEAL Trident House and Youth Sailing Foundation of IRC.
Wheels & Keels kicked off Friday evening with a cocktail party in the Governor's Lounge before guests adjourned to the dining room for a sumptuous dinner, live auction and Call to the Heart paddle raise to support the nonprofits.
On Saturday, the concours featured a variety of American and foreign antique and exotic cars and boats, including a 1926 Ford Model T, 1962 Austin-Healey 3000 MKZ and 2008 Alfa Romeo, along with shiny BMWs and Mercedes-Benz. Vintage mahogany boats, yachts and an MRAP (Iraqi Light Armored Vehicle) with an HSAC (High-Speed Assault Craft) MKII Mod 2, further expanded the extensive variety of vehicles.
"There seems to be a great attraction to classic cars and boats in Florida," said Vince De Turris, foundation vice president, commenting on the diversity of the exhibited collection. "We handpick these cars."
George O'Malley, foundation secretary, pointed out a Chris Craft named Mr. T, noting, "That boat was originally named by John 'Duke' Wayne the Hi Ho Silver."
Rounding out the afternoon, lunch was served al fresco as Youth Sailing and Vero Beach Rowing team members chatted with passersby about their programs, and the afternoon concluded with a red-carpet award ceremony.
Next year's show will be held April 19. For more information, visit WKVero.com.
Photos by: Stephanie LaBaff and Denise Ritchie
Click HERE to see more or buy photos