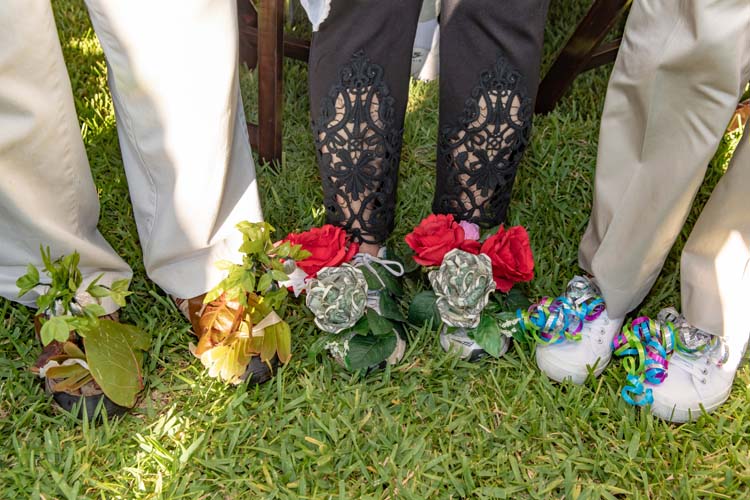 Goblins, sprites, fairies and gnomes dotted the plush flora at Rock City Gardens, delighting guests last Thursday evening at the fourth annual Starlight & Sneakers: An Enchanted Garden Party to benefit The Arc of Indian River County.
Sneaker-clad guests mingled with the mythical creatures while enjoying cocktails and hors d'oeuvres. Later, as the sun set and temperatures cooled, attendees dined al fresco on a lovely buffet catered by Elizabeth Kennedy & Co. and took to the dance floor, breaking in their running shoes with some help from the Gypsy Lane Band.
Many folks took the annual sneaker competition very seriously, devoting considerable thought and effort into designing the most unique sets of tennies. Putting her best foot forward, Brenda Bradley's fairyland footwear featured fairy doors, dragons and mushrooms. Lalita Janke didn't disappoint with a stop-and-smell-the-roses-themed décor that included money-blooming flowers, something she was hoping would inspire others to give to the worthy cause. Still another was a crafty play on the sanctuary of Noah's Ark, similar to the care The Arc provides.
Chuck Bradley, executive director, introduced Stephanie Kita to the crowd, explaining that at age 13 she had been involved in a dirt bike accident and suffered a traumatic brain injury.
"Stephanie worked really hard to graduate with her friends and has recently earned her bachelor's degree," said Bradley with obvious pride.
The Arc Chorus showcased their talents with a special performance of "Puff the Magic Dragon" and other songs from their melodic repertoire. Afterward, guests raised the handcrafted bidding paddles they had been given, to help fill this year's $200,000 budgetary funding gap.
State funding has been cut by as much as 50 percent in recent years, locally impacting the county's more than 2,000 special needs families, where an alarming 90 percent of adults with disabilities are unemployed or underemployed. Programs and services offered by The Arc help develop employment skills to enable them to live full and meaningful lives.
Board member Jeff Petersen said Starlight & Sneakers is about three key things: having a great time, bringing The Arc closer to the community and filling the funding gap.
"The purpose is to educate and let everybody know what The Arc is about. You saw some of the great programs we have here with our chorus up here performing tonight," said Petersen. "The Arc relies mainly on state funding to provide the services for each of the clients here and it takes $1,000 per year to provide help and support the individuals here. Like Stephanie, who went on to get her bachelor's degree and rise to something that, without the services of The Arc, she may not have had the opportunity to obtain."
The mission of The Arc, founded in 1975, is to support and empower individuals with special needs to achieve their life goals. The Arc provides adult day training, behavioral services, residential group homes, supported living and supported employment, and advocates for full acceptance of special needs individuals as valued members of our community
On May 8 Ocean Grill will again host Ocean Grill Night to benefit The Arc. For more information, visit arcir.org.     
Photos by: Denise Ritchie
Click HERE to see more or buy photos