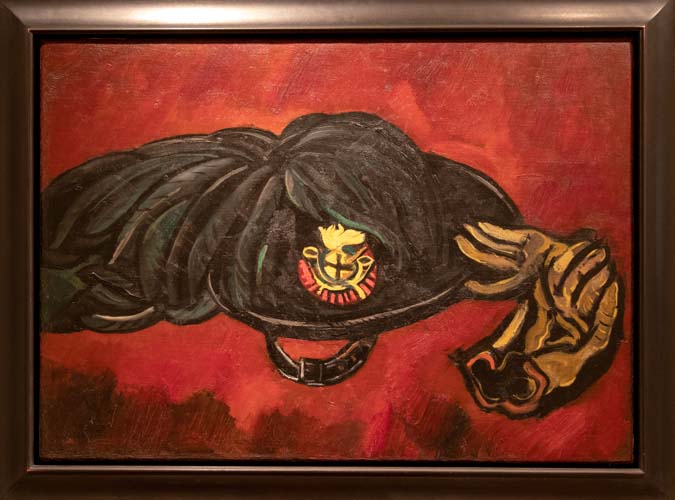 The Vero Beach Museum of Art's annual Athena Society Dinner on April 13 saw the selection of two paintings for the museum's permanent collection (drumroll, please): Joseph Stella's "Joy of Living," a 1940 oil on canvas offered by Kraushaar Galleries; and Marguerite Zorach's "The Golden Orb," a 1921 oil painting offered by Avery Galleries.
In addition to the artworks chosen for purchase, those in the pre-selection lineup were Romare Bearden's "Gospel Morning," of 1987, a collage depicting an African-American spiritual gathering; "Insignia with Gloves" of c. 1936, a still-life painting by Marsden Hartley; "Nocturne – Big Ben" of 1898, a rainy London night scene by Childe Hassam; and John Marin's "Movement: Racing Sea" of 1947, a semi-abstract seascape.
Prior to the selection, Executive Director Brady Roberts rejoiced in obtaining the loan of six artworks –any one of which would be a welcome addition to the collection – from their respective retail galleries for presentation to the Athena Society.
Roberts and VBMA curator Danielle Johnson made two trips to New York City for the purpose of finding art objects that would fit the museum's mission to collect, preserve and present "important American and international works of art."
"There was so much to select from," said Roberts, who notes that this year's quest for acquisition contenders was different from 2017's search. He was brand new to the program back then.
Referring to Johnson, he said, "I had a curator to help me this time. I didn't have to single-handedly look at hundreds – if not a thousand – artworks to get six to offer the Athena Society."
Roberts quickly added that the VBMA Collection Committee vetted a number of art objects presented to it by Johnson and him to arrive at that half-dozen.
The Athena Society is a membership arm of the VBMA, whose members donate $5,000 per annum for the privilege and duty of selecting works for the collection at their annual event. The combined proceeds of Athena Society dues go toward the purchase of the artworks the members elect, by ballot, for purchase. There are currently 92 members in the society. Their current donations, in addition to money left over from last year's purchases, brought available funds for 2018's selection to $545,000.
That sounds like a lot of money for art, but it doesn't go far in the selection of works by artists with the renown the museum seeks for its permanent collection. It's not called "permanent" for nothing. The VBMA sets its sights on art from the retail market, where it can be reasonably assured of finding quality both in the sense of aesthetics and authenticity, as well as sound physical condition. And while the idea of permanence is relative, the works that enter the VBMA collection are chosen with the hope that they will (mostly) resist the depredations of time and inherent flaws in technique or construction, as well as the consequences of society's changing taste and values.
The crowd of Athena Society members that gathered before the six artworks in Holmen Hall last Friday evening buzzed with excitement.
"I think that having the members assist in the buying of works for the collection is very good," said Athena member Bowen Smith.
For him, Romare Bearden's "Gospel Morning" was a more than worthy choice for the museum's collection.
Bearden's collage was made a year before his death, in 1987. Based on the artist's childhood memories of Mecklenburg County, North Carolina, the narrative picture shows the interior of a rural home where people are gathering for Christian fellowship. One of the visitors arrives with tambourine in hand; her hostess (whose face is an African mask) sits at her kitchen table with guitar close at hand.
Mused Smith, "It does tell a story. It's our story."
Standing near him, Terrell Viner exclaimed, "I adore the Stella! I love the patterns in this piece, and the flowers. It's a happy painting!"
Stella's painting, "Joy of Living," is from a series that was inspired by the artist's five-month visit to Barbados in 1938. The place Stella called "the magic island" inspired him to paint the present work's stately Barbadian woman holding a pot of tropical flowers in an expansive outdoor setting. Wearing a sunny yellow dress, the woman with her colorful blooms now brightens the permanent collection.
The phrase "happy painting" was applied more than once to "Joy of Living" during the evening.
One admirer, Donald Tribus, opined that the Stella and the Bearden were the best picks for the museum.
"I wouldn't choose anything I wouldn't hang in my own home," he avowed.
While the well-regarded Bearden did not make the final cut, Marguerite Zorach's "The Golden Orb" will accompany "Joy of Living" into the VBMA collection.
You might find it difficult to believe that a cubist painting could also be a romantic picture of childhood innocence, but "The Golden Orb" checks those boxes, and is by a significant woman artist to boot.
Painted with a limited palette in a technique fractured enough to identify as "cubist" (but not so splintered that it obscures the subject), the 1921 work depicts a pre-adolescent girl standing before a window. With joyfully raised arms, she celebrates the golden ball of moon that hangs – almost within her reach! – outside her window.
"It's hard to collect early Cubism," said director Roberts, who noted that a work of the same vintage by Braque or Picasso (the joint developers of Cubism between 1907 and 1914) come at a prohibitive price: millions of dollars, rather than hundreds of thousands.
Taking everything into consideration, it might be best to heed the advice of Jacqueline Malloy, who has been an Athena Society member since its establishment in 2003.
"I think that people should follow their feeling when they look at a painting," she said.
And that goes for buying one, too.
Photos by: Denise Ritchie
Click HERE to see more or buy photos