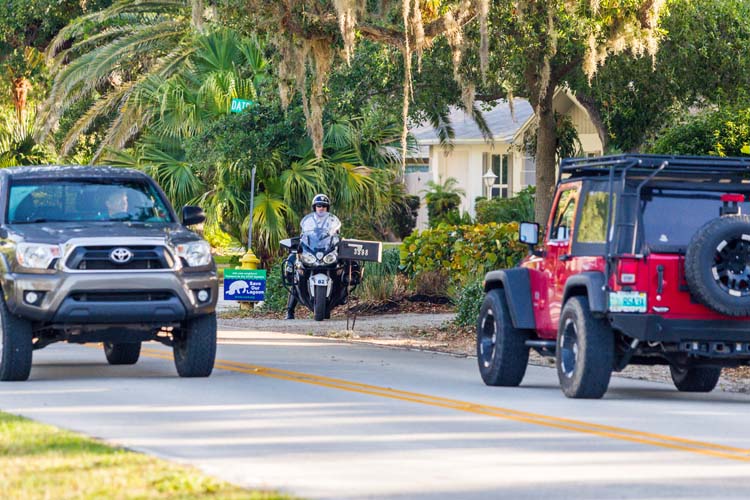 Look, folks, I know traffic in Vero Beach is getting more congested every year, particularly during our busy season.
Backups at major intersections are getting longer. Navigating overcrowded corridors to travel across town has become more challenging, especially during peak drive times. More motorists are growing frustrated and, all too often, becoming less patient.
So they search for shortcuts, sometimes snaking through side streets in a mad dash to bypass the backups. And those impromptu detours can wreak havoc on residential neighborhoods, so much so that some homeowners want to keep out the cut-through drivers.
Closing roads, however, isn't the answer – not the right answer, anyway –  because all that would do is move the problem elsewhere, present new traffic challenges and create unintended consequences.
It's the self-serving answer.
But when it comes to keeping outsiders off residential neighborhood roads, we're seeing more and more of this selfish sentiment.
We saw it on Live Oak Road, where only months ago some homeowners urged the Vero Beach City Council to close the street to cut-through traffic between State Road A1A and Indian River Drive.
We saw it on the northern tier of Jungle Trail, where earlier this year homeowners in that area wanted Indian River County commissioners to close that section of the scenic, unpaved byway to motor-vehicle traffic, essentially converting a public road into a neighborhood park.
We've even seen it in downtown Vero Beach, where some local business owners want to slow traffic and make the area more pedestrian-friendly by narrowing the Twin Pairs to two lanes in each direction.
Then, earlier this month, the City Council was presented with a petition to close the so-called "tree streets," from Acacia Road north to Live Oak in Central Beach, to westbound access from A1A.
Thankfully, our local governments were wise enough to reject each of those short-sighted proposals, none of which would have served the greater good.
"I'm against it, and planners generally are opposed to road closures, because all they do is push more traffic onto an already-busy road," said Phil Matson, staff director of the county's Metropolitan Planning Organization.
"You move traffic two ways – with one big road or several little ones, and several little ones is better because it gives you more connectivity and exponentially more routes," he added. "Closing roads simply creates more traffic problems."
Certainly, putting up barriers to close those Central Beach streets to westbound traffic from A1A would create all kinds of problems:
nEven longer backups on southbound A1A approaching the Beachland Boulevard intersection.
nIncreased traffic on Indian River Drive, Live Oak Road and Mockingbird Drive, which would become the only routes into and out of the neighborhood.
nSignificantly reduced access for emergency vehicles.
nAdded driving for neighborhood residents who would be forced to circle around on Beachland to get to A1A.
Perhaps that's why only 156 of the 400-plus homeowners in that neighborhood signed the petition.
Surely, the consequences that would accompany closing the streets contributed mightily to the City Council's reluctance to seriously consider and vote on the proposal, which was embraced by only one of its five members – Central Beach resident Val Zudans, who unsuccessfully argued that putting up barricades was "worth a try."
"There's one resident who still wants to make a presentation to the council to close the streets, and it'll probably happen in a couple of weeks," City Manager Jim O'Connor said. "But it'll be a very tough sell."
Let's hope it's as much a waste of time as that petition.
As O'Connor explained: Riverside Park, Vero Beach Dog Park, MacWilliam Park Boat Ramp and Vero Beach Yacht Club are popular destinations, and "people have to be able to access them."
Truth is, this Central Beach shortcut problem doesn't require any drastic measures. In fact, it's already being addressed as it should be – by the police, who have stepped up enforcement of speed limits and stop signs in that neighborhood.
As of Friday, police have written more than 60 speeding tickets and issued several warnings, and the traffic-calming crackdown continues.
"We've received nothing but positive feedback, so far," Vero Beach Police Chief David Currey said. "We're being told the cars are slowing down."
In addition, city crews recently installed electronic warning signs on Live Oak Road and Indian River Drive, the busiest of the shortcut routes. The signs flash the speed of approaching vehicles and produce a strobe-light effect if the driver is exceeding the 25-mph speed limit by more than 5 mph.
That's all that's needed, but that's not all that's being done:
nConstruction of additional sidewalks along Live Oak is expected to begin this summer.
nCity officials are working with the Florida Department of Transportation to reduce the seasonal congestion by adjusting the timing of the traffic-signal cycles at the intersection of Beachland and A1A.
nThe city also is asking state transportation officials for funding to extend the existing turn lanes at that same intersection.
All of those improvements are welcome, though it's unlikely we'll see the extended turn lanes anytime soon.
But even without them: As long as drivers are obeying the neighborhood's posted speed limit, stopping at stop signs and watching for pedestrians and cyclists, there's no good reason why they shouldn't be allowed to use public streets, which were built and are maintained with taxpayer dollars.
They're not private roads for use by only residents and their invited guests. The neighborhood is not a gated community. Those streets belong to all of us.
Same goes for Jungle Trail and the Twin Pairs and all the other public roads in our community.
Truth is, if our local government officials start closing streets, they'll be setting a troubling precedent.
"It's an extension of NIMBY-ism," Matson said, using the acronym for "Not In My Backyard" to describe the growing number of recent requests to close local roads to motor-vehicle traffic.
O'Connor said he already has heard from other Central Beach residents – from the neighborhood west of A1A, on the south side of Beachland Boulevard – who've complained about the cut-through traffic on Dahlia and Iris lanes.
"We hear from them, too," O'Connor said. "Some people use Dahlia to cut through to Riverside Park. Others use Iris to get to the (Holy Cross Catholic) church, and you know all about the parking issues we've had there.
"But we can't just close those roads."
Or the roads in McAnsh Park.
Yes, O'Connor also fields complaints from residents in that mainland neighborhood, where many drivers use Buena Vista Boulevard as a shortcut to get from State Road 60 to the Indian River County administration complex, which includes the health department and utilities office.
"I get almost as many calls from people there as I do from people in the Central Beach, so that could be next," O'Connor said. "I get these calls from pretty much all over town."
This isn't a new issue.
For at least the past five years, I've been watching drivers use these shortcuts to get around traffic backups, especially during the busy season, particularly between Live Oak and Acacia on southbound A1A, where it can take multiple light changes to get through the intersection.
I've also seen the recent effort being made to make sure those drivers are obeying the speed limits and stop signs.
That's all we can do.
"Remember when people used to call this 'Zero Beach' because there was nothing to do?" O'Connor said. "Now our community is more lively and attractive, and more people are coming here. But there's more traffic."
Vero Beach is no longer the seaside secret it was 20 years ago. Like it or not, we've been discovered. This is a wonderful place to live, and now everyone knows it.
So more people visit us each winter. Many of them decide to stay here, at least seasonally.
Almost all of them drive cars.
And some of our roads – OUR roads – can't handle the volume.
We need them all.