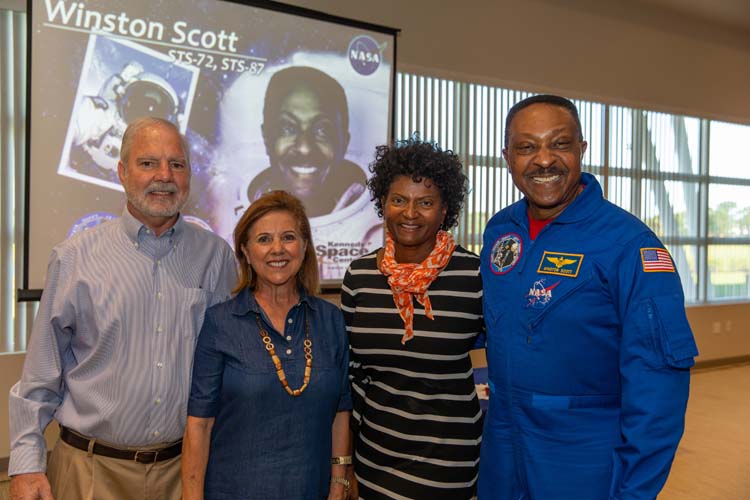 Rockets soared through the air, squids were dissected, and the best angle to kick a soccer ball was calculated at the IRC Intergenerational Recreational Center last Saturday as families descended upon the Indian River STEAM Fest hosted by Vero Beach Academy.
The inaugural Science Technology Engineering Arts and Math (S.T.E.A.M.) festival was engineered so that children could explore the wonders of these critical fields. With smiles on their faces as they took turns, the children happily moved from one activity to the next, completely engaged without realizing that they were actually learning in addition to having lots of fun.
The exhibit hall housed 50 hands-on activities and demonstrations that showed how STEAM fields apply in the real world.
Boys and girls put out virtual fires; learned about resistance through bowling; saw the effects lionfish have on seagrass habitats; and made a magnetic fluid in addition to other intriguing learning experiences.
Outside, families launched rockets, learned about crime-scene investigation and talked with Florida Tech jet racing team members about the engineering behind jet racing.
Riverside Theatre gave two performances and, to magnify the importance of an integrated curriculum, local art teachers led art-centric activities with children as they dissected squid and used the harvested ink to create watercolor paintings, explored chromatography and learned about the science behind the art.
The children also helped a "mad scientist" perform experiments; learned about arachnids from an entomologist; and explored space farming with two Florida Polytechnic students.
For those wanting to trade their sneakers in for space boots, a VIP Lunch with an Astronaut experience allowed them to hear firsthand stories of space travel from NASA astronaut and retired U.S. Navy Capt. Winston Scott. After lunch and a brief presentation, Scott chatted with the junior astronauts taking questions about what life was like in space; how the astronauts got back home and what it was like to go from zero gravity in space back to earth.
Having begun his academic career as a music major and later graduating with a master of science degree in aeronautical engineering with avionics, Scott's appreciation for the importance of STEAM fields and how the arts can help students tackle design and engineering challenges was evident throughout the lecture and discussion.
"We're trying to put these types of fields in front of children so they will consider them, get excited and maybe want to pursue them as adults," said Kelly Brown, Parents as Leaders president and event co-chair. "I hope we're sparking excitement within the kids about STEAM fields." As they departed, boys and girls left with visions of everything from rockets flying through the air to bees buzzing around in their heads. Most seemed ready to go full STEAM ahead with plans to become astronauts, engineers and mad scientists, in hopes of creating a better world for their families.
Vero Beach Academy is a learning cooperative that combines homeschooling and formal classroom experiences. The children attend class two days a week, and the VBA provides parents with homeschool lessons two days a week along with enrichment opportunities.
To learn more about the Vero Beach Academy, visit verobeachacademy.com. 
Photos by: Denise Ritchie
Click HERE to see more or buy photos