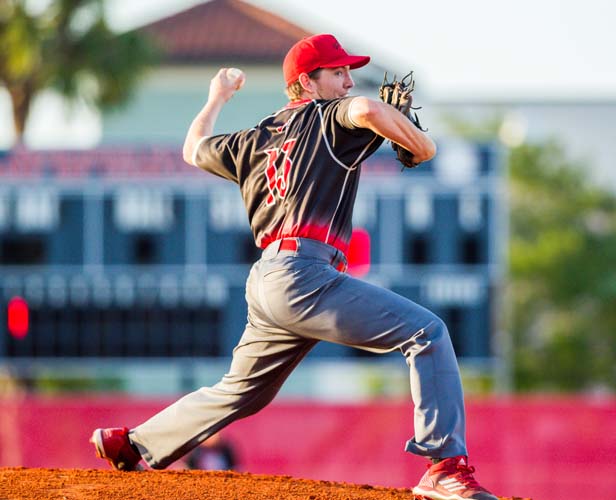 The Vero Beach High baseball team was 17-2 and riding high on a 10-game win streak after clobbering Fort Pierce Central, 11-2, in a district game last Friday night at the Reservation.
"It's been a fun run so far," head coach Bryan Rahal said. "We are a little bit further along than we expected. We knew that we had some big arms coming back, and that we had a lot of experience on the mound. We were confident that we could remain in games early in the season, but we had a lot of new faces defensively and in the lineup.
"We weren't sure what our run production would be. So far it's been up and down, but we are getting a little more production than we were earlier in the season. We've had some close games mixed in, but lately we have been able to put a few runs on the board, which is great for our pitchers because those guys have pitched with a lot of pressure the whole season."
Those guys include a solid one-two punch of seniors David Luethje and Hunter Cooley. Through 17 games, Luethje, committed to the University of Florida, posted a 4-0 record with a 0.42 ERA. He fanned 64 and walked 10 in 33 innings. His career record is 18-2. Cooley signed with Florida Atlantic and was 5-1 with a 1.50 ERA over that same period. Control is his forte with only four walks to go with 41 strikeouts over 38 innings. His career mark is 23-3.
They will carry the workload for VBHS when the playoffs arrive. Luethje is a righty and Cooley tosses from the port side.
Another lefty-righty combination – southpaw Hunter Patteson and righty Nick Celidonio (VBHS QB) – will work primarily out of the bullpen. Both are juniors.
"Those guys (Patteson and Celidonio) have experience and pitched a bunch for us last year," Rahal said. "They are the next two guys in. Both have been called upon in relief, and in the spring break tournament both of them had big starts. Down the stretch they will be relievers."
That scenario played out in two wins last week. Patteson struck out five in two innings of relief and got the 'W' when the Fighting Indians rallied late to pull out a 3-2 victory over Merritt Island. Patteson then rescued Cooley from a rocky start in the FPC game.
Run production is always spotty based on the quality of the pitching coming at you. Rahal is keenly aware of that, as every coach should be.
"We've done a little bit of everything," Rahal told us. "Early on we played some small ball and tried to move guys along. We tried to steal and create chaos on the bases. Recently we've started to hit the ball out of the park a little bit, and I say that loosely. We've hit a few home runs (Luethje, Peter Holden) but that's more than we are used to hitting. We've had a few extra-base hits mixed in, and we've put up some double-digit hits.
"We are 4-1 in a very tough, competitive district. Every team has a good arm, or two, or three. In a district game you are going to get a competitor on the mound. Every district game has been a grind. If you are not prepared, if you are not executing, those games are tough to win. … We don't overemphasize the state championship, but it is on everybody's mind. A lot has to happen to get there, but you can't look too far into the future and lose sight of where you are at.
"This is my sixth year at VBHS and this group is just like the others. They work hard and take the lunchbox out to practice every day. This team is well-rounded. Pitching is definitely our strength, but we've also been able to do a few things with the bats. And we've found some key pieces to hold us together defensively."
At the beginning of this week, just five games were still on tap – including one within the district – before the second season commences. VBHS and Treasure Coast spilt a pair in the district during the regular season.