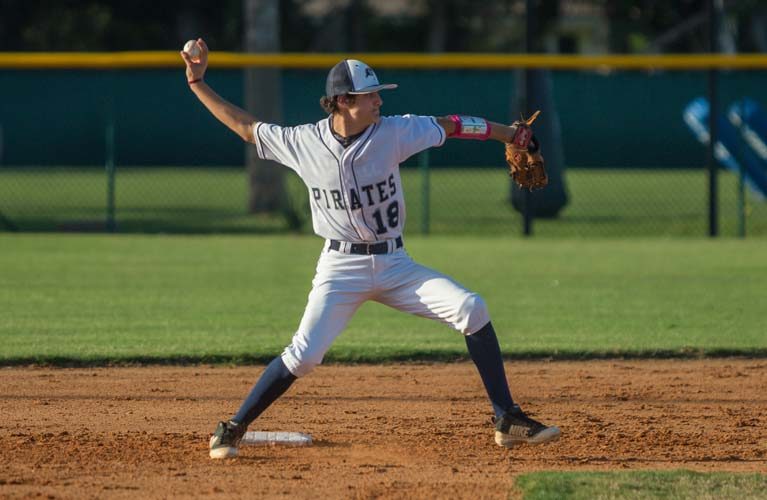 First-year head coach Steve Beare wants to take St. Ed's baseball program forward by going back to the basics on the field – and at the same time encouraging his players to exercise the brainpower required for sustained success. Recent results indicate that the plan is taking shape as the season rounds third and heads for home.
The Pirates lost five straight at the start, but have since rebounded to win three of their last four. A 5-3 victory over Fort Pierce Westwood on Senior Night last week was further confirmation that this very young team is listening and buying in.
Jackson Jennings and Casey Richey stifled FPW on one hit while Michael Mangieri provided just enough offense with a triple and two RBIs. The new coach might have been just as impressed when Jennings easily swiped two bags to manufacture the first run, or when the infield pulled off a nifty 6-4-3 double play, and how the defense was errorless throughout.
The learning curve is on the ascendency for this group consisting of one senior, one junior, four sophomores, four freshmen and one eighth-grader.
"I wouldn't necessarily call it growing pains," Beare said when asked about the construct of his roster. "I believe we graduated seven seniors last year and that was a tough loss. Obviously we have some younger kids now, which is great. What we are trying to do is tap into a lot of talent that is untapped right now.
"Baseball in a thinking man's game. A lot of what we are trying to do is philosophical. For Senior Night we introduced a theme called 'Finish.' I think in this day and age kids in a lot of sports sometimes forget that they have to finish everything. It's not about one particular part of the game. You have to finish every single pitch, every single at-bat, and every inning to the final out of the game.
"What we are trying to implement here is to make sure that even when we are losing, we are playing like we are winning. By finishing every game we will see if we can take a (potential) loss and maybe push it into a win."
"There's an adjustment period for everyone. We are moving players around and trying them in positions that they are not accustomed to. Doing that will be beneficial for the entire team. I understand everybody wants to play certain positions, but we want everyone to understand that this is about the team.
"We are getting back to basics and focusing primarily on fundamentals and mechanics. They understand that every play is made based on fundamentals. Obviously one of our strengths is that we have a good group of kids. They come from a strong background here at St. Edward's. They are on the mature side and everybody is starting to adapt and apply what we have been teaching. We are steadily climbing the ladder with each game that we have played."
Of course, pitching can accelerate any climb toward prominence, and the Pirates may have a good one for the next two years. Sophomore Casey Richey struck out nine and fired a complete game one-hitter in an 8-0 shutout of Glades Day. His ERA is a very respectable 2.75.
Through nine games the offense has been paced by Richey (.318), Aidan Taylor (.318) and Will Miller (.300). The one and only homer belongs to Jackson Jennings.
Senior Night also belonged to Jennings and his family. Before he took the mound he told us, "I've played 12 total seasons of sports here at St. Ed's (including football and basketball), and this being the last one is kind of gut-wrenching.
"We are super young this year, but there are flashes of excellence from everybody on this team. This is a developmental year with a new coach trying to figure out where we stand. We are going to be good over the next few years. I wish this team the best of luck. These kids are my brothers and I hope they take the next step next year."
Jennings will give baseball a try when he enrolls at Florida Southern in the fall. Appropriately, there was no doubt about the starting pitcher on the evening he was honored.
"On Senior Night at home I couldn't think of anything better than to start Jackson," Beare said. "He's got very good velocity and he's been throwing well for us all year. He's our sole senior and I couldn't think of anyone better to put on the bump."
St. Ed's is playing an independent schedule this year. There were only five games to go at the start of this week before the season ends April 27.