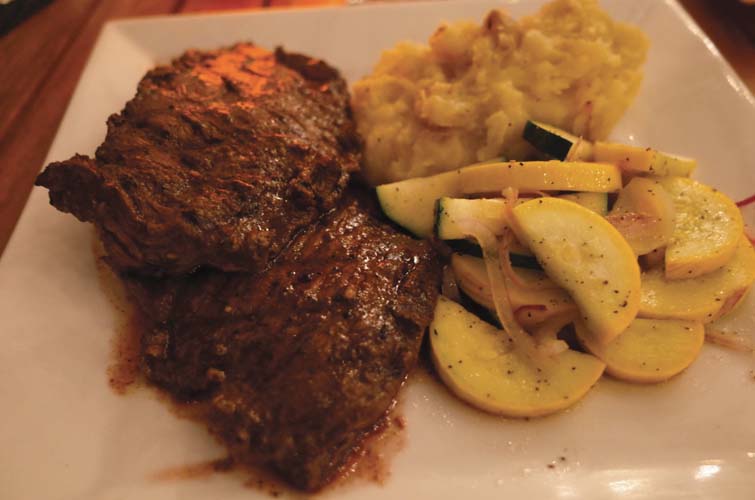 After a long wait, Post & Vine has debuted as the newest addition to the 14th Avenue dining and drinking scene – and a number of Vero residents already seem enthusiastic about its relaxed bistro vibe.
Headline news: The food is good, but this isn't exactly fine dining.  The casual ambiance is as much of the attraction as the food here. Come wearing a sports jacket, or come in shorts. Post & Vine offers a variety of tempting appetizers to enjoy with a cocktail, beer or glass of wine; salads, sandwiches or burgers if you're in the mood for something light; and a short list of tasty, well-executed entrées for those seeking a full-meal.
Look & Feel: The outdoor dining area is what makes Post & Vine unique. While other restaurants have most of their dining area inside, with small courtyards or patios, the spacious covered deck that opens out from the bustling bar area is where most of Post & Vine's dining will take place.  There's nothing else quite like this in Vero.
Food: Over the course of two meals, my husband and I sampled two soups, two large salads, four entrées and two desserts.
For starters, we had the tomato lentil soup and the lobster bisque (both $7 for a cup, $11 for a bowl).
The tomato lentil was a hearty vegetable-broth soup made with tomatoes, onion, carrot, garlic, green lentil, kale, curry, cumin and thyme. But the better of the two was the lobster bisque, a rich, creamy soup with chunks of lobster and finished with aged sherry.
Next, we sampled the roasted beet salad ($9) and the Caesar salad ($8). For an upcharge, these salads can be ordered with grilled chicken, steak, shrimp or soft-shell crab. But for dinner salads, either of these was big enough for two to share. The beet salad was particularly good with candied walnuts and goat cheese.
For entrées, we tried four of the five selections currently offered on the menu.  The first evening, I had the marinated chicken ($16) and on our second visit I had the char-grilled salmon ($19).
The char-grilled chicken breast was topped with artichokes, sundried tomatoes, feta cheese and fresh basil in a lemon beurre blanc. The salmon filet was topped with the lemon beurre blanc and capers, and was served with jasmine rice and crunchy roasted Brussels sprouts. Both very good dishes.
My husband on our first visit had the garlic skirt steak ($22) and on our return tried the grilled mushroom meatloaf ($15). The skirt steak was cooked perfectly and was very tender. The meatloaf, a blend of pork, beef, sautéed crimini mushrooms and some carrots, was topped with a brown sherry mushroom gravy. Excellent.
For dessert, we tried the Key Lime pie on our first visit and the chocolate cake on our second (both $7). Either one makes a fine way to end a meal.
Drink: As befits its name, Post & Vine has a nice selection of moderately priced wines, and it offers the beers and cocktails one would expect at its lengthy bar.
Service: For a new restaurant, service was both attentive and knowledgeable.
Prices:  Prices for starters range from $7 to $14, with salads, sandwiches and burgers mostly in the $8 to $12 range, and entrées running $15 to $22.
Pets:  Post & Vine says pooches are absolutely welcome.
Initial impressions: Post & Vine is just getting started, and it's hard to tell where it's going.  But it is unique, and it's certainly an interesting addition to Vero's downtown dining area. It's very much worth a visit.
I welcome your comments, and encourage you to send feedback to me at tina@verobeach32963.com.
The reviewer dines anonymously at restaurants at the expense of Vero Beach 32963.
Post & Vine
Hours: Daily, 3 pm to late
Beverages: Full Bar
Address: 1919 14th Avenue, Vero Beach
Phone: (772) 907-5159