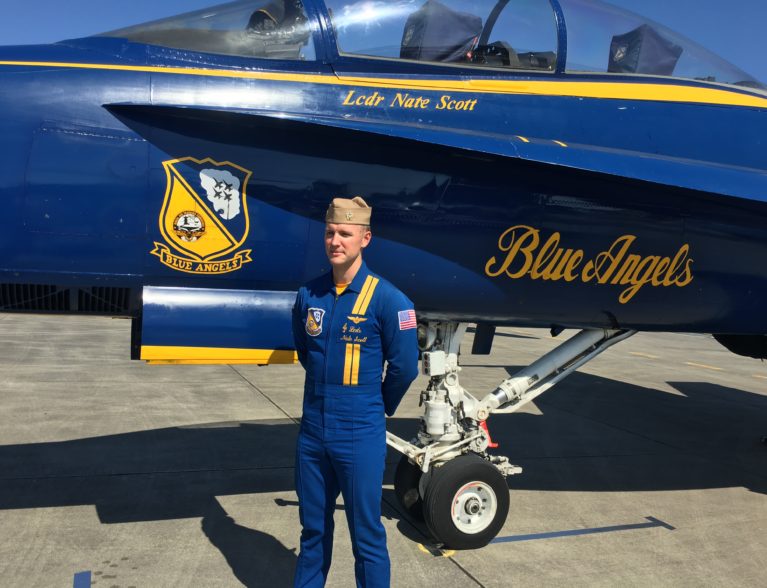 Six pilots are ready to hit the skies during the Vero Beach Air Show traveling in jets that can reach a high velocity, just under the speed of sound, officials said.
Flying a fast moving jet is no easy task. The Blue Angels pilots work out and train six days a week to prepare for flights, according to #4 slot pilot Nate Scott, 33.
"We're excited. It's going to be a great show," Scott said. "We love doing air shows at places that we haven't been to in a while."
The Blue Angels, a U.S. Navy Flight Demonstration squadron, will perform on Saturday and Sunday at the Vero Beach Regional Airport, 3400 Cherokee Road. About 200 to 300 spectators applauded as six McDonnell Douglas F/A- 18 Hornet jets landed at the airport about 10 a.m. Thursday, just behind the C.J. Cannons Restaurant.
Some of those spectators included Vero Beach Mayor Harry Howle and County Commissioners Tim Zorc and Peter O'Bryan.
The pilots will be practicing on Thursday and Friday, according to Catherine Caddell, Director of Public Relations & Marketing for the air show. This will be the Blue Angels' second appearance at the event; they last performed in 2014.
The Vero Air Show will run from 9 a.m. to 5 p.m. on Saturday and Sunday. The exact time when the Blue Angels will fly was not available. The team is expected to perform later in the day on both days.
There are about 140 people on the Blue Angels Team, including 10 pilots, Scott said. The six who will fly in the air show are Commander Eric Doyle, Blue Angel No. 1, Lt. Damon Kroes, Blue Angel No. 2, Maj. Jeffrey Mullins, Blue Angel No. 3, Scott, Blue Angel No. 4, Lt. Tyler Davies, Blue Angel No. 5 and Lt. Brandon Hempler, Blue Angel No. 6, officials said.
The pilots fly a variety of Hornet jets, which can reach speeds of up to 750 miles per hour.
"These planes are the best maintained out there. We love flying them," Scott said. Scott joined the Blue Angels in 2017. He lives in Pensacola with his wife and son.
Blue Angels Pilot Nate Scott talks about the Vero Air Show and training.
*Note for videos: Click the audio icon in the lower right hand corner for sound. If that doesn't work, try refreshing the page. 
U.S. Navy Blue Angels #4 Pilot Nate Scott talks about the popular Vero Beach Air Show and pilot training. Six Blue Angels flight demonstration pilots will participate in the Air Show this weekend at the Vero Beach Regional Airport. #VeroNews

Posted by Nick Samuel on Thursday, April 19, 2018
For crew chief member Kyle Wood, the air show will be his first. Wood, 23, of Pensacola, said he has family members coming to town to see the show.
Wood joined the Blue Angels six months ago. He will be working alongside Scott for the #4 Hornet jet.
"It's still new for me. It's awesome," Wood said. "I learn something new everyday. I just try to do the best I can and try to stay on top of things."
Wood said his job duties include examining the engines to make sure the jet is running properly and setting up the pilot's cockpit. Before the show, Woods said he will go up to the side of the jet to make sure Scott is strapped in securely.
The crew members do not fly along with the pilots, Wood said.
The Blue Angels team was formed in 1946, according to its website. The mission of the flight squadron is to showcase the pride and professionalism of the U.S. Navy and Marine Corps. It also aims to inspire a culture of excellence and service to a country by performing flight demonstrations and community outreach, according to its Facebook Page.
The team is stationed in Pensacola during the show season, but spends January through March training pilots and new team members in El Centro, California.