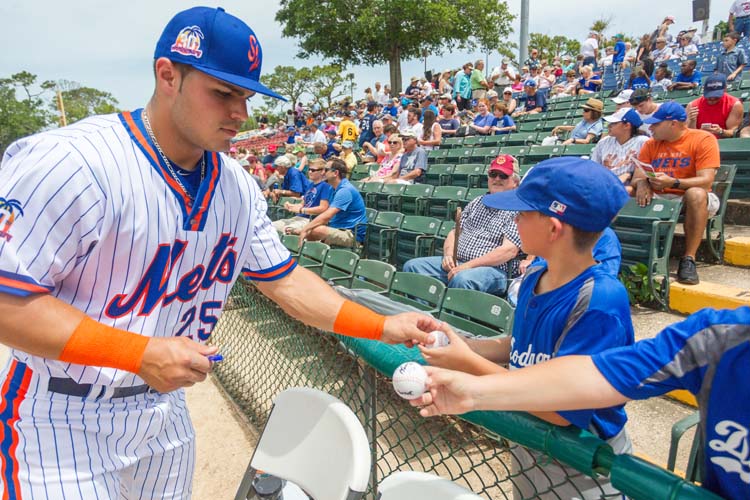 Local baseball fans pitched in last Sunday afternoon in support of the United Way of Indian River County during the fifth Annual Jackie Robinson Celebration Game at Historic Dodgertown's Holman Stadium.
The stadium was packed with baseball fans young and old despite the threat of stormy weather as the St. Lucie Mets prepared to take on the Dunedin Blue Jays, a regular-season Florida State League game. No matter which team you root for the rest of the year, on April 15, everyone is a Dodger fan in honor of No. 42, Jackie Robinson.
Robinson trained at Dodgertown from 1948-1956, playing first base for the Brooklyn Dodgers. He hit a home run in the first Major League exhibition game and was the first African-American Major League Baseball player.
Dodgertown became the first fully-integrated spring training site in the South. When Robinson stepped up to the plate, he made a stand for civil rights.
"If there's one place in the world where Jackie Robinson Day should be celebrated, it should be where he broke the color barrier, which is right where we are standing," said Craig Callan, Historic Dodgertown vice president.
This year marks the 70th anniversary of Historic Dodgertown and Jackie Robinson's start with the Brooklyn Dodgers. Peter O'Malley, Historic Dodgertown chairman, said in a letter, "Jackie's presence resonates beyond baseball to the integration of society in the South. He is a true American hero and we're honored that he prepared for the majority of his great seasons in Vero."
During the opening ceremony youth baseball and softball players escorted the Mets' mascot, Klutch, in the pre-game parade, and members of the Gifford Youth Orchestra performed the National Anthem. Minor League Baseball President Pat O'Conner took to the mound with Callan and his son, Liam Callan, for the ceremonial first pitch.
"We are here to serve all portions of the community," explained Jeff Petersen, event chair, noting that the legacy of the desegregation of baseball aligns with the work the United Way does to bring everyone together.
"Craig Callan has a long history with the United Way, and when the opportunity came up to do this, he wanted an agency that serves the community broadly," said Michael Kint, United Way CEO. "The United Way system embraces what it calls community cohesiveness, and we're working to really get communities to work together."
Proceeds from the game benefit the UWIRC, which has served this community since 1961 and has raised more than $60 million in an effort to develop a strong, healthy and caring community through the nonprofit's mission to build partnerships, forge consensus and leverage resources to make a measurable difference. Programs supported by the United Way focus on education, financial stability and health.
The 32nd Annual United Way Citrus Golf Tournament is scheduled for May 5. To learn more about the United Way, visit unitedwayirc.org.
Photos by: Gordon Radford and Stephanie LaBaff
Click HERE to see more or buy photos