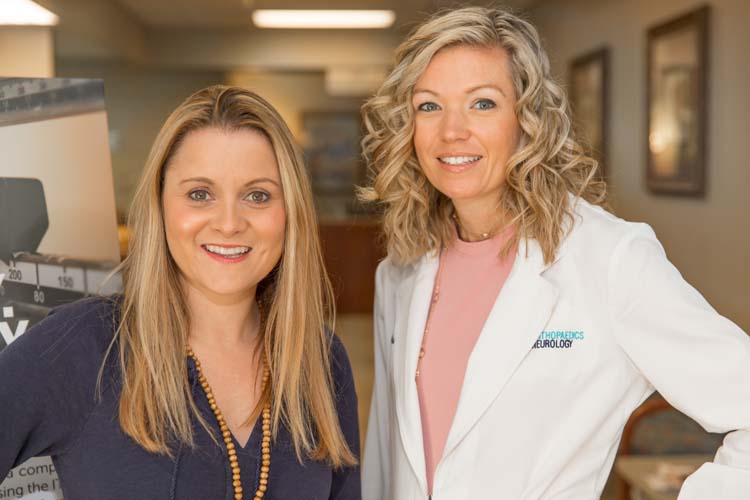 Hip and knee replacements are two of the most common surgical procedures performed today.
The American Academy of Orthopaedic Surgeons predicts that by 2030 the number of total knee replacements performed in this country will grow a whopping 670 percent to roughly 4 million a year, while an additional 340,000 Americans will get a "new hip" each year.
But "weight." There's more.
According to Dr. Megan Hill at Vero Orthopaedics & Neurology, even if your hip or knee does need replacing, you may still have to wait.
And lose weight.
Here in Vero Beach, your BMI (body mass index) can red-light or green-light your joint replacement surgery.
According to Hill, a board-certified family medicine and preventive care physician, "the Indian River Medical Center [where VO&N surgeries are performed] says that you cannot have joint replacement surgery done with a BMI greater than 40."
That, incidentally, is not a universal or even area-wide restriction. A University of Massachusetts Medical School study published in the Journal of Bone & Joint Surgery last July says "our data shows it's not necessary to ask patients to lose weight prior to [hip or knee replacement] surgery."
Nonetheless, if you want your surgery performed by VO&N, it must still comply with the IRMC rules.
In any event, the Centers for Disease Control defines BMI as "a person's weight in kilograms divided by the square of their height in meters."
Even the AAOS admits "being denied hip or knee replacement surgery until you lose enough weight is discouraging. Being given a number on the scale to hit before scheduling a surgery feels like another massive roadblock. After all, losing weight isn't easy – especially when you're in chronic pain with limited mobility" because of failing hips or knees.
That, according to Hill, is precisely why VO&N launched its ITG (or "It's the Greatest") weight loss program: a low-carbohydrate, low-calorie ketogenic diet designed to burn fat.
"We've had some really good success stories within our practice," says Hill. "And I wanted something that I could offer to the community. Having a physician manage it and being able to just offer an additional healthy lifestyle product for our patients," she claims, "goes hand-in-hand with orthopedics."
One of those in-practice examples is VO&N's own CEO Jenn Davison.
While asking any woman about her weight is probably still a social taboo, the 5-foot-1 Davison blithely volunteers that information.
"I was 142 pounds starting in August of last year," exclaims Davison, "and now I'm down to 120 pounds. So I've lost 22 pounds. It's changed my life for good. I'll never go back to eating the way I was before because I feel 10 times better, my inflammation I feel has gone down significantly, I have more energy, I feel a little bit more active and for me it's been a great health change."
In fairness, bariatric weight loss surgery can and does routinely produce even greater weight loss in even less time, but as Hill quickly points out, "I had a couple patients who would probably have benefited from the bariatric surgery, but they didn't qualify within terms of their insurance."
Other patients, Hill and Davison agree, simply don't want to face back-to-back weight-loss and hip or knee replacement surgeries.
Moreover, the two contend, the ITG diet can produce long-lasting results.
As Davison puts it, "I've seen plenty of people who can drop 50, 60 pounds in a six-month period, but then you look at them a year out, they're up 60 or 70 pounds. I don't really care where you are in six months, I care what you're able to maintain for the next year, two years, three years because it's harder on our bodies to drop weight and re-gain weight, and with ITG not only are we getting you to drop your weight, but we're teaching you healthy, manageable lifestyle changes that you can maintain."
To aid in that plan, VO&N monitors its ITG patients with weekly phone calls and offers a special email address through which patients can keep in constant contact or ask questions without having to make office visits.
Finally, Hill boasts that unlike many commercially advertised diet plans, ITG does not require patients "to buy all these [food items] and keep buying them in order to keep the weight off. We teach you how to live a lifestyle without having to purchase all those things and spend all that money."
Dr. Megan Hill can be reached at Vero Orthopaedics and Neurology at 1155 35th Lane in Vero Beach. The phone number is 772-569-2330.