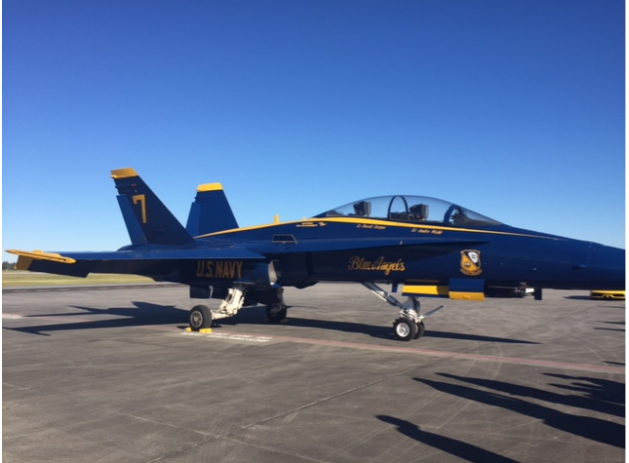 INDIAN RIVER COUNTY — A school superintendent's hard work and community impact earned him the chance to tour the sky with the Blue Angels flight demonstration squadron, authorities said.
Superintendent Mark Rendell will be riding in an aircraft along with Lieutenant Andre Webb at 1 p.m. Wednesday at the Vero Beach Regional Airport. Flying candidates such as Rendell promote the culture of excellence the Blue Angels strive to uphold.
The superintendent was chosen as a Key Influencer – a person who helps shapes attitudes and opinions of youth and helps them to work hard to achieve their goal.
"If my participation as a Key Influencer could lead more young men and women to choose to serve our country, I feel that I would be paying back some of what I received growing up," Rendell said.
Rendell was nominated by the Vero Beach Air Show for the opportunity. That show, which will also feature the Blue Angels, will be held Saturday and Sunday at the Vero Beach Regional Airport, 3400 Cherokee Road.
A selection committee for the Blue Angels reviewed Rendell's credentials, biography and letter of intent, officials said.
The superintendent has more than 27 years of experience in public education serving as a middle and high school teacher, high school principal and district administrator.
Rendell previously served in the U.S. Army and his dad served in the U.S. Navy, officials said. The superintendent was 10 years old when he first saw the Blue Angels while watching a Homecoming Air Show at a base in Pensacola.
"Although a little jealous, I must say that he's truly deserving of this tremendous honor," School Board Chairman Shawn Frost said. "Being a Superintendent of Schools is great preparation for handling the pressure of g-forces and climbing to the top. Congratulations to Dr. Rendell, and stay safe, so we can take this district to the stratosphere."