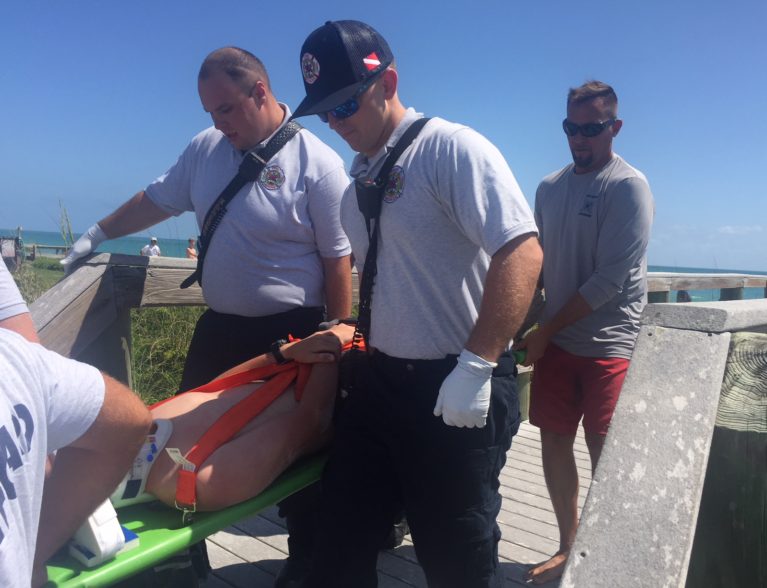 VERO BEACH — A 15-year-old boy has minor injuries after a body board incident this weekend at a local beach that sent him to the hospital, authorities said.
Lifeguards initially thought the boy had a possible spinal injury, according to Assistant Lifeguard Captain for City of Vero Beach Erik Toomsoo. Indian River County Fire Rescue spokesman Cory Richter confirmed the boy's injuries were minor and that he did not have a spinal injury.
The incident possibly was caused by rip currents and shore breaks early Saturday at Jaycee Park, lifeguard officials said.
The teen was using a body board about 11:30 a.m. Saturday at Jaycee Park, Toomsoo said. A wave jolted the teen head first into the sand, pushing his feet above his head in a "scorpion-like" motion.
One of the teen's friends helped him out of the water. A lifeguard held the teen's head and neck steady after the teen, who was bloodied in the face, complained of neck pain, Toomsoo said.
Toomsoo, who was stationed at Humiston Park about a mile away, said he called 911 after being alerted of the incident. He then drove on an ATV to Jaycee Park. Emergency service officials arrived soon after.
The teen was awake and alert when taken to the Indian River Medical Center, Toomsoo said. The teen was visiting the beach with a youth church group from St. Augustine.
There are two lifeguards stationed at Humiston Park, Jaycee Park and South Beach Park, Toomsoo said. Lifeguards usually respond to medical emergencies at local beaches between a few dozen to more than 100 times per month.
These emergencies range from small cuts or stings from the Portuguese man of war fish to more severe or even fatal injuries. More medical emergencies occur than water emergencies, Toomsoo said.
Toomsoo said there have been four rip current rescues at local beaches this month. A rip current is a narrow channel of water moving away from the beach. Sometimes swimmers get caught in them, exhaust themselves out and possibly drown, Toomsoo said.
Photos by Vero News Staff