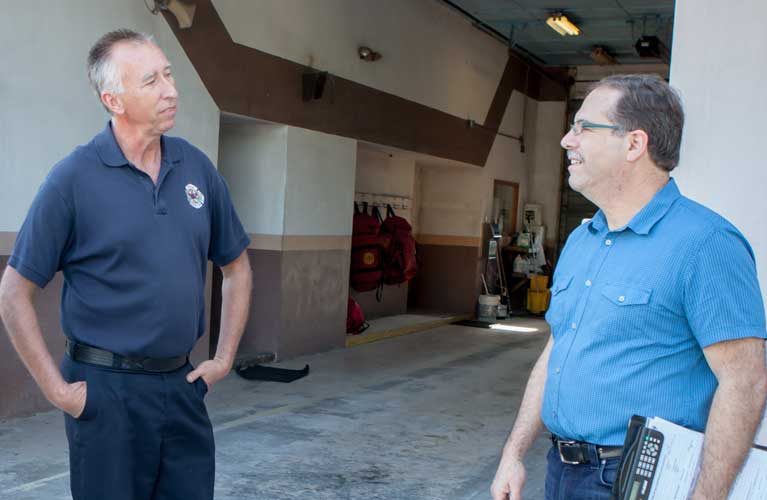 This article was changed to say that the State Attorney's Office filed a formal grand theft charge against Brian Burkeen. The five charges of dealing in stolen property have not been filed. 
INDIAN RIVER COUNTY — Prosecutors formally charged former Assistant Fire Chief Brian Burkeen with grand theft for involvement in a nearly $300,000 tire scheme, court records show.
The 55-year-old retired chief now faces a first-degree grand theft pursuant to a scheme felony charge. Deputies initially charged Burkeen with five counts of dealing in stolen property and one count of grand theft.
Prosecutors, however, filed the grand theft charge. The other charges were not filed and remain up for consideration, according to Assistant State Attorney William Long.
Long declined to comment on why those charges were not filed. But, he did say some of the dealing in stolen property charges were encompassed within the formal theft charge filed Friday.
Long said there are legal reasons why the state can't have overlapping charges. He added that it's possible for the state to go back and file formal dealing in stolen property charges later.
He declined to comment on what decision prosecutors will make.
A court document showed that on Wednesday Burkeen pled not guilty to the charges, waived his arraignment and demanded a trial by jury.
Burkeen was arrested in March after investigators said he obtained tires from two local Goodyear stores, charged them back to the county and then sold the tires at an undisclosed location. The retired chief carried out a total of $288,251 worth of tires from the stores from June 2014 to February 2018, deputies said.
Burkeen was arrested March 26 and released on $125,000 bail from the county jail that same day, jail records show.
Burkeen, of the 10900 block of 138th Avenue, worked for the county for nearly 30 years. His retirement was effective Feb. 9.
No further details were immediately available.
This story will be updated.