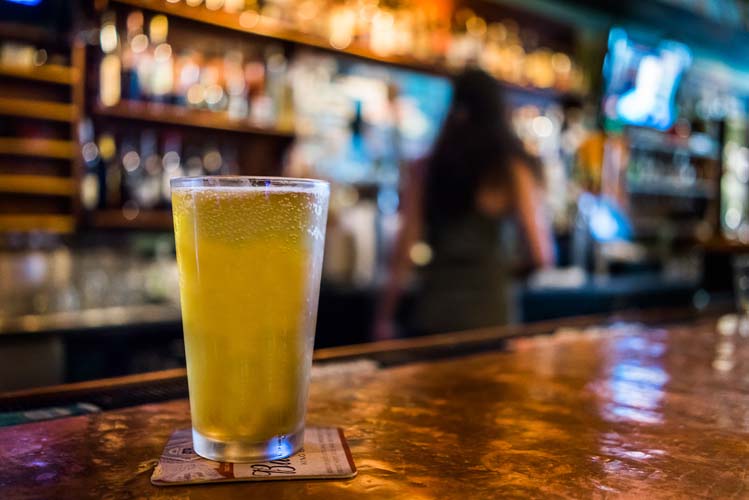 More than a year had passed since Andy Capak, one of the co-owners of The Grove Bar, was shot multiple times at close range outside the downtown establishment in the wee hours of a Friday morning – and still he hadn't spoken publicly about what happened.
So, seizing upon the March 31 anniversary of the shooting as a potential opportunity, I requested an interview, sending him a text message that listed the topics I wanted to discuss with him for this column.
Capak declined, just as he had done when I made a similar request last summer.
This time, though, he offered an alternative.
"I'm not interested in doing an interview, but I will give this statement," he responded, "because I believe my community deserves it."
In his statement, which he sent via text message last week, Capak wrote that he believed the Vero Beach Police Department "did all they could, given the lack of good evidence, number of conflicting witness statements, and the fact that I could not positively ID the suspect."
He continued: "It should not be inferred in any way that the department dropped the ball on this investigation. Detectives working the case were always patient, thorough and kept me up to date on the process."
Capak, now 32, then addressed the life-threatening injuries he sustained after being shot at least three times and the financial assistance he received to cover his medical expenses.
The St. Edward's School graduate expressed gratitude for the community's support and vowed to return the favor should others need his help.
"I have nearly made a full recovery and, thanks to GoFundMe.com, the beachside benefit and negotiations with bill collectors, we should have most of the major medical bills under control," Capak wrote.
"My wife and I (Yes, I got married on 10/14/17) can't say enough about the Vero Beach/Fort Pierce community – family, friends, acquaintances, service industry professionals, small business owners, first responders and even complete strangers," he added. "So many people pitched in on so many levels.
"I'm not sure I'll ever feel deserving of so much support, but I want everyone out there who lifted a finger for me to know: I got your backs and I love you all!"
The statement was, certainly, a nice gesture. And there's no reason to doubt the sincerity of the sentiments he shared.
But there are still questions that need to be asked.
Thus far, all we know is this:
n The trouble began inside the bar shortly before 2 a.m., when one of at least two men in the suspected shooter's group said something to a woman who was accompanied by another man.
n Harsh words were exchanged, which ignited a physical altercation and then a brawl that spilled outside the bar and onto 14th Avenue.
n Capak told detectives he was engaged in the fight outside the bar and "remembered punching an individual with dreadlocks."
n Capak also told detectives that he was "actively approaching the shooter" and was about 20 feet from him when he was struck by the first shot. He said he was 10 to 15 feet away when the second and third shots hit him.
n Capak told detectives he saw the shooter and saw the gun discharge multiple times, but he said he "would not be comfortable making an in-court identification."
So I'm wondering . . .
Why, when the incident first became physical, didn't Capak simply call the police and let them handle it?
Why did Capak remain engaged in a brawl after it moved outside the bar and onto the street?
Why did Capak, after punching one of the men, then approach the shooter, who was 20 feet away and posing no immediate threat?
Those are practical questions.
Here's a legal one: Could the shooter claim he saw Capak, who already had struck one man, moving toward him in a threatening manner and fired in self-defense under Florida's controversial stand-your-ground law?
Then there's the obvious question: How could Capak not be able to identify the shooter, who was only a few feet away and standing directly in front of him? Especially after serving him drinks at the bar?
Only Capak has the answers, and he doesn't want to be interviewed.
Why?
Maybe, after surviving the shooting, he's simply thankful to be alive and married and he no longer wants to think about it. Maybe he's still traumatized. Maybe he doesn't want any negative publicity for his bar.
Maybe it's something else.
We don't know, and, at this point, it probably doesn't matter. While the investigation remains open, police say it's not active – and won't be until or unless a new witness comes forward, new evidence surfaces or someone confesses.
Detectives identified a suspect they wanted to charge with attempted murder, but a state prosecutor denied their warrant request last fall, citing discrepancies in witness statements, mistaken identification and the failure of most of them to select the shooter from a photographic lineup.
In other words: There were too many conflicting accounts and not enough hard evidence to establish the probable cause necessary to file a criminal charge.
"In this matter," Assistant State Attorney Bill Long wrote in a four-page letter announcing his decision in November, "the state cannot ignore the fact that the incident occurred at a bar, where a majority of the witnesses who reported their respective observations had been consuming alcohol prior to the event."
And the event occurred shortly before closing time.
So while Long said, "I won't say it will never be solved," it seems increasingly unlikely we'll ever see an arrest.
The Grove Bar shooting, despite occurring in the middle of the street along the main drag of downtown Vero Beach in front of multiple witnesses, remains an unsolved case with too many unanswered questions.
That's something to talk about.