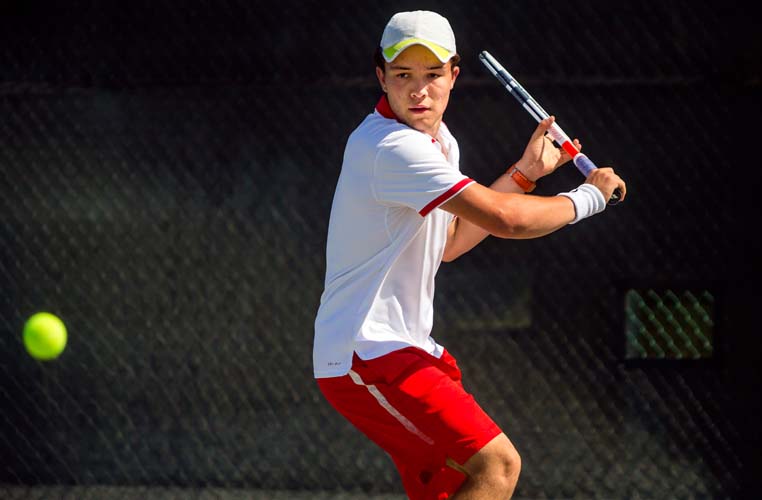 James and Joseph Van Deinse arrived in Florida two years ago when the Van Deinse family purchased the Vero Beach Tennis & Fitness Club at Timber Ridge. Already established as professional tennis coaches working primarily with high school prospects in Traverse City, Michigan, the brothers sought to carve out the same niche here.
Last week in an exhibition match between Vero Beach High School and St. Ed's at Timber Ridge, the planets aligned perfectly and the ultimate dream for both became a reality in Disney-like fashion.
James, 27, took over as head coach at VBHS at the beginning of this season. Joseph, 29, became the head coach at St. Ed's just a day before the crosstown match when Francisco "Paco" Munoz relinquished the position for the remainder of the season for medical reasons.
"It was a last-minute type thing," James Van Deinse said about becoming VBHS coach. "Brad (Tulenko) had the job before, but when he left I took the position as quickly as I could. I was very excited to do it.
"Joseph and I wanted to get into the high schools here because we had coached a lot at that level in Traverse City. We basically coached all of the kids who were on high school teams in that area, and we thought it would be a nice step up for both of us to be able to coach actual high school teams here in Vero Beach."
On one gorgeous, sunny afternoon last week it all came together. The official scores were 7-0 in favor of the VBHS boys, and 7-0 in favor of the St. Ed's girls. We will call it a draw.
The postseason is the next challenge, and the Vero boys are the clear favorites in the district tournament next week at Melbourne High School.
"This season is going really well," Van Deinse said. "First of all it was a very smooth transition. The kids have been great. The boys in particular are about as strong as you can get. They are going to be very competitive at the state level. We have a very deep lineup with all five of our boys. Our only loss so far has been to Freedom High School.
"So we are anticipating good things from the boys and hoping to make a run at states. There are a lot of good schools with top-notch players out there, but we feel we can compete at that level. We are undefeated against district teams and have put up a lot of zeros against them. So I feel like we are going to make it through districts comfortably. We should do well, but you never know how players play from one day to the next."
The ideal boys lineup one through five is Trey Olmstead, Sebastian Mendoza, Eric McCann, Drew Bochte and Manasseh Suranofsky. Sam Weinstein, Jariel Evaristo and Harlie Hillary are prepared to move up if needed.
On the other hand, the girls are progressing through the early stages. Van Deinse is optimistic about their future based on what he has seen so far this year.
"It's a rebuilding year for the girls. A lot of them are new and they've all done a good job. The improvement that they've made since the beginning of the year is actually greater than that of the boys. So the girls get the most improved award. Next year they are going to step up and start winning matches for us."
The girls go one through seven with McKayla Sattler, Kendall Schlitt, Adela Rodriguez, Sarah Wolf, Loren Dombroski, Isabell Poulitsas and Amy Vasquez.
"Working with this group of kids is incredibly fun. My brother and I have only been here for two years, and a lot of these players, especially the boys, want to play in college. If they are truly interested in transitioning to that level – that's what I really enjoy doing as a coach.
"Joseph and I still compete at the professional level, so when we watch these kids, we know what they are going through. We can relate. We can feel what they are feeling. It helps when you are able to do that."