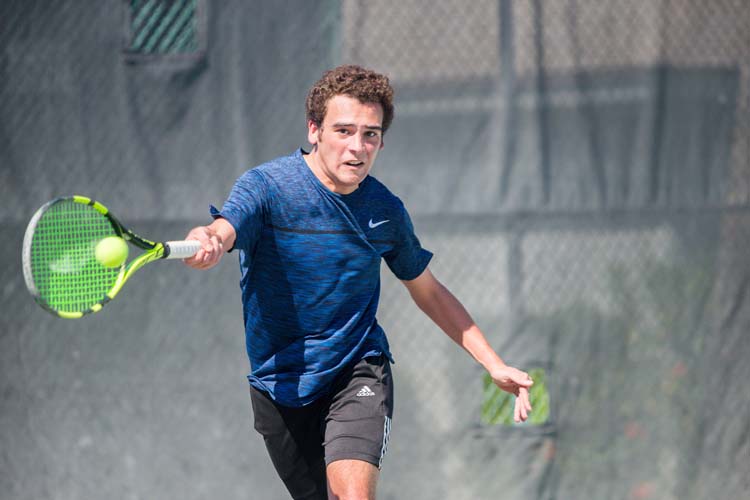 When the tennis teams from St. Ed's and Vero Beach High met in a friendly exhibition match last week at the Vero Beach Tennis & Fitness Club, the rival coaches did their best to fill the atmosphere with brotherly love.
Just one day earlier, Joseph Van Deinse took over as St. Ed's head coach when Francisco "Paco" Munoz left town for medical reasons. It had been just over three years since Munoz was nearly killed in a horrific automobile accident. He has yet to fully recover and turned the reins of St. Ed's tennis over to Van Deinse for the remainder of the season while he undergoes additional treatment in Mexico. By all indications it seems that all is progressing well in that regard.
For his first day on the job Van Deinse needed no scouting report on the coach he was pitted against. It was a familiar face very much like his own. His brother James Van Deinse is the head coach at VBHS.
"This is a tale as old as time, at least for us," Joseph Van Deinse told us before the match. "We are always competing against each other, and go figure that the respective high schools that we're coaching are going against each other. We are very happy to host it here at the VB Tennis & Fitness Club. It's a great event for our members, the parents, the schools, and the community.
"It's fun to have a little crosstown rivalry going on. Some of our kids train with some of the VBHS kids at the various programs around here. We are really happy to have them come here and compete. To have the schools go against each other has an extra-special feel to it."
For the record, the VBHS boys and St. Ed's girls prevailed by identical 7-0 scores.
The Van Deinse family of Traverse City, Michigan, purchased the facility at Timber Ridge two years ago and, as you can tell, Joseph, 29, and James, 27, are already firmly embedded in the local tennis fabric. The brothers are not exactly as "old as time," just a decade out of high school themselves. This rare confluence of factors should enhance the St. Ed's-VBHS tennis rivalry in the coming years.
"Coach Paco approached me and asked if I would help out with the season (as an assistant) and transition to head coach because he had medical issues to attend to," Van Deinse explained. "I'm pretty excited to be stepping in to help St. Edward's pilot their tennis program.
"Paco and (assistant coach) Chad Miller have done a great job of getting these kids prepared. It's fun to step into a program where the players are real players. You don't always get that with high school tennis. Sometimes the talent is very raw, but here at St. Edward's we have some very serious tennis players."
The new head coach must be pleased about that because this is certainly the time of year to get serious. Senior Night last week concluded the regular season. The district tournament is scheduled for April 17-18 at Benjamin School.
The girls were 7-1 and the boys 6-2 in district matches. The projected lineups portend a strong probability for team or individual advancement.
"Our No. 1 girl is Itxasne Berasategui, an exchange student from Spain," Van Deinse said. "She's only a sophomore, but very experienced in tournament play throughout her junior career. She is a great player and a great asset to our team. Right behind her at No. 2 is senior Jasmine Jaffe. They are a very strong one-two punch."
The three through five spots were shuffled when No. 3 Jolie Montlick was injured. If Montlick is unavailable, Morey Miranda, Zayna Shaikh and Katie Groom or Sandy Kelso will likely move up in the order.
"The No. 1 leader for the boys is junior John Atwater," Van Deinse said. "He hits a big ball and if he's on fire he can beat anybody. He can take on all the big dogs from the other schools. We have another strong No. 2 with senior Alex Harper. We have Will Johnson at No. 3, Jacob Chesley at 4, and Ben Oakes or Omar Shareef at 5.
"We've had a lot of good results within the district. The strongest team right now is probably Benjamin. Hopefully we can get by the other teams and then challenge Benjamin at the end.
"This is very exciting. Another great thing about it is that we don't have a ton of seniors graduating. We have a lot of kids coming up and we will have strong teams for years to come."