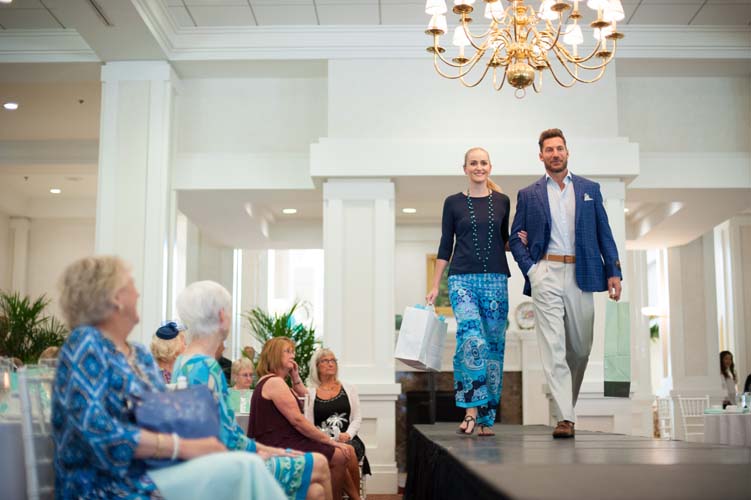 The latest in stylish spring and summer looks was spotlighted last Thursday afternoon at the Blue Ribbon Luncheon and Fashion Show at the Oak Harbor Club, a benefit for Hibiscus Children's Center. The fashion show was again professionally produced by Miami-based Sobol Fashion Productions.
This year's Passion for Fashion theme is precisely the mindset of the barrier island boutique participants – Pineapples, J. McLaughlin, Sara Campbell Ltd., Cashmere Beach, Frances Brewster, Sassy Boutique and Cooper & Co. – whose designer clothing and accessories spanned a day in the life of a Vero Beach woman. To the delight of the ladies, a new twist this year was the addition of dapper men's fashions from Vernon Scott Resort Wear, including Peter Millar, Smathers & Branson, and their own Vernon Scott label.
Chic and carefree daywear transitioned effortlessly into elegant eveningwear on the runway as each retailer presented a selection of styles from a day at the beach to an evening out. Trending this year were perky pique and gingham dresses, classic summery sleeveless shifts, feminine ruffles, scalloped hems and bell sleeves, artistic designs, lace and overlays, and clothing in easy-to-care-for washable fabrics – ideal for Florida.
"It's really the latest styles; it's merchandise currently in their store so it's wear-now merchandise," said Karen Loeffler, show coordinator. "It is amazing that you can find iconic brands like Carolina Herrara, Etro and Pizza Sempione right here in our local Vero Beach stores. It's pretty impressive."
"We have a lot of clean, classic lines with interesting fabrics; we're going back to classic looks but updating them," says Carolyn Redfield, owner of Pineapples, whose fashions were first on the runway.  An early crowd favorite introduced another trend this season – bold florals – with a lovely "ready-to-wear-art" piece by the Canadian company Volt Design. The original artwork employs a clever design that allows the shift to be worn frontwards or backwards.
A stunning black-and-white evening gown by Canadian designer Frank Lyman featured a solid black off-the-shoulder bodice topping black-and-white floral designs on both underskirt and overlay chiffon, presenting an illusion of depth and movement as it glided down the runway.
Beautiful cashmere wraps and cotton cardigans, vibrant periwinkle and soft pink, were the perfect accessories for J. McLaughlin's classic summer dresses. "We carry a lot of easy-care fabrics for today's busy women," said Cindy Williams. "They make great travel pieces."
In addition to several of the Americana-style crisp, blue-and-white nautical classics they are known for, the boutique also presented festive multi-colored leggings, and a soft aqua top with aqua print ankle pants, closing the lineup with a flirty pink-and-white-striped dress with ruffled sleeves.
Art again met fashion with a scalloped-trimmed, toile sleeveless shift with a design by Cape Cod artist Joan Peters, who provides the print exclusively to Sara Campbell. "It's the perfect Vero dress," said Patty Casale.
Afternoon and evening outfits included a black and white gingham 'magic' dress with ruching – "because ruching gives everyone a good figure," and signature Sara Campbell party dresses, perky numbers with flared jacquard skirts and striped inverted pleats.
Cashmere Beach joined others in pairing the Florida staple – white pants and capris – with silken kerchief tops and jackets in a variety of soft, summery colors, and went bold with black floral ankle pants paired with a fuchsia blouse. "We used a variety of different vendors that we carry; a little bit of everything," said Niki Ryba.
A fitted lace dress and its cute matching cape from the Parisian designer Max & Moi was the epitome of romance, while their extravagant car-length jacket of gold metallic foil on lambskin showed its ooh-la-la flair. The European brand 0039 Italy merged femininity with comfort with a voluminous royal blue silk dress.
Frances Brewster started down the runway with designs from the Italian designer Bessy – vibrant floral silk pants with a jersey top, and a cotton multi-colored A-line shift.
"We've actually carried the company for 58 years; it's a family-owned company," said Cathye Motta.  "They design and print all their own fabrics; all of their prints belong only to them."
And for evening, a simple but stunning look, with black silk pants paired with a white knit, bell-sleeved jacket by New York's JSS Knit that shimmered with subtle snowflake crystals.
"We love resort looks that can be worn year around in Vero Beach and transition to places like Nantucket and the Hamptons. Color blocking citrus colors like tangerine, lemon and clementine are important this season," said Deana Marchant, Sassy Boutique co-owner with Tammy Theoharis.
Their collection began with an update to the denim look; Tory Burch fringed Capris with a vibrantly colored top. Other styles included a ruffled cream-colored dress by Milly, a fun black-and-white geometric design by Trina Turk, a girly lilac lace dress by Soshana, and some adorable MDS Stripes by Mark Sykes dresses in white eyelet and green gingham.
"It's always fun to be part of a great show," said Cooper & Co. owner Melinda Cooper. "We have so many great designers to choose from that it's hard to make the final decision."
Her designers included Weil, whose black and camel block dress was accessorized with a black topper ornamented with grommets; Carolina Herrera, with a lovely mid-length sundress highlighted with a splatter pattern reminiscent of a Jackson Pollack; and American designer Lela Rose, whose black pants outfit featured grid fringe lace cutouts on the top and at the ankle.
Bold colors and fringe were featured in several Etro pieces – orange-fringed ankle pants complimented by a bright blue top and chartreuse sweater, a maxi dress accessorized by a fringed scarf, and a silky orange and lime dress with flowing butterfly sleeves.
Cooper closed out the show with sophisticated elegance, showing a black, off-the-shoulder Teri Jon mermaid fit gown with an open lace back, decorated with an unpretentious white seed pearl design.
"The fact that we now have such a great selection of stores means that there's something for everyone in Vero," said Motta. "And I think that's really great; we're lucky in Vero."    
Photos by: Benjamin Thacker
Click HERE to see more or buy photos