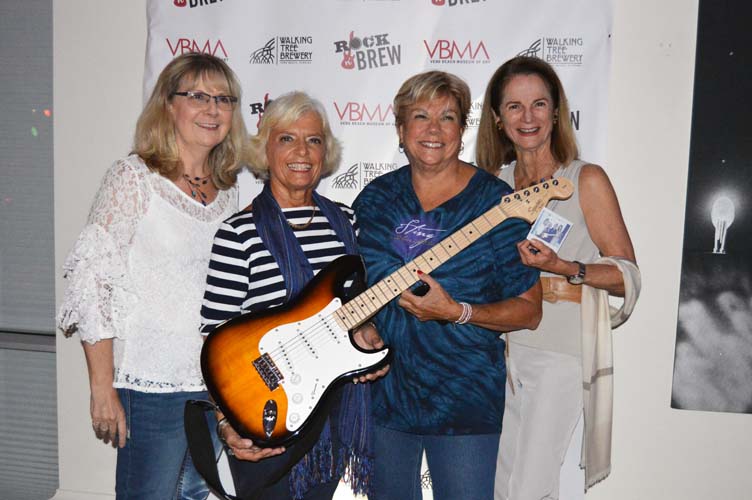 The Vero Beach Museum of Art was overrun with rock stars last Saturday night, raising the roof and rockin' on at an inaugural Rock & Brew event to benefit the museum's Art for Health Sake programs.
The evening was inspired by the exhibit, Medieval to Metal: The Art and Evolution of the Guitar, a touring exhibition of 40 instruments that celebrates the artistic development of the guitar through the ages.
Guests were encouraged to dress as their favorite rockers from the '50s all the way to today, and many took their costumes to a whole new level. As they walked the red carpet, revelers posed for Polaroids and posted their happy snaps on a Wall of Fame, most without ever having played a note on a guitar or keyboard.
Later, after taking a turn through the exhibit, attendees enjoyed brews from Walking Tree Brewery and nibbled on bar snacks, while being taken on a musical journey with entertainment by Souljam.
The Art for Health Sake programs utilize the arts to improve health and wellbeing by emphasizing the process of creative expression to improve emotional, physical, spiritual and social wellbeing.
"It's a unique way for museums to expand the interpretation of art," explained Dawn Miller, program manager. "Art on the wall is important, but we also use the exhibits to expand the definition of art to all of the expressive arts: music, movement, writing and the contemplative arts (visualization, meditation and yoga)."
An artist herself, Miller said art focuses on relationships, explaining, "In the art world, it's about relationships between shape and color. In the work that we do in the Art for Health Sake program, it's about relationships between people."
The programs offer a wide range of experiences geared toward varying needs, but centered on docent-led viewing of the exhibits, music and movement and creative art-making projects.
A + Art is an exhibitions-based program for teens and young adults on the autism spectrum; Artful Engagements brings the creative process to people experiencing cognitive impairment; the Intergenerational Program partners middle-school-aged Boys and Girls Club members with adults to foster relationships; and Movement and Music partners with the Alzheimer's & Parkinson's Association to help improve balance and flexibility through structured movement and dance.
"I'm so proud of the museum for opening up and expanding the concept of how to serve the community through art. They have really grabbed hold of the Art for Health Sake content and process. I think our museum is one of the few museums in the country who have such a comprehensive program," said Miller.
For more information, visit verobeachmuseum.org.