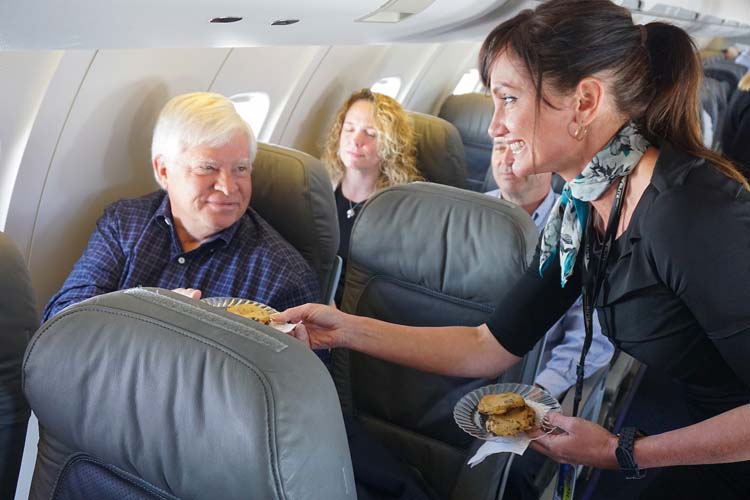 Island Realtors were thrilled when the first Bombardier jet flying Elite Airways' new route to and from White Plains, New York, took off from Vero Beach airport on Friday.
They said existing Elite flights to New Jersey and other destinations have already boosted their business by making Vero more accessible to high-end buyers, but the new flight to wealthy suburban Westchester County is a dream come true for top luxury agents.
Many of the most affluent island buyers own or have access to private planes or helicopters, but for another strata of buyers who have the money for island homes but use commercial airlines, the prospect of having to fly into Orlando or West Palm and then drive for an hour or hour and a half to Vero has been a major drawback.
"That has been a criticism over the years, a reason not to buy in Vero," John's Island broker Bob Gibb said earlier this year when rumors of a Westchester route began to circulate. "Elite has given our business a shot in the arm by opening up access and making it easier for a whole other segment."
"Absolutely. There is no doubt about it," broker Sally Daley said in February. "It has made it easy to say yes to Vero."
"I have clients who go back and forth on Elite flights all the time," Premier Estate Properties broker associate Kay Brown said at the same time. "It has made Vero just that much more attractive. I heard from friends in Westchester that Elite was thinking about a flight from there to Vero.
"That little Westchester airport is adorable. It is so cool. If people could fly from here to Westchester, so many people from White Plains, Rye, Greenwich – that whole area up there – would be more likely to buy in Vero. It would be incredible!"
That incredible event has now happened, with twice-weekly flights departing Vero at 2:45 p.m. and returning at 9 p.m. on Fridays and Mondays.
"The first flight from Westchester was full, no empty seats," said Rebecca Emery, a press spokeswoman with Elite Airways. "The intention is for this to be a year-round route, assuming the ridership remains strong."
In fact, if demand is strong enough, Elite "may look to add additional days of the week to accommodate passengers. We'll also try and add extra flights around end-of-year holidays and spring school breaks so families can vacation together or come visit their loved ones."
The two-and-a-half hour flight is not cheap – seats start at $239 each way – but comfort and convenience make the price worth it for many travelers.
As on its other flights out of Vero, Elite is flying 50-seat Bombardier CRJ-200s and 70-seat Bombardier CRJ-700s to and from White Plains. The jets are equipped with all-leather seats and have the same legroom throughout the cabin, in a 2/2 configuration, which means there are no middle seats.
Passengers don't have to pay extra for their first checked bag up to 50 pounds, and there are no ticketing change fees. The airline is also pet friendly.
Elite Airways flies point-to-point routes, instead of operating out of a hub. It launched service in Vero in 2015 with twice-weekly flights to Newark.
The current schedule includes twice-weekly non-stop jet service to Newark, White Plains and Asheville, North Carolina, where many islanders have summer homes. Twice-weekly flights to Portland, Maine, will start June 3.
Emery said Elite may be announcing another new destination in the near future.
Island realtors will be eagerly awaiting the announcement.
"It absolutely opens up a whole new market," Premier Estate Properties broker associate Bob Niederpruem said of the White Plains service.
"I have clients leaving tomorrow for White Plains," said Dale Sorensen Owner/Broker Matilde Sorensen. "They are very pleased with the flight!"
Tickets to Westchester and other Elite destinations are available on www.EliteAirways.com.