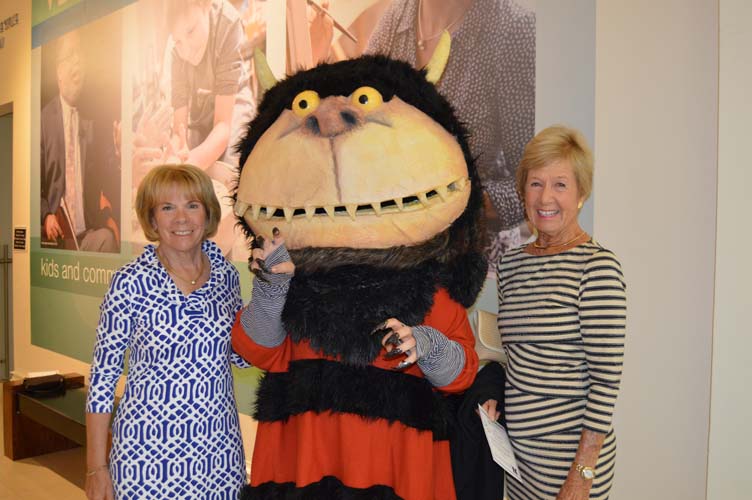 A key group of literacy-minded supporters gathered at the Vero Beach Museum of Art last Wednesday evening for the annual gala of the Learning Alliance to celebrate "The Power of the Community's Moonshot Story to Change the World."
Members of the Indian River Charter High School Theater Department posed as familiar storybook characters – the Wild Thing, Mary Poppins, Dorothy and the Scarecrow and others – greeting guests and reminding them of the power of the written word.
The Learning Alliance began when Liz Remington and Barbara Hammond united over a shared experience – their children were failing kindergarten. "Liz and I were failing as parents. It was heart-wrenching," shared Hammond.
Unwilling to let other students fall behind, they fostered a grassroots literacy movement that has been fully embraced by the community and has garnered national attention for its progressive approach and successful outcomes.
Ray Oglethorpe, TLA board chairman and former president of AOL, shared that through great teachers and a good education he was able to take his life in a direction different from that of others where he lived, where folks either worked the farm or in the coal mines. "Education gave me everything," he said. "My security became my own mind."
Brief videos provided a firsthand look at efforts by community leaders, educators and volunteers to reach the Moonshot goal of having 90 percent of all third-graders read at grade level.
Tyler Ginn, a 14-year-old at the Freshman Learning Center, and his mother, Shelby Ginn, gave an emotional testimonial relating that when Tyler had difficulties in the second and third grade he was unable to receive any type of support because he "didn't fit into the box."
"It was like trying to read another language or learn something that makes no sense," recalled Tyler, who today is on the A/B honor roll and has aspirations of studying economics. "I feel like I finally fit in. I'm not afraid to go to school anymore.
Successes include that there are no F-rated schools in the district, literacy scores are the highest in county history and six schools have improved letter grades. This despite, as Oglethorpe noted, that the school district is one of the poorest in the state with 68 percent of third-graders on free and reduced lunch and a student turnover rate of more than 35 percent.
"We are really onto something here in Vero Beach. This story is real, is continuing to grow and Indian River County is going to become a model for this nation," said Oglethorpe, reaffirming their commitment to partner with schools and provide extended learning opportunities.
Remington said that another critical component of the Moonshot Moment mission is professional development.
"Teachers have received and are still receiving professional development to better support the needs of our students," she said. "We know that we have the youngest citizens in our charge and are committed to helping them grow and develop into being the best whole humans they can be."
For more information, visit thelearningalliance.org.     
Photos by: Stephanie LaBaff
Click HERE to see more or buy photos