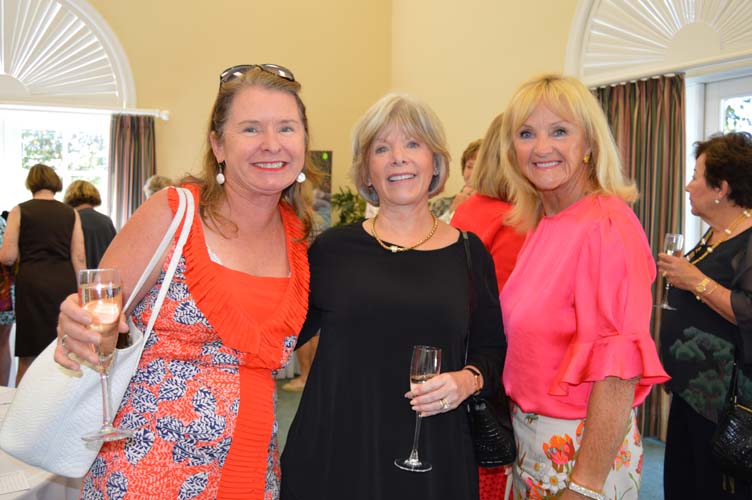 A large coterie of fashionistas gathered at the Oak Harbor Club last Thursday afternoon for the 19th annual Blue Ribbon Luncheon and Fashion Show in support of the Hibiscus Children's Center.
Rooms were elegantly adorned in Tiffany Blue, accented with centerpieces of white tulips and pearls, the perfect setting for the Passion for Fashion themed event to bloom. As mistress of ceremonies Sue Sharpe remarked, the beautiful spring day was a welcome contrast to the drenching rains guests endured during last year's monsoon.
A crew of Blue Ribbon Men greeted arrivals and served mimosas to the ladies as they perused a wide variety of silent-auction items, shopping guilt-free in the knowledge that every bid was for a good cause.
During a delicious lunch, Caroline Vinyard, Hibiscus COO, shared insights into the dark reality of child abuse, noting that supporting Hibiscus and its vision to eliminate child abuse was the ideal way to commemorate Child Abuse Prevention Month.
"It's easier to live in denial that child abuse is happening, but we know it's happening and the statistics are staggering," she said. "Every day, six children will die from child abuse and every six minutes a child is abused; that's 240 kids each day."
Vinyard spoke of children being subjected to physical and sexual abuse and noted that more often than not, nobody listened to their pleas for help. She stressed that while it's a heavy topic, it is necessary to talk about the reality that these children face.
"If there's any way we can prevent it, we're going to do that," said Vinyard, adding that their goal is to end the cycle of abuse.
During the fashion show, the addition of a male model this year raised quite a stir. The handsome fellow, wearing fashions from Vernon Scott, was greeted with good-natured cheers and catcalls as he escorted and posed with the first model from each of the participating boutiques – Pineapples, J. McLaughlin, Sara Campbell Ltd., Cashmere Beach, Frances Brewster, Sassy Boutique and Cooper & Co. (Read more in our Style Section).
As the women prepared to depart, visions of fashion show outfits dancing in their heads, Henriette Churney, event co-chair with Tanya Belkin reminded them that the pearl bracelets used as napkin holders served a greater purpose. "It's a little bracelet that you can take home and when you see it, remember the children."
The vision of the organization, founded by LaVaughn Tilton in 1985, is to eliminate child abuse, neglect and abandonment through prevention, intervention and advocacy, and to provide counseling, support and structure to abused children in a safe, secure environment.
This year's event programs were created by teens working in the Graphic Design Impact Center at Vero's Hibiscus Village, just one example of the types of programs they offer to help "throw away" children make better lives for themselves.
For more information, visit hibiscuschildrenscenter.org.   
Photos by: Stephanie LaBaff
Click HERE to see more or buy photos