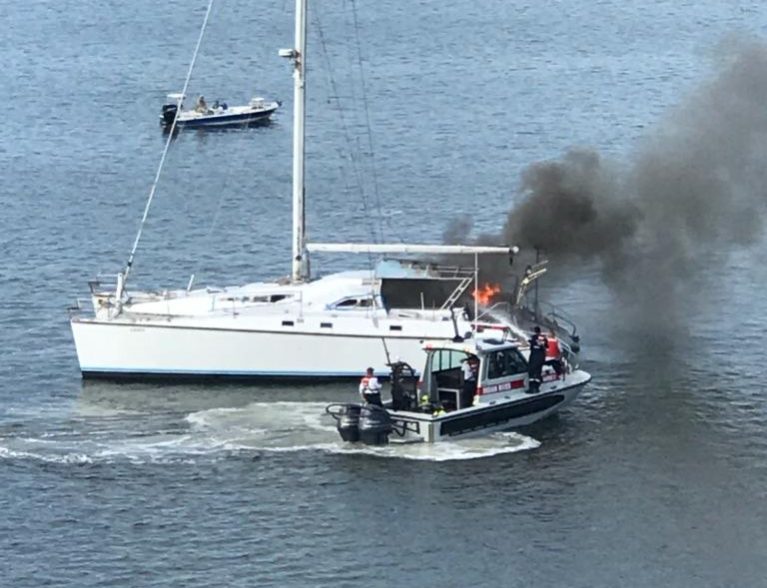 VERO BEACH — A boat that struck power lines burst into flames and caused a brief shutdown of power for beach side residents, authorities said.
Nobody was aboard the vessel when the flames sparked. No firefighters were injured during the incident, Indian River County Fire Rescue spokesman Cory Richter said.
Fire crews responded to the blaze about 8:30 a.m. Tuesday just south of the 17th Street bridge. A 35-foot long catamaran that was tied to an island dock broke loose, Richter said.
Bystanders saw the mast of the boat hit power lines near the bridge and then saw a big spark like lightning. The boat exploded and  erupted in flames, Richter said.
Richter said a fire rescue boat unit extinguished the flames. It was not immediately known how long it took firefighters to bring the blaze under control.
The fire caused heavy damage to the boat, Richter said. Estimates in damage were not immediately available.
Power on the beach side and traffic lights at nearby streets were temporarily shut off for about 30 minutes following the blaze, Vero Beach Police spokeswoman Megan DeWitt said.
The Florida Fish and Wildlife Conservation Commission, who was also on scene, is investigating the fire, Richter said.
Photo by Ashley Bona
This story will be updated.