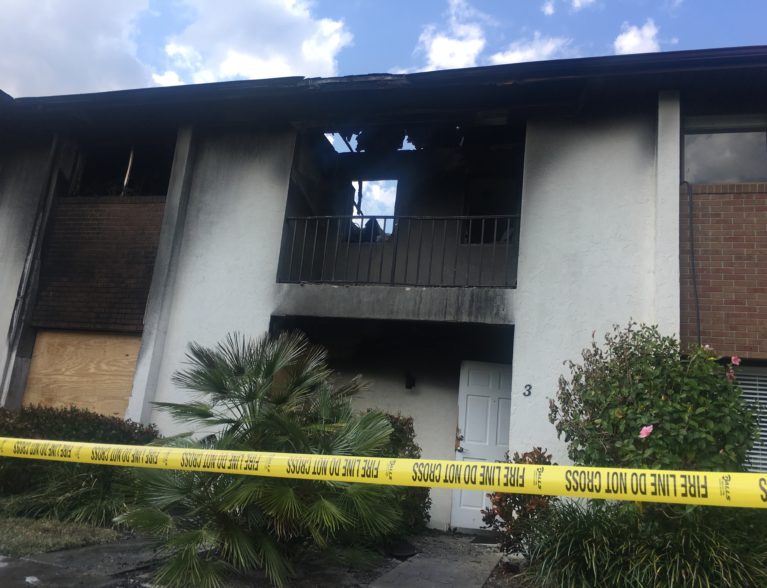 INDIAN RIVER COUNTY — A day after a fire left four people injured – including two with second and third-degree burns- neighbors were describing screams, breaking glass and harried efforts to avoid the blaze as it destroyed an apartment unit and damaged two others.
One burn victim suffered life-threatening second and third-degree burns to 80 percent of his or her body, Indian River County Fire Rescue spokesman Cory Richter said. A second burn victim suffered the same burns to 20 percent of his or her body. It's unknown if that victim had life-threatening injuries.
Both were flown to a burn unit at St. Mary's Medical Center in West Palm Beach. An update on their conditions was not immediately available.
The Sunday blaze, which displaced more than a dozen others, remains under investigation, authorities said. Investigators said a cause has not yet been determined.
Resident Terry Baird, 60, said her neighbor recalled how one of the victim's skin was peeling off his arms. The neighbor pulled the victim toward the parking lot and away from the flames, Baird said.
"I heard someone screaming, 'Help. I'm on fire,'" said Baird, who lives a couple units away. Her roommate, Margie Clark, 79, said they didn't know where the screams were coming from.
The fire sparked about 6:30 a.m. Sunday at Oak Villas Condominiums, 1057 6th Avenue. Several people evacuated the complex before crews arrived, Richter said.
Crews extinguished the blaze in about 40 minutes. The flames and smoke completely damaged one unit. Two adjacent units also sustained smoke damage.
The identities of the two burn victims were not available. Two others were taken to the Indian River Medical Center for smoke inhalation.
Second-degree burn injuries appear red, blistered and may be swollen and painful, Richter said. Third-degree burns, the most severe, penetrate the outer skin layers and affect deeper tissues.
"They result in white or blackened, charred skin that may be numb," Richter said.
A smoky smell still lingered at the burn site Monday afternoon. Part of the roof of the destroyed unit appeared to have caved in during the Sunday fire.
*Note for videos – Click the audio icon in the lower right hand corner for sound. If that doesn't work, try refreshing the page. 
Two victims in a Sunday fire suffered second and third-degree burns. One victim has burns to 80 percent of their body while the other has burns to 20 percent of their body. An update on their condition was not immediately available.

Posted by Nick Samuel on Monday, April 9, 2018
Clark said she spoke with other neighbors, who said they saw a man and woman jump from the second floor to the ground below.
"We think they broke the window and jumped out," Clark said. Clark said she went outside and saw other neighbors helping the man and woman. The man had burns on his arms, face and back, she said.
Clark said she saw another neighbor put a blanket around the injured woman.
Red Cross was at the scene Sunday assisting displaced families. Details on estimates in damages to the units were not available.