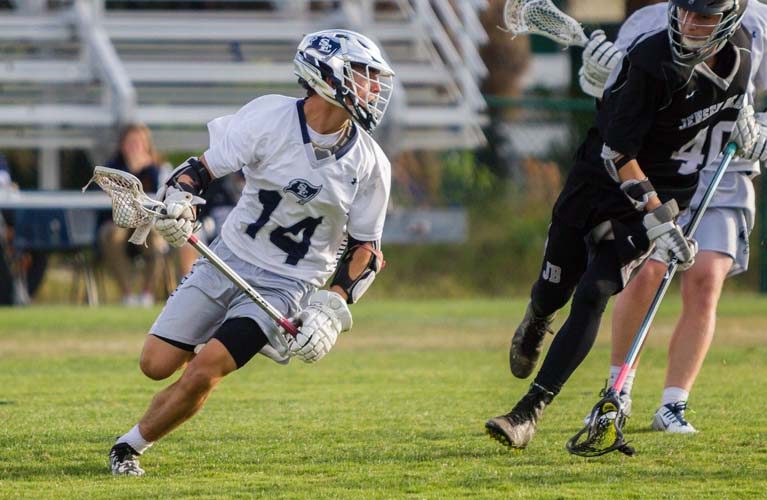 St. Ed's varsity boys lacrosse team was 7-4 following a 15-7 loss at home last Thursday to St. Andrew's School of Boca Raton. That left four regular-season games to be played before the district tournament April 17 and 19 at South Fork High.
A trip to Martin County High this week will determine the No. 1 seed in the district playoffs. Both teams will go into that encounter at 3-0, and frankly, the rest of the district consisting of Jensen Beach, Vero Beach and South Fork has shown no signs of being competitive.
So a second consecutive district championship is within reach for the Pirates and head coach Doug Bailey. The program has been on the uptick in Bailey's third year, but district championships may no longer be a satisfactory yardstick for success.
"Put it this way," Bailey said. "I'm not going to measure what we do by our district. I will gauge the success of our program by what we can do when we move beyond districts. I'm here to do whatever I can to make us a better team and have the kids learn what really good lacrosse is.
"St. Ed's is the place that seems to want that also. That's where I want to be with this, and this is where I want to work. This year we have a young, developing team that is trying to progress to where we can compete not only at the district level, but also at the state level.
"We've built a schedule to give us a glimpse at all of those options. You can't always predict the quality of your competition from year to year, and that is why we go out of the area to try to find the best teams that are willing to play us.
"I don't worry about wins and losses during the season. I worry about how we are playing. Anybody can put together a light schedule, but you never get anywhere doing that. By going through those trials and tribulations, we are trying to progress and get better as a team."
It appears that the FHSAA single class format no longer favors large public schools to any great extent. That St. Ed's can dominate this district indicates the gap is narrowing. Nevertheless, based on the makeup of the current Pirate squad, the quest for taking major leaps beyond that may be a year or two off.
"Some days we take two steps forward and one step back," Bailey explained. "Other days we take one step forward and two steps back. That corresponds to our youth. We have nine sophomores, eight freshmen, and two eighth-graders. They are all great kids and fun to work with.
"It's hard at times to get on them, but sometimes I need to do that to get them to the next spot in our progression as a team. We are working to be a lot better than we currently are. We are not working to be mediocre.
"We have to become more consistent at playing good lacrosse. Sometimes we play well, and at other times we don't. That is why we have not been able to compete with the best in the state. In my mind we have got to get there, and I would hope the kids want that too. That doesn't mean we have to be perfect; it means we need to keep moving forward.
"Given that, I don't know why I would step out on the field if I couldn't tell you that we are going to try to get better together every day as a team – players and coaches."
Gage Bartosch and Luke Jayne are trying their best to progress at drilling the ball into the net. Bartosch leads the team with 33 goals through 11 games; Jayne is second with 19. Others in double figures are Josh Pusser with 14, Reid Bartosch 13, Ryan Bird 11 and Drew Sternberg 10.
Gage Bartosch is the only senior among the top scorers, and to highlight the youthful nature of this team, number one goalie Liam Murphy is an eighth-grader. Bartosch is a team captain along with fellow senior Andrew MacIntyre and junior Matt Taylor.
"I would say I'm kind of like the quarterback of our offense," Bartosch told us. "I usually start the play  with the ball and move it around. I'm moving around too. I've played a lot of midfield this year, but lately I've played attack.
"We have some big challenges coming up that I believe we are prepared for. I think we have a good shot at taking the district championship again. We have been progressing and playing more like a team. If we keep playing that way, I think we have a very good chance of moving on."