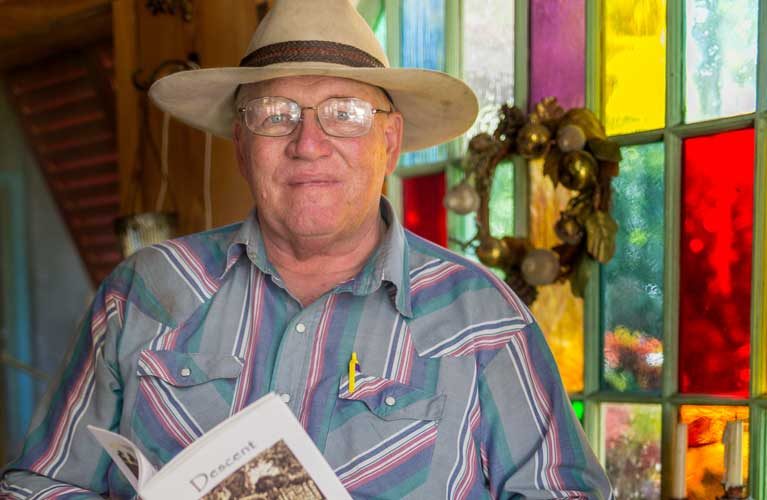 If there is time between readings at the April 15 annual Poetry and Barbecue to benefit the Laura (Riding) Jackson Foundation, host Sean Sexton can always pull something out of his back pocket.
He's got a freshly published chapbook, "Descent."
Serving as Indian River County's inaugural poet laureate has had an unexpected benefit: His latest poems were published after the honorific caught the ear of a publisher at an October poetry reading. "Descent" is now part of a series of chapbooks by poets laureate published by Yellowjacket Press.
The Tampa event included Peter Meinke, Florida's poet laureate and a past luminary at one of the Vero barbecues. He and others are part of a web of writers Sexton has strengthened over the years as he crisscrosses the state, and on occasion the nation, to perform at poetry readings and attend poetry conferences.
His encounters have immeasurably enriched the literary scene in Vero Beach as his contacts make their way year here year after year. Sponsored by the Vero literary group the Laura (Riding) Jackson Foundation, the gatherings, now in their eighth year, are held under a white tent on Sunday afternoons in April, when the crush of season has ebbed and Vero's arts supporters can finally take a few hours for themselves. Readings are followed a bluegrass band, beer and smoked-on-site barbecue in the natural beauty of the Environmental Learning Center off the Wabasso Causeway.
This year's barbecue features three women poets of different ethnic backgrounds reading on the theme "Beyond Water and Walls."
Sexton's lineups typically evolve from new friendships with poets he meets. "I badger them to come pray at the church of poetry for our paltry $500 honorarium." But he also manages to include enough temptations to seal the deal.
This year's headliner, Naomi Shihab Nye, whose Vero connections include designer Gretchen Rose and children's author Debra Frazier, will be staying with Charlotte Terry, a founder of the Laura Riding Jackson Foundation.
"And she's bringing her 90-year-old mother," says Sexton.
Nye, an Arab-American living in San Antonio, first came to Sexton's attention 20 years ago when her husband, Michael Nye, a fine art photographer, had a nationally touring exhibition of his work in the Indian River Mall.
"I just hit it off with Michael so well," says Sexton, who invited Nye to his ranch west of Vero.
"You should meet my wife," Nye told him. "She's a lot more famous than I am."
Naomi Shihab Nye was born in St. Louis, Mo. With an American mother and Palestinian father, Naomi spent her high school years in Ramallah and Jerusalem – as well as San Antonio, Texas. With 11 published collections of poems, she has accumulated top prizes for her poetry including four Pushcart prizes and a Guggenheim fellowship. From 2010 to 2015, she served as chancellor for the Academy of American Poets. A songwriter, she has also written children's books and novels.
Also scheduled to read next Sunday is Analicia Sotelo, a 31-year-old Houston-based poet who is Mexican American; Sexton calls her "one of the hottest things going in the poetry world."
Sotelo was suggested by Tony Hoagland, one of last year's barbecue poets. She recently had her first volume of poetry, titled "Virgin," published by Milkweed Editions, a long-established imprint known for publishing new writers, and, as Sexton puts it, "a national publisher to die for." In April 2016, Sotelo's poem "Death Wish" was published in the New Yorker magazine; other poems have appeared in Kenyon Review and Boston Review. She is very active in Houston's thriving poetry scene, and works for the city's Poetry in the Schools program.
"I called her during Hurricane Harvey," recalls Sexton. "It was just hitting the coast. Two days later, I looked at her address on MapQuest and there were red barriers on every road to her house. It looked completely flooded. She had gotten the worst of it."
Raised in Laredo and San Antonio, Sotelo has referred to herself as a "south Texan Persephone." Many of her poems have references to ancient mythology, but they can include stinging references to modern myths of ethnicity and gender with titles like "Trauma with White Agnostic Male" and "Do You Speak Virgin?"
The third voice scheduled is that of Peggy Ann Tartt, whose 2002 collection "Among Bones" was published by Lotus Press, a publisher of black poets. Tartt was nominated for a Pushcart Prize the previous year. She and Sexton have yet to meet, but they've spent hours on the phone. "She is very engaging, I just love her," he says.
Tartt was recommended by Claude Wilkinson, who read his own poetry at the 2015 barbecue.
As for the weekend's workshops, Pushcart Prize-winning poet Alice Friman is returning to lead the Saturday adult writing workshop April 14 from 9:30 a.m. to 12:30 p.m. Friman was the featured poet two years ago when the lineup was themed "Three Daughters of Eve." The teen workshop, April 14 from 1 p.m. to 4 p.m., will be led by Nye. "They're in for a treat," says Sexton.
Those workshops will be held at the Laura Riding Jackson Foundation's new writing center at 1914 14th Avenue in downtown Vero. That center, the first official location for the foundation now 22 years old, marks a "growing up," to use Sexton's phrase.
"We see it as a kind of launch for what happens next," says Sexton.
The downtown space will be used for the foundation's 25 workshops as well as its efforts to find a permanent location for its raison d'etre, the Cracker-style former home of the late renowned poet Laura Riding Jackson.
Until now, the historic house has been the lone structure representing the foundation. Last month, an informational meeting brought together some 30 professionals, government officials and supporters of the literary foundation to discuss a permanent location for the modest wood-frame house. Its current home at the ELC may have to be used for that group's planned expansion. The house, which was moved from its original location in Wabasso in 1994, may have to be relocated again. Sexton says Indian River State College is a real possibility and that its representatives were very encouraging. To date, it appears the ELC will let the house remain for another year.
If the barbecue leaves no time for Sexton read from his new book, his fans have another chance to hear him read – at his own hand-built house on Treasure Hammock Ranch. An Evening of Readings and Spirits is part of a poetry-themed basket to be raffled at $10 a ticket. The basket includes books by all of this year's poets. Raffle tickets are available at the foundation's downtown office, which is open from 10 a.m. to 2 p.m. Tuesday through Thursday.
Sexton debuted the chapbook two months ago at the annual Cowboy Poetry Gathering in Elko, Nevada. He has read his poems there every year since 2011.
Poetry and Barbecue takes place April 15 from 3 p.m. to 7 p.m. at the ELC, 255 Live Oak Drive. Tickets are $25. For more information visit lauraridingjackson.com.