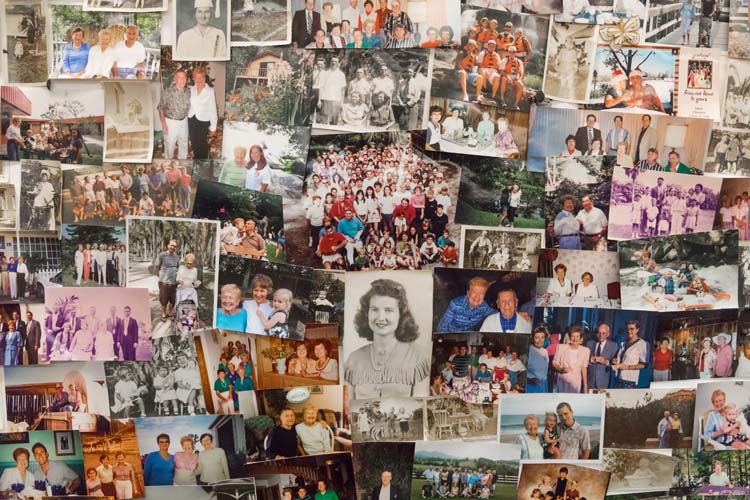 Multiple generations of Schlitt family members from around the country gathered last Saturday afternoon at the Saint Helen's Church Parish Hall for an extra special Easter reunion, celebrating the legacy of Louis and Mary Anna (Anna) Schlitt, who moved to Vero Beach from Missouri 100 years ago.  Three of the couple's five children – Christine, Alphonse (Al) and Cornelius (Corny) – moved with them in 1918, and were joined by sons John and Leo after they returned from serving during World War I.
It was only fitting that the gathering take place at St. Helen's; the Schlitts hosted its first Catholic Mass in their home and helped establish the church in 1919. The family has continued its ecclesiastical relationship ever since and sent many of their children to St. Helen's School. They were also instrumental in starting the Harvest Festival more than 50 years ago and continue to support the annual fundraiser as volunteers.
"My grandmother and grandfather (Florence and John Schlitt) started the Easter egg hunt tradition," said Barbara Schlitt Ford. "They had eight kids and started doing the egg hunts in the '50s or '60s; they were always at their house."
Ford explained that as the family grew, the gatherings moved to other houses but eventually got so large that they split off into smaller, immediate family get-togethers.
"When my kids were born about 15 years ago, I got this feeling from my grandma that she would be so sad that we weren't doing the big gatherings anymore," she said.
They restarted the tradition 13 years ago and there are now two gatherings each year – one the Saturday of Easter weekend, and the other the Saturday after Thanksgiving, highlighted by some friendly rivalry with the Florida State vs. Florida game.
"So we just had a new Schlitt born yesterday," Ford said, adding that the baby is now a fifth-generation Vero Beach Schlitt. "Her name is Caroline O'Neill; she's the daughter of Natalie Schlitt and Joey O'Neill."
Over the din of little ones excitedly racing about playing with one another, older family members were recording some of their stories for posterity. And there are plenty of stories to tell.
In addition to farming, which initially drew the pioneer family to the area, the industrious and entrepreneurial Schlitt family branched out into innumerable ventures; among them, insurance, real estate, commercial and residential development, construction, painting and property management.  Additionally, its members continue a longstanding tradition of affiliations with a host of nonprofit and civic associations.
"The cool thing is that we actually all really like each other," said Ford with a smile as she glanced about the bustling roomful of relatives.
Photos by: Denise Ritchie
Click HERE to see more or buy photos