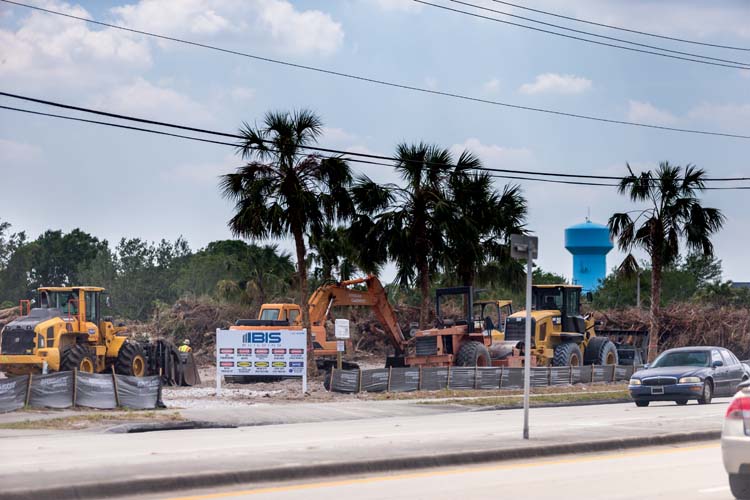 While thousands of square feet of retail space go begging at Indian River Mall, site work for a nearly 10-acre shopping center called Vero Beach Square is underway nearby, on the south side of State Route 60 at 53rd Avenue, reflecting a national trend of malls emptying out while new strip centers attract tenants and customers.
The center will have approximately 30,000 square feet of retail space in four buildings slated to include restaurants, an auto parts store, a gas station/convenience store and additional shops. The back of the property will be occupied by a three-story, 71,000-square-foot, 110-room chain hotel.
Konover South Development Corporation of Deerfield Beach got the property rezoned to allow a planned development and secured approval of a conditional site plan last August. The company, which CEO David Coppa said specializes in shopping centers in Florida, closed on its purchase of the parcel in November, paying $2.51 million for 9.66 wooded acres between Sonny's Barbeque and Applebee's Restaurant, just east of Walmart. Bulldozers recently cleared the site and infrastructure work is underway.
Coppa said he couldn't reveal who the tenants will be at this time, but according to the company website, most of the proposed stores and the hotel have lease agreements under negotiation, leaving just four open slots for prospective businesses.
Still available are a one-acre combination gas station and convenience store, a .8-acre fast-food restaurant with drive-through, a 2,400-square-foot store and 4,250-square-foot store.
Construction will take place in three phases, according to county documents. "Phase I will include the auto parts store, the multi-tenant strip building and all the common area infrastructure. Phase II will consist of the 110-room hotel [and] …  Phase III will include a stand-alone restaurant and a stand-alone fast food restaurant with drive-through facility."
Coppa said he expects the first stores to open January 2019. The store spaces will be leased, not sold, he said. "We like to hang on to our shopping centers."
The project will include two storm-water retention ponds at the back of the property, adjacent to the county's main relief canal that runs behind the parcel, and a road connection behind Applebee's that will connect the center's 359-space parking lot with 53rd Avenue, allowing easy access to Walmart and Sam's Club.
Konover will also improve State Route 60 by extending eastbound and westbound turn lanes at 53rd Avenue, in anticipation of increased traffic.
Covered-mall space continues to empty nationwide, with the steady growth of e-commerce and a shift in consumer tastes away from traditional department stores toward value-priced retailers, but newly-built open-air shopping centers like Vero Beach Square have high occupancy rates, with Florida leading the national trend, according to the latest quarterly report from Cushman & Wakefield, a leading global real estate services firm.
"Although we see the tenant pool continuing to shrink going forward, we expect non-mall Class A product [neighborhood/community strip centers] to continue outperforming the rest of the marketplace," the company reported.
Konover South's demographic profile for the Vero Beach Square site shows that 41,398 people live within three miles and that 66,500 cars pass by daily on Route 60. There are 17,664 households with an average income of $64,719 within the three-mile radius.
The location benefits from being in the county's top retail area, close to the Walmart, Target, Best Buy, Office Depot, Lowe's, Home Depot, dozens of restaurants and the Indian River Mall.
Engineering for the project was done by the local office of the national engineering firm Kimley-Horn and Associates. Island Design, Inc. of West Palm Beach is the project architect.
According to the company website, Konover South LLC, founded in 1959, is a fully-integrated real estate "acquisition, development and management company operating throughout the southeastern United States," which has developed 15 million square feet of retail space, along with 20,000 apartment units and 4,000 hotel rooms.
The website profiles 26 Konover-developed shopping centers, most of them on Florida's east coast. Seven are under development, including five in Broward County, one in Martin County and Vero Beach Square in Indian River County.