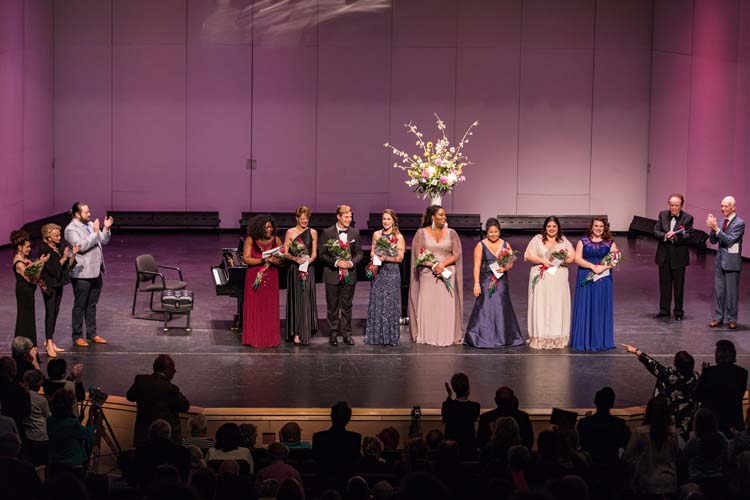 Excitement and anticipation informed the audience buzz March 24 at the Vero Beach High School Performing Arts Center. Out front, opera buffs perused their programs, while backstage, eight of opera's most gifted young performers prepared to bring their A-game as they faced off in the finals of the Deborah Voigt Vero Beach Opera Foundation's second International Vocal Competition.
There was plenty of drama; the eight having sung their way into the finals though a field of 101 applicants representing nine countries. Ultimately, from 30 vocalists in the prelims, to 15 in the semis, only eight remained: seven sopranos and a tenor.
When the smoke cleared, the winner of the $10,000 first-place award, from the Kleinschmidt Family Foundation, was the solitary man, Matthew White, whose wonderful voice was matched by an engaging delivery and ability to connect. White compelled the audience to feel what he was feeling as he immersed himself in the words and the character they portrayed. It was, he says, "my first major vocal competition win."
White says the Vero Beach Opera and the competition have been "instrumental landmarks in my development as an artist." The VBO "was extremely important to me as a young singer. They believed in me and debuted my first small role in a professional company." He adds that a "stamp of approval at this level moves others to follow suit and can provide many more opportunities."
But, before the finals' night drama, Vero Beach Opera leadership found themselves facing a different kind of drama. The highlight of the three-day competition was to have been the presence of world-renowned soprano and self-dubbed "down-to-earth diva" Deborah Voigt herself, starring that Wednesday in a glittering "Evening with the Diva Concert" and serving as a judge.
But that didn't quite happen. Voigt had flown back to the states after a concert in Abu Dhabi, but snow storms delayed her flight south. Still, everyone figured she would make it in time for the concert. But flights were delayed again and again. Finally, on the morning of the concert, word finally came that Voigt wouldn't be able to make it.
Panic did not ensue; the VBO crew switched into show-must-go-on mode. Soprano Meryl Dominguez, third-place winner in the first Deborah Voigt competition in 2016, was to have sung with Voigt. Now she would step into the spotlight, but needed someone to sing with – a tenor.
VBO Artistic Director Roman Ortega-Cowan drew from his numerous connections in the opera world's upper echelons and rang up Manny Perez, a sought-after voice teacher with a Miami studio and access to excellent singers. Ortega-Cowan needed a tenor immediately, a quick study, to sing with Dominguez, who was madly flipping through her repertoire for appropriate pieces to sing with an as-yet unknown tenor – that night.
Even the impossible didn't take long; Perez had just the tenor. Roy Hage, who had a voice complementary to Dominguez's was available. Turns out, Hage and Dominguez knew each other from their days at the Oberlin Conservatory.
Although one diva shy, the Wednesday concert was a great success, with the performers receiving an enthusiastic standing ovation, VBO president Joan Ortega-Cowan reported.
On Saturday, before the finals began, jury president Matthew Principe read the audience a letter from Voigt, expressing "great regret" that she couldn't be present. She explained that the snow delay "was compounded by a recurrence of an illness that had me hospitalized for a week over the summer. With doctor's orders I have returned to my home for treatments." As a former competition winner herself, Voigt said she knows well how much these awards help "in such a crucial time in a young artist's journey."
After the eight competitors had given it their all, the distinguished jury deliberated: Principe, associate producer for Met Live in HD and Radio; Roman Ortega-Cowan, in for Voigt; and Eva Franchi, widow of Sergio Franchi, internationally acclaimed Italian-American tenor and multimedia star. After Sergio's death, Eva Franchi created a foundation in his name to award scholarships to talented young singers. To date, she says, $1.3 million has been awarded, representing 980 grants and scholarships.
At this level, every contestant is technically excellent, so the judges assess other vital qualities; musicianship, role interpretation and diction are also vital. "You can have all the (technical skill) in the world but you must also master the art," said one. "You must sing the music as it was intended."
Franchi, who absolutely glows with her love of opera and her passion for helping young artists, agrees that a good voice alone is not enough.
"You must let the voice out like a bird to fly to the sky. One tenor had a good voice, but he was cocky," said Franchi. "When you're singing a love song, you're so busy being tall and good looking, what are you doing?  You should sing to her, not to the sky. Matthew, he reached everyone."
Winner of the second place, $5,000 award from Windsor was mezzo soprano Abigail Levis; third place, $3,000 from the Sergio Franchi Music Foundation, went to soprano Helena Brown. Receiving $1,000 encouragement awards: Anne Maguire from Juliet Dykstra; Ariana Wehr from Louis Lawson; Betsy Diaz from Shay/Webster; Anne Marie Stanley from Tommy and Simonetta Steyer; and Masamane Rangwansha, a $1,500 award from Jeffrey Petersen, Segura/Molloy/Petersen Group, Merrill Lynch, Pierce, Fenner and Smith, Inc.