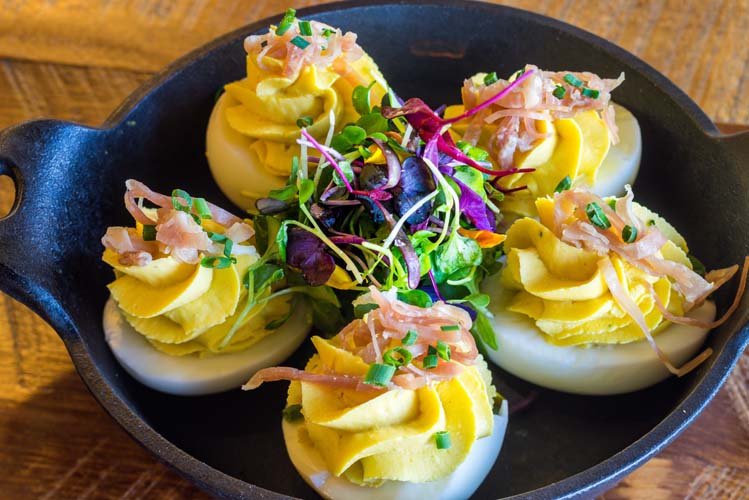 Once upon a time, there was a fine-dining restaurant on Ocean Drive called Michael's Table.
With Michael Lander, former executive chef at The Moorings Club, at the helm, it quickly earned a spot on the "must visit" list for beachside diners.
Then suddenly it closed – too small to be financially viable, Lander said. But last year, a mini-version of Michael's Table opened as part of the Orchid Island Brewery in Portales de Vero. The idea, we were told, was to offer up-market bar food paired with the brewery's artisanal IPAs.
While Lander, a very talented chef, encouraged us to hope this was simply a prelude to a full-fledged return to the Vero dining scene, a year later he is still teasing us with a small sampling of his dishes.
Two Saturdays ago, our party of two stopped in, and our server – after taking our drink order (not beer, but a couple of glasses of a nice Napa Chardonnay) – brought the menus and told us about the evening's specials.
For starters, I decided to try the soup of the day, beef barley ($3), and my husband opted for the chicken liver mousse ($9).  The home-style soup was very tasty, and the mousse – served along with jam and gastrique for the crostinis – was rich and creamy.
On this evening, Michael's was offering only one entrée – chicken and dumplings ($15). I quickly claimed that, so my husband decided to have the jumbo lump crab cake off the appetizer menu ($20).
The chicken and dumplings – a dish I have not had in many years – was classic comfort food, full of old-fashioned homemade goodness. The lump crab cake, served with a Creole mustard sauce, also was excellent.
We finished with a very nice slice of blueberry cheesecake ($8).
On previous occasions, we had tried the Prince Edward Island mussels ($15) and various salads off the appetizer menu, as well as Lander's lobster martini ($20), which was a mainstay on the menu of the old Michael's Table – butter poached lobster in a beurre blanc sauce.
On any given weekend night, you might also find a fish of the day as an entrée.  At the old Michael's Table, there were always seafood dishes, and you could be confident it was going to be an excellent piece of fish.
But one of the problems with dining at this mini-version of Michael's Table is you can't be confident of what you are going to find to eat on any given evening.
Offering only one real entrée – the chicken and dumplings – on a Saturday evening simply doesn't make this a viable restaurant choice for most diners.
Most of the dishes on the nightly menu at present are more gastropub than fine dining – BLTs, grilled cheese sandwiches, deviled eggs, and a pig board (hand crafted salumi with whole grain mustard).
If you are into beer, this incarnation of Michael's Table certainly will enable you to nosh well while you drink.
But for those who savor fine dining, this Michael's Table is simply a teaser.  If you are hoping to see the full talents of Lander on display, we are left to hope that he will still find space one of these days for a full-sized restaurant.
I welcome your comments, and encourage you to send feedback to me at tina@verobeach32963.com.
The reviewer dines anonymously at restaurants at the expense of Vero Beach 32963.  
Michael's Table
Hours: Dinner, Tuesday-Saturday, 5:30 pm – 9:30 pm; Brunch, Sunday, 10 am – 2 pm
Beverages: Beer and Wine
Address: 3001 Ocean Drive, Vero Beach
Phone: (772) 205-2436
Photos by: Gordon Radford
Click HERE to see more or buy photos