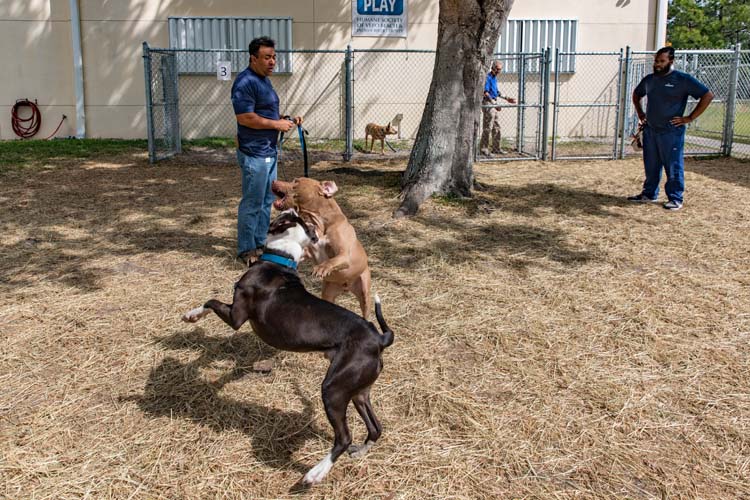 The front yard of the Humane Society of Vero Beach and Indian River County has quite literally gone to the dogs with the introduction of a canine play yard for their Play Dogs Play program.
"The main goal is to increase adoptions and create behavior modifications; put the dogs together and socialize them," says Marcel Goncalves, the shelter's pet behavior and enrichment manager. The Brazilian-born Goncalves, who has a degree in Animal Science, was employed at West Palm Beach Animal Control before being hired here eight months ago.
He also trained with Aimee Sadler, founder of Dogs Playing for Life, who introduces canine enrichment and assessment programs to shelters nationwide. Goncalves says the goal is to identify dog personalities and behaviors in play groups, promote behavior modifications and improve dogs' social skills as a way to increase adoptions.
"It not only increases adoptions, but makes them last because the behavior issues are already worked out," adds Sara Smith, development director.
Goncalves says that at most shelters, especially open-door shelters like the Humane Society, there is often a lack of information about the animals. Now, thanks to Play Dogs Play, they can better assess the dogs' behavior, which has led to a lower return rate.
Staff has always evaluated the dogs that come into receiving, but the program gives the behavioral team a powerful evaluation tool.
"We see these dogs every single day; it's not just one 15-minute evaluation," says Goncalves, noting that dogs are taken out for two hours a day, five days a week.
"We're able to look at a dog, as Marcel says, and really see over time what their strengths and weaknesses are," adds Smith.
Goncalves explains that play groups enable dogs to be evaluated in the most natural environment possible.
"So now they have an opportunity to show their best. When you see a dog running and playing, you see the smile; you see the happiness," he says. "The same dog in a kennel, behind bars, you don't see that behavior. We have had many, many dogs adopted straight from the yard; it's very rewarding."
On average 10 dogs at a time are in the yard, rotated in and out depending on factors such as size, temperament and sex, to introduce them to as wide an array of canine personalities as possible.
"We couldn't have done this without our volunteers," says Goncalves. "If we had to run this only with staff, we wouldn't be able to afford it."
Volunteers undergo extensive training and have various duties, such as moving the dogs from their kennels to the play yard, recording notes on their behavior, photographing them and assisting in the play yard. Volunteers and staff in the yard wear holsters holding a squirt bottle, a small air horn and a shaker bottle to correct any inappropriate behavior.
Goncalves introduces new dogs to stable 'base dogs' that he already knows are good communicators and that can teach other dogs how to play safely.
"Those dogs are going to do the job by themselves," he says. "They are so stable they're going to let me know if there is something wrong with a dog."
If the base dog can't fix the problem, using 'dog language' Goncalves will intervene, but he says, "most of the time, they will do their job. They know how to communicate. They know how to tell the dog to slow down or to come out of their shell and play."
Bleachers are set up in front of the play yard where potential adoptees, school groups and the general public can watch the dogs play and socialize.
"Every day is different; every day is a challenge," says Goncalves. "It's fascinating."
Photos by: Denise Ritchie
Click HERE to see more or buy photos