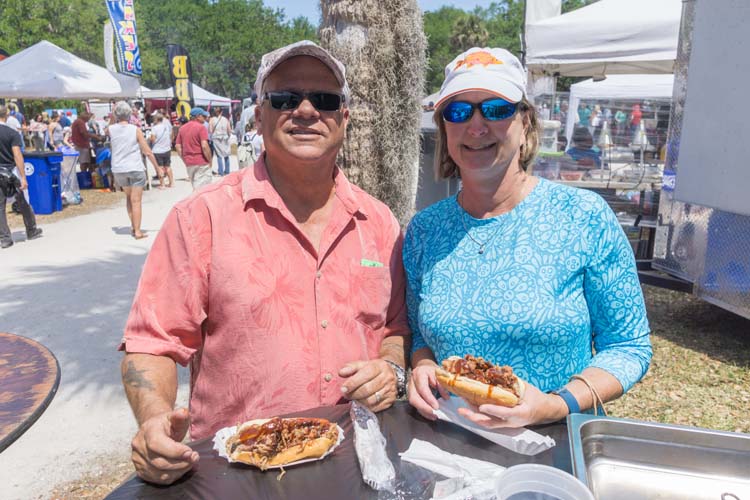 Riverside Park was smokin' recently at the third annual Twisted Tail Ribfest, the signature fundraiser of the Rotary Club of Vero Beach. Barbecuing terms were bandied about during the two-day fest as meat lovers feasted on finger-lickin' ribs from the grills of 10 Florida rib masters. Event proceeds support the Vero Beach Rotary Charities Foundation, and this year will also benefit Camp Haven, the Environmental Learning Center and the Gifford Youth Achievement Center.
Slow-roasted, grilled and smoked, the tasty fare was replete with secret sauces and rubs to create perfect fall-off-the-bone pork ribs and beef ribs, baby back, spare and St. Louis-style ribs, by the slab or by the bone.
And while ribs were the featured item of the weekend, along with traditional accompaniments of sweet tea, coleslaw, baked beans and roasted corn, there were numerous other menu items for those wanting to add a little variety to their meal, such as pork egg rolls, brisket, sausage, seafood, collard greens, gator balls and Texas spurs.
Attendees dined al fresco while live bands entertained them in the background. After polishing off their messy finger food with piles of napkins and cold beer, guests walked off their meals while perusing items offered by non-food vendors and watched as children chased bubbles in the sun.
For every 10 tickets purchased, rib aficionados could cast a vote for their favorite meaty masterpiece in a People's Choice competition. Porky-N-Beans from Port St. Lucie took home the 2018 Best Ribs in Vero Beach, with Uncle Kenny's BBQ from Clermont following in second and Vero's own Tommy T's in third.
The Rotary Club of Vero Beach was founded in 1926 and supports more than 30 local charities, according to Russell Twiss, event co-chair with Stacey Miller.
"Internationally the mission is the eradication of polio," said Twiss. "We're dedicated to building better communities and helping out."
"Rotary is business people coming together for fellowship, business exchange and to be in service to the community. We understand there are needs outside our community and participate globally and within the state, but this community is our focus," added Miller.
"We did really well this year through the generosity of our community. With events like this you don't know how many people are going to show up or if the weather is going to hold. There are a lot of factors. These kinds of events cannot continue without sponsors like Jetson's, George E. Warren Corporation and Southern Eagle Distributing. They all stepped up to help make this happen."
Daniel Fourmont, Rotary Club of Vero Beach president, said Indian River County has very active rotaries, with more clubs per capita than anywhere else.
"We support numerous projects on a local level," said Fourmont. "This year for the first time we're going to be in the United Against Poverty 9th Annual Shopping Cart Parade at the Hibiscus Festival (April 7) with a motorized Rotary Wagon."
For more information, visit rotaryofverobeach.com.    
Photos by: Gordon Radford
Click HERE to see more or buy photos