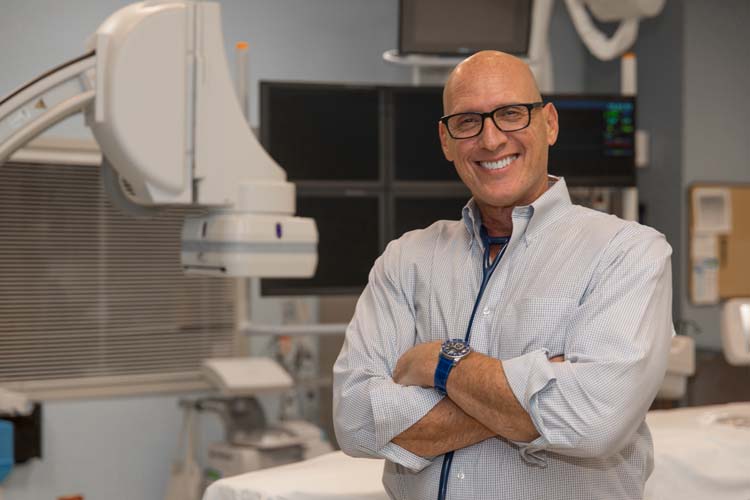 Indian River Medical Center and its Welsh Heart Center are once again moving into some elite territory, thanks to the American College of Cardiology's latest plan to reduce hospital readmission rates for heart patients, and cardiologist Dr. Seth Baker is thrilled at the opportunity.
IRMC is one of only 15 hospitals in the country selected to participate in a program called "Patient Navigator Program: Focus MI," that builds on the success of an earlier initiative.
In 2015, IRMC was one of 35 U.S. hospitals selected to participate in the ACC's first heart navigator program, which aimed to reduce hospital readmissions in the initial 30-day period after a patient is discharged. This time the American College of Cardiology is setting its sights higher.
This new program aims to slash readmissions for a full 90 days after discharge, with a primary focus on myocardial infarction or heart attack patients.
Baker says "it's not enough to meet somebody in the hospital, diagnose a heart attack, get [the patient] though the cath lab, put in a stent, say, 'Take two of these and call me in the morning,' and kick them out. These are complicated patients and they get more complicated all the time."
Heart attack patients may also have diabetes, hypertension, COPD and may be using inhalers or have CPAP machines – and now they're walking out with five-to-12 new medicines. That alone, Baker says, "can be overwhelming."
The goal now, he continues, "is to meet with them and review their discharge medications. [We] have a meeting with the patient, their caregiver, their family, their care team and establish what the plan is. Write it down. Reinforce. Educate."
By eliminating confusion about medications and ongoing treatment, he says, the odds of long-term survival increase dramatically.
Clicking into a high gear, Baker says, "every time you get admitted to the hospital, you have a higher risk of being readmitted and a higher risk of dying. Every time someone gets admitted to a hospital that risk escalates, and we've got to do the best we can to stop that. Part of it has been lack of education and lack of the means to get to a place quickly to minimize that risk of readmission."
Pharmaceutical giant AstraZeneca's vice president, Rod Wooten, backs up Baker's claim. "The progress from the initial ACC Patient Navigator Program," he says, "has provided great evidence into the importance of putting programs in place to address transition of care for patients following a heart attack."
And AstraZeneca is putting its money where its mouth is.
The company provided $10 million to help fund that initial navigator program, and Wooten says "as hospitals continue to seek evidence-based strategies to improve quality of care, our hope is that providing continued support to the Patient Navigator Program: Focus MI will help [further reduce] … myocardial infarction readmissions for patients nationally."
That said, reducing hospital readmission rates isn't entirely altruistic.
Five years ago, Medicare introduced a new fine structure for hospitals with "excessive" coronary readmissions that mandated lower reimbursement payments for those hospitals. To give those fines more teeth, the lower reimbursements apply to every Medicare patient a hospital treats, not just the cardio patients.
In 2015 that meant a $430 million reduction in Medicare reimbursements nationwide and affected three-quarters of U.S. hospitals.
IRMC has clearly benefited from its participation in that first navigator program: Its Medicare readmission fines are now among the lowest in the state, despite Vero's higher-than-average-age demographic.
And while lower Medicare reimbursements may be tough on hospitals, Baker points out "readmissions are economically, socially and physically devastating to the patient and to the family. They're a huge burden."
"We have improved," Baker says. "We have learned. That's a big part of the focus of this next phase: to develop a 'best practice' and help mentor and educate patients – and it can't just be here in this small-town hospital. It's got to be everywhere. And if you look at the initial 35 hospitals, and the 15 subsequently chosen [for the new navigator program], it's all shapes and sizes. It's large university teaching hospitals, small community hospitals, rural hospitals and urban hospitals."
Baker lavishes praise on the hospital's current patient navigators, nurses and other colleagues, saying "nobody leaves this hospital now without [scheduling a follow-up visit within a week] in our office if they've come in with a myocardial infarction and an acute coronary syndrome or heart failure. This is now the standard that everybody should be trying to achieve."
Nancy Albert, associate chief nursing officer at the Cleveland Clinic, points out that hospital readmissions continue to "take a heavy toll on our entire healthcare system."
The aim of the new Patient Navigator Program: Focus MI is to supply the 50,000-plus physicians, nurses, healthcare providers and educators of the American College of Cardiology with important new data to further save and improve the lives of all heart patients nationwide by cutting those readmission rates.
As Baker points out, heart disease remains the No. 1 killer in this country, and while he says that today "we're doing a good job," he's also quick to add that "it's not good enough." At least, not yet.
But Baker is clearly convinced this new program will be another big step in the right direction.