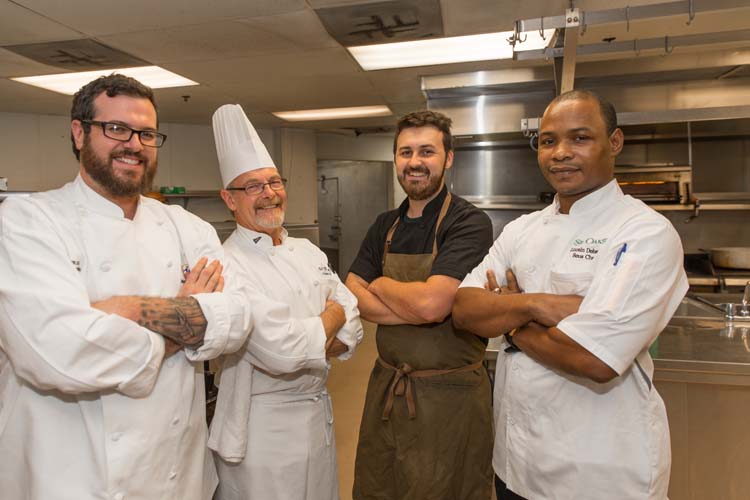 Chef Lincoln Dobson of Sea Oaks Beach and Tennis Club completed a double sweep, winning the Judges' and People's Choice awards and taking home the title of Vero's Top Chef 2018 at the 10th anniversary Vero's Top Chef Challenge Finale last Monday evening at Bent Pine Golf Club to benefit the Hope for Families Center.
Dobson and the other finalists, Chef Bill Narhi of Vero Beach Yacht Club, Chef Anthony Polito from Regency Park and Chef James Foerst of Michaels Table at Orchid Island Brewery, had made it through to the finale during the qualifying event earlier in the month, and drew beforehand for proteins and serving positions. Chef David Schneider, the 2016 Top Chef winner, led a trio of local judges that also included Jeff Mather and Thomas Miller.
To fill the time between entrees, guests mulled over silent-auction items, purchased raffle tickets and moved about trying to make room for the next explosion of deliciousness, when each of the culinary creations tempted the gourmands to clean their plates anew.
First up was Narhi who presented a veal roulade, stuffed with spinach, roasted red peppers, Parmesan and Asiago cheeses, served with a Marsala wine braising liquor atop a morel mushroom risotto and carrots Vichy.
Polito created a masterful duck confit with foie gras ravioli, topped with shaved fennel, black truffle foam, aged pecorino and macerated Summer Crush Vineyard muscadine grape reduction.
Dobson's wood-grilled ribeye-cap tenderloin with port wine reduction was topped with coconut gungo lobster risotto, tricolored baby carrot bundle, Parmesan coconut crisps and Osceola Farms micro blend.
Foerst closed the meal with a spicy black grouper cheek, accompanied by Belle Glades street corn, jumbo lump crab, aioli sauce and rice timbales.
Fully sated, guests still made room for dessert, listening as Diana Grossi, HFC executive director spoke.
Likening HFC families to a puzzle, she said, "It's made up of individual pieces. When put together properly it makes a picture. Our people come to us broken; the puzzle is not complete. We help them put that puzzle back together."
HFC client Jeff Hindelang shared that when he turned to the center, unemployed and homeless as a single father of three young children, he had no idea how to give his kids the life they deserved. "I was between a rock and a hard place and almost had to give my children up to the state."
Thanks to donor support, he and others are now able to get their lives back in order. The Hope for Families Center is the largest shelter serving families on the Treasure Coast, providing them a safe place to get back on their feet through various counseling, programs and support.
For more information, visit hopeforfamiliescenter.org.    
Photos by: Denise Ritchie
Click HERE to see more or buy photos