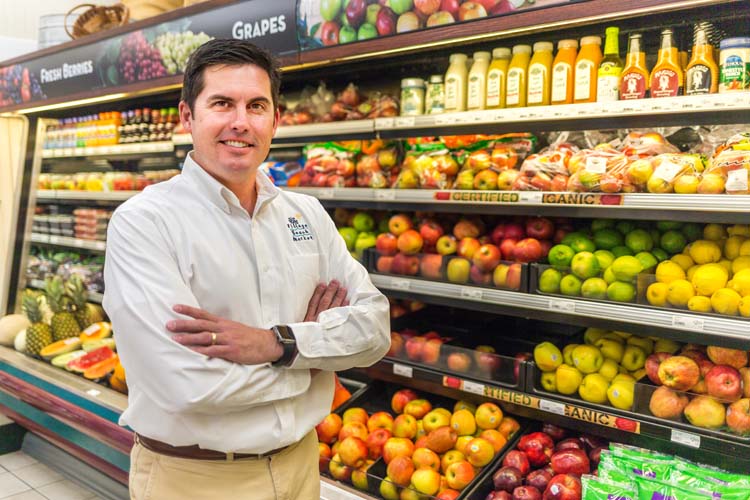 Publix representatives are scheduled to make a presentation to the Orchid Town Council next Wednesday, outlining plans for an upscale supermarket the company wants to build on a seven-acre parcel of land on the north side of State Road 510, adjacent to historic Jungle Trail.
Paying close attention to the proceedings will be the owners of the Village Beach Market, which has been doing business on State Road A1A in Vero Beach since 1980. And not merely because the opening of a Publix on the northern tier of the barrier island would put a dent in their sales.
They, too, are interested in that piece of property, where they'd like to  build a cozy, town-center-type development – anchored by a larger version of the current Village Beach Market – that would blend in with Orchid's beachside setting and British West Indies architecture and become a popular gathering spot for area residents.
Jason Keen, chief operating officer of the Village Beach Market, said he spoke to Orchid Town Manager Noah Powers earlier this month and told him that his company would like to build a grocery store on the same site if Publix's plans fall through.
"I know Publix is surveying the people in the town to see if they want a store there," Keen said. "But do the residents know there's another option? I don't think so."
Keen's plans include more than a grocery store: He wants to build a retail and dining complex that would include a small restaurant, hardware store and coffee/ice cream shop alongside a 10,000- to 12,500-square-foot Village Beach Market.
"We'd focus more on the beach lifestyle and Jungle Trail, which is right there, and we would design the development so that it fit with everything around it," Keen said.
"Whether you live in the nearby community or you come over to walk or bike along Jungle Trail, we want to offer the amenities people want," he added. "We want it to become a destination – a nice place for people to come to have lunch, get coffee, maybe some ice cream – not just a place to buy groceries."
Keen said a second Village Beach Market would be significantly smaller than the supermarket Publix would build on that site, located just outside the gates of the Orchid Island Golf & Beach Club, which makes up virtually the entire town.
He believes a smaller, locally-based, family-owned operation would be more compatible with the Orchid community.
And he might be right.
There's only one problem: Publix, a Florida-based company founded in 1930 and currently one of the 10 largest-volume supermarket chains in America, already has a contract to purchase the property from Orchid resident and longtime Vero Beach businessman Ken Puttick.
Puttick could not be reached for comment, but Powers said Publix representatives approached him in early February to discuss their interest in building a smaller Publix, more along the lines of the chain's newly redesigned GreenWise markets .
Shortly after that meeting, Orchid Mayor Harold Ofstie sent a newsletter to the town's 440-plus residents to inform them of Publix's interest. Both Ofstie and Powers said the early response has been mostly positive.
Certainly, having a supermarket on the northern part of the island would be convenient, especially for residents of John's Island, Sea Oaks and Windsor, as well as Orchid.
The nearest grocery-store options now are two Publix stores miles away across the Wabasso Bridge on U.S. 1 – at Barber Street in Sebastian and 53rd Avenue north of Vero Beach – or the Village Beach Market.
And from a legal standpoint, the property on which Publix wants to build is already zoned for commercial development.
That's no small matter: Puttick has tried and failed at least twice in the past seven years to get the town's approval for projects on his land.
In 2011, the town killed his proposal to build 40 courtyard homes by refusing to rezone the property to allow residential use. Then, in 2016, the town rejected his plans for an upscale senior living facility.
Could Orchid officials stop Publix?
That likely will depend on Publix's plans, which will need to adhere to the town's building code and architectural demands, meet traffic flow requirements and address parking-lot lighting concerns.
"We're anxious to hear their presentation and see what they've come up with," Powers said. "But that's just the beginning of the process."
Plans must be submitted. Public hearings must be held. Votes must be taken. Permits must be granted.
All of which means something could go wrong.
And if it does, Keen said the Village Beach Market and its partners will be ready to step in, enter into a purchase contract with Puttick and formally present their plans to the town.
"We were looking at that piece of property a year ago," Keen said. "Ken asked us if we were interested then, but the numbers weren't working out."
That changed in December, when the Village Beach Market partnered with SuperValu, one of the nation's largest wholesale suppliers for independent grocers, and gained the backing it needed to expand its operations.
SuperValu is prepared to contribute its design, development and marketing resources to the project, and Keen has assembled outside investors to provide the financial backing.
Before Keen could put all the pieces in place, however, Puttick agreed to sell the property to Publix.
"We've been approached about several locations in the past," Keen said. "Some were on the island, some not. This is the only place we're looking at now.
"We have the partners we need to make this happen," he added. "We would love to hear from the community to see if they'd prefer to have us there."
Keen recalled Publix's attempt to put a store on the island at the south end of the county in the late 1980s, only to be rebuffed by Moorings residents who didn't want a supermarket in their community.
Some residents were so opposed to the project, in fact, that they killed Publix's plans by chipping in and purchasing the property for $1 million more than the previous buyer had paid. They then sold the land to a developer who built what is now Sea Mist Court.
Don't expect something similar to happen in Orchid.
If enough residents express opposition to the Publix project, however – or if the town's demands are too great – it's possible the company might reconsider.
"Are there enough year-round customers to support a large-format grocery store? I don't know," said Keen, whose family has been in the grocery business in this county since 1951. "We haven't done any demographic studies in that area.
"But based on what we've seen and what we know about the community, we can gauge how much business is up there," he added, "and we believe a smaller, more local store would do better."
Again, he might be right.
But he won't get the chance to prove it unless Publix punts.