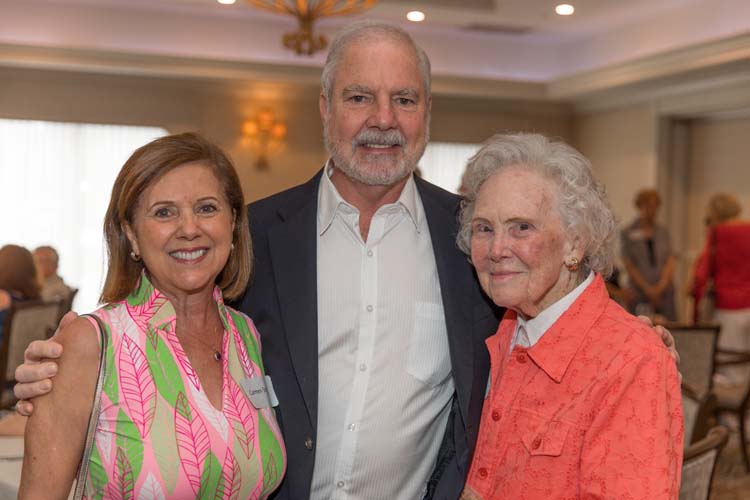 "This organization has a tremendous history and I'm excited to be part of its future as we carry on the important mission and work towards our vision of ending generational illiteracy," said Jessica Schmitt, the new executive director of Literacy Services of Indian River County, welcoming guests to the 18th annual Love of Literacy Luncheon at the Vero Beach Country Club.
This year's guest speaker was Michael Tougias, a New York Times bestselling author of 29 maritime-related books. He shared that he was heading to a "life of trouble" in the seventh grade until he discovered adventure reading. "That opened up a whole world. And I got into a habit that I still do today, and that's reading every night for about 45 minutes before bed," said Tougias, adding that a Yale University study indicated that people who read daily live longer.
Tougias held everyone's attention as he talked about his non-fiction book "So Close to Home," which tells the harrowing survival story of a family of four whose freighter was struck by a U-boat off the New Orleans coastline during WWII.
Prior to his talk, Schmitt recognized Nat Jackson, one of the 1971 founders of the nonprofit, for her vision, leadership and dedication. She thanked sponsors and attendees, saying "literacy is an essential aspect of our everyday life. Your support today helps local adults not only read; it helps them succeed."
"In 2017 we served over 330 students with invaluable assistance of 160 volunteer tutors," said Michelle Servos, board president, citing the numerous achievements of their hardworking students.
Servos presented Don Mann with the Barbara Levere Outstanding Service Award in recognition of his 11 years of tireless service to the organization as a tutor, board member and board president.
"Prior to Don joining the board, our annual revenue was less than $90,000; our annual revenue now is three times that amount," Servos said, which has led to increased staffing and programs to serve additional students.
Mann spoke about his time with the organization, noting in particular the wonderful efforts of the tutors. "Without the tutors, we'd be nowhere," said Mann. "They change lives. They change livelihoods."
Two of those whose lives have been demonstrably changed for the better were also honored and received standing ovations for their efforts – Gary Williams as Literacy Student of the Year, tutored by Jenny Hancock; and Tatiana Gonzalez as ESL (English as a Second Language) Student of the Year, tutored by Claudia Haller.
With enthusiastic determination, Williams has accomplished goals set last July, including being able to read his bible, read to his grandchildren, and to learn cursive writing so that he could sign his signature. "I always felt lost because I could not read," said Williams. "I have hope now. I do not feel lost anymore."
Gonzalez worked with her tutor for two years and has not only gotten a better job, but has also received her U.S. citizenship and now plans to get her GED. "Being able to read and write English makes me more comfortable in my new country," she said proudly.
Photos by: Denise Ritchie
Click HERE to see more or buy photos