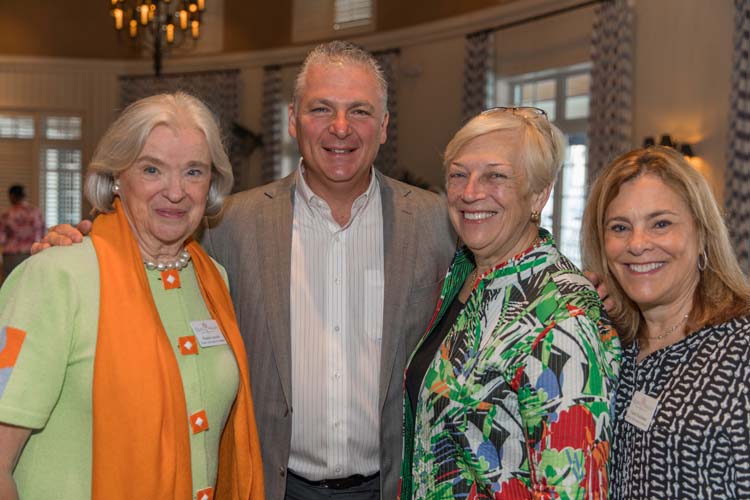 Quail Valley Charities organizers cheerfully presented checks totaling $550,000 to 35 local nonprofit organization programs having a focus on children and education during their annual breakfast at the Quail Valley River Club last Monday morning.
The grants are funded through proceeds from Quail Valley Cup Charity Week, which has grown from a two-day golf tournament with 12 beneficiaries to more than a week's worth of activities.
"We're very honored to be partners with each of you," said Kevin Given, Quail Valley managing partner. "As our organization has grown from a charitable standpoint, so has our internal organization. We've grown from three to 282 employees now over the 18-year history."
Before turning the microphone over to Wanda Lincoln, QVC executive chair, Trudie Rainone, vice chair, and Martha Redner, executive director, he added, "Today when the ladies give out the checks it will be a cumulative total of $6 million. That would not be possible without each and every one of you in the room who have contributed tons of sweat hours, volunteer hours and guidance on children over the years."
"What day is it?" asked Lincoln. To which the crowd responded emphatically, "The best day ever!"
"We try very hard to raise as much money as we can so that you can have what you need to do the work. You are the important ones. You are the ones that do the work," said Lincoln, pointing out that while the sentiment "children are our future" may be trite – it's also true. "It's amazing to look around this room and to know what's going to happen after you leave."
Redner introduced and thanked Kathy Mulvey, widow of founding partner Steve Mulvey, for continuing to support Quail Valley Charities and its vision, adding "we're changing the lives of so many children in our wonderful community."
In addition to providing much-needed funding, QVC produced a volunteer booklet with information about each of the nonprofits, which will be shared with their membership to educate and perhaps interest members in volunteering with some of the nonprofits.
Grants were awarded to: Ballet Vero Beach, Big Brothers Big Sisters, Boys & Girls Clubs, CASTLE, Childcare Resources, Children's Home Society, Crossover Mission, Dasie Hope Center, Education Foundation, Environmental Learning Center, Feed the Lambs Enrichment Program, Gifford Youth Achievement Center, Gifford Youth Orchestra, Hibiscus Children's Center, Healthy Start Coalition, Sheriff's Office Explorers Post 556, Laura (Riding) Jackson Foundation, LifeBuilders of the Treasure Coast, McKee Botanical Garden, Mental Health Association, Quail Valley Employee Education Fund, Redlands Christian Migrant Association, Samaritan Center, Scholarship Foundation, Special Equestrians, Special Olympics, Striving 4 Success, Substance Awareness Center, The Learning Alliance, Vero Beach Museum of Art, Victory Kids, VNA & Hospice Foundation, Willis Sports Association, Women's Care Center and Youth Guidance.
Photos by: Denise Ritchie
Click HERE to see more or buy photos