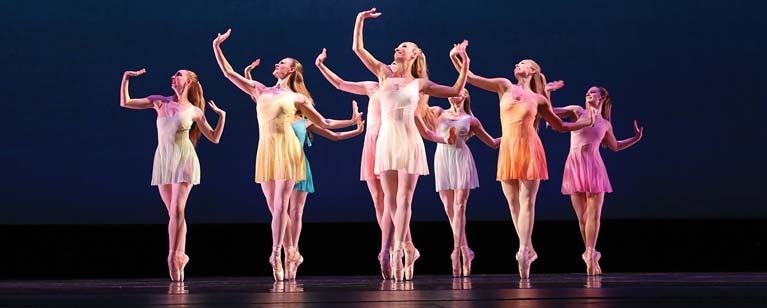 The strong, creative and joyful choreographic artistry we've come to expect from Ballet Vero Beach will again fill the stage as the young company brings its fifth season to a close next Friday and Saturday, April 6-7, at the VBHS Performing Arts Center with Program 3, "Circle of Influence." The title refers to the influence the late choreographer Samuel Kurkjian had on the creative life of Ballet Vero's Artistic Director Ada Schnell. Kurkjian was himself trained and influenced by the great George Balanchine and was Boston Ballet's founding choreographer. Schnell was among Kurkjian's (Mr. K's) students at Walnut Hill School for the Arts outside Boston. "Circle of Influence" will include Kurkjian's "Debussy Suite" and "Chopin Variations," and Schnell's "Pas de Cinq Russe." The show promo prompts us to expect "sparkling costumes and crystalline choreography." Curtain is 8 p.m. April 6; 2 p.m. and 8 p.m. April 7. Tickets are $10 to $75. 772-564-5537. balletverobeach.org.
Another opportunity to leave your work week behind and soak in some live music under the starry sky at the beautiful Sebastian Inlet is this Saturday, as the Sebastian Inlet State Park hosts another Night Sounds concert.  Providing the plein air tunes will be Diamond Dixxie, a country twosome from Orlando who've performed throughout the state: sisters Gabriela (guitar and mandolin) and Bianca (guitar and banjo) LeDuc, described by gigmaster.com as "Miranda Lambert meets Taylor Swift with a touch of the Band Perry." Their brother, Ronnie, backs them on drums as they perform covers and original music. The concerts take place on the south side of Sebastian Inlet, in the Coconut Point pavilions, and are free with regular park entry fees. Show time is 7 p.m. (ish). 321-984-4852.
Picture this: a pair of identical twins who look and sound like a wide, diverse array of superstars. It's true, they do. And they'll be delighting the audience in "Swinging with the Stars" at the Emerson Center this Sunday, April 1, a benefit for the Healthy Start Coalition. Anthony and Eddie Edwards were born in 1965 in Burbank, Calif., and grew up in a house just across the street from the NBC-TV studios. No surprise, the kids would sneak into the studio to watch the celebs tape their shows, then spend hours mimicking the stars and their routines. When Carol Burnett saw them, she immediately recognized their talent and urged them to put a show together. Happily for audiences everywhere, they took her advice. The show is presented by Dancing with the Vero Stars contestant David Thomas. Tickets are $55 and $75. Show time is 7 p.m. 772-778-5249.
"Firebrands and Passions" aptly describes the music you'll hear next Thursday when the Atlantic Classical Orchestra presents its Masterworks 4 concert at St. Edward's Waxlax Center. You'll be in no danger of nodding off as this popular orchestra plays commissioned work by the 2018 Rappaport Prize recipient composer Hannah Lash; Prokofiev's Piano Concerto No. 3, op. 26, C major, with soloist Alon Goldstein; and Brahms' (cheery, almost pastoral) Symphony No. 2, op. 73, D major. Each year, the Bruce and Ruth Rappaport Foundation in Tel Aviv awards a grant to an established, young Israeli artist, encouraging artists to inject contemporary work with innovative ideas. The concert begins at 7:30 p.m. Tickets are $40-$60. 772-460-0850.
If you haven't treated yourself to an hour or two at the Vero Beach Museum of Art in a while, now's a really good time to go. The exhibitions are excellent (as always) and diverse. Especially eye-catching is "Medieval To Metal: The Art and Evolution of the Guitar," but don't be tempted to strum or pluck; enjoy the wonderful work of photographer Paul Outerbridge, known for his early use of, an experiments in, color photography, "New Color Photographs from Mexico and California, 1948-1955"; and see what the artist saw in "Shadow and Light: The Etchings of Martin Lewis." If you have time to spend, grab a bite in the museum's cafe and browse the delicious wares in the gift shop. The sculpture gardens in front and back are always great for strolling.