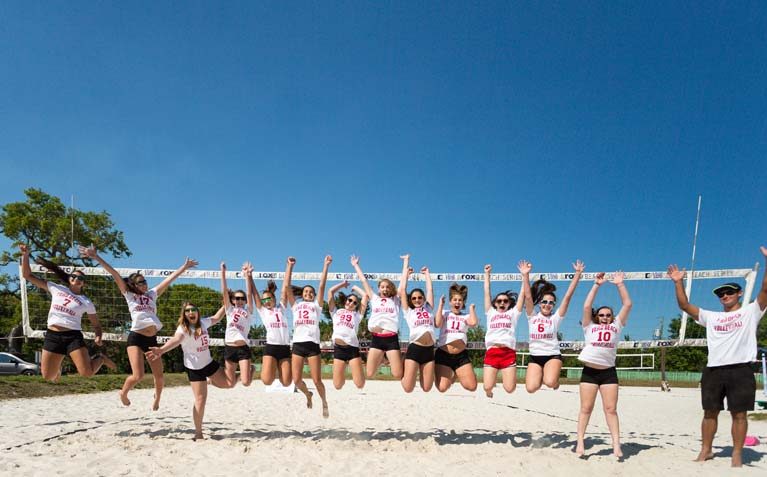 A brand new high school sport has burst upon the local scene with the same untapped potential of lacrosse at the turn of the century and rowing a decade ago. And like those two now established and flourishing sports, Vero Beach is on the cutting edge by featuring a pool of dedicated young athletes combined with the perfect showcase venue.
Vero Beach High School has taken indoor volleyball to the beach. Well, it's not actually the beach we are all familiar with. Instead, everyone in the community is invited to check out the bank of sand volleyball courts the VBHS team calls home. The facility is located behind the Jungle Club at 1060 6th Ave.
"This is our first year with the beach program," head coach Wes Hawkins told us. "It only became a Florida sport sanctioned by the Sunshine State Athletic Conference two years ago. This is an up-and-coming sport that has already grown from 16 public schools last year to 60 this year.
"Thankfully we have one of the better locations for beach volleyball. It's near our school and  we were able to start a team when a lot of our young girls decided to come out."
Hawkins is in his second year as JV coach and varsity assistant for VBHS indoor volleyball. A majority of the dozen or so on the beach team are freshmen from the JV team. The season is moving along quickly and VBHS is prepared to host the regional tournament April 6-7.
"Our first match of the season was against a fairly established Merritt Island High School team with a bunch of seniors," Hawkins said. "It was a tough match but it was a good eye-opener for us. Our girls got to see what they could become if they work at it.
"We've had a great time so far. The girls love it. It a little less by the book than indoor and the players have more freedom. You're outside, you're in the sand, and your shoes are off. Of course it's going to be a little more enjoyable. It's also a new sport for most of them, but they are using the same skills they already have. This has piqued their interest and they are having a lot of fun with it."
The scoring format is similar to doubles tennis. Pairs are seeded one-through-five with the first to three the overall team winner. The scheduling against other schools is somewhat fractious at this stage as the fledgling sport gains traction, but the Fighting Indians will likely receive a de facto bye through districts straight to the regionals.
"We've had a lot of interest in beach volleyball," freshman Natalie Hauser said. "I've already played with a lot of my teammates on the indoor JV team. It has been awesome for them to see what beach volleyball is like from the school team experience.
"I have been doing beach volleyball since seventh grade. I've definitely learned a lot and had a great time. In our first match my partner Aubrey (Schlitt) and I were seeded No. 1. We played against a girl who is committed to UCLA. It was a struggle but we kept with it. That was definitely a fun learning experience."
Senior Lindsay Barkett is the ideal candidate to steer these youngsters through a first-year growth spurt. The varsity volleyball and soccer player was well prepared and more than happy to join in.
"This is a new thing going on, and it was talked about during our indoor season," Barkett explained. " I really liked our new coaches, (varsity head coach) Sarah (Harper) and Wes (Hawkins). We are having a lot of fun out here and Coach Wes is really great. He is teaching us a lot and everyone is learning really quickly.
"I've had two knee surgeries and then I hurt my ankle during the indoor season. I'm starting to work my way back into it. I've decided to try to walk-on in college. Beach is really fun with the younger girls and a nice way to get my stamina back up and maintain my volleyball skills. Sand is a lot easier on the knees than those hard floors.
"We will try to be competitive against some of the best teams in the state. Hopefully we can pick up a few wins at regionals and make it to states. Then the younger girls can build off of that for next year and just keep getting better and better."
Barkett can always say she was in on the ground floor, in this case made with a material much easier on the joints.