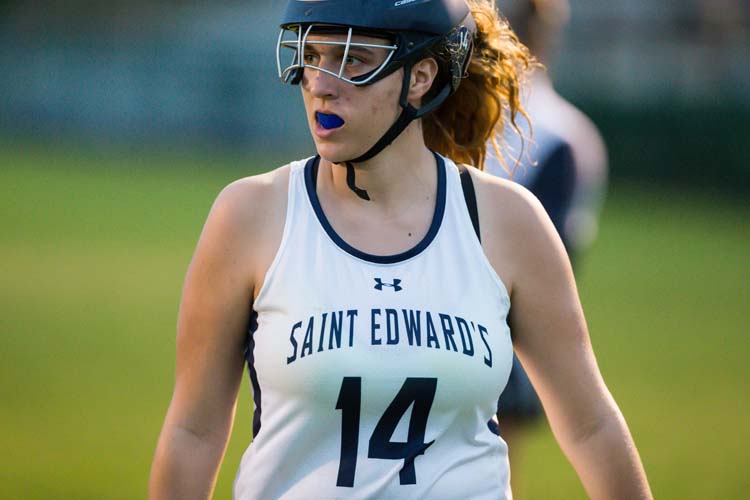 St. Ed's senior Maya Jenkins never let an opportunity to play a sport pass her by. It was always hard to find a time during any school year when she was not thoroughly engaged as a top-flight performer and leader on a Pirate team. This spring she will cap off an exemplary athletic career by going wire-to-wire once again in volleyball, basketball and lacrosse.
And oh, by the way, when not on the court or field, she managed to put the same type of quality effort and dedication into the pursuit of academics.
All of this forged an opportunity to find a college setting that was an ideal fit in every aspect. And that is exactly what happened when Jenkins chose Rensselaer Polytechnic Institute in Troy, New York, where she will play basketball and double major in computer science and computer systems engineering. By no means was this a snap decision.
"Freshman year my mom and I sat down and we made a list," Jenkins explained. "I was sure what I wanted to do. I wanted to play basketball, preferably D3, and do something in engineering or computer science. So we made a list of all of the schools that had those requirements.
"I met with (St. Ed's English teacher) Ms. Padgett who played and coached sports in college. She helped me do everything I needed to do – reach out to coaches and fill out the forms that I had to. Over time I would visit the schools that responded. I narrowed it down to RPI and Rochester Institute of Technology, and ended up choosing RPI."
Either way she would run headlong into cold and snow and said she was excited about that prospect. We are not so sure about that, but one thing we do know is that the basketball part of this equation almost didn't happen.
"In eighth grade Tea (Tee) and I were asked to play on the varsity basketball team," Jenkins recalled. "We both tried out and made the team. We had to play on the eighth-grade team first because we were still in middle school. If there were conflicting games the varsity might have to cancel if they literally didn't have enough players."
Those were tough times for the varsity program, but head coach Paula Robinson persevered essentially because she had Jenkins and Tee on her side for five years.
Jenkins continued: "As time went on we got some exchange students on the team. It was exciting for them because they had never played basketball before, they got to try something new, and we had more bodies. That was just what we needed. It also helped all of us make friends with people from different backgrounds.
"It meant a lot because I was really afraid that we weren't going to have a team. At times in my freshman and sophomore years I thought my only chance to play basketball would be on a club team hours away. It was unrealistic with all of the other things I was doing like volleyball, lacrosse and all of my academics.
"I probably wouldn't have been able to play basketball in college if we did not have a team here at St. Edward's. So I was really excited that we had a team and that people stuck with it, and that we created the little family that we did."
Jenkins captained the varsity basketball team all four years in high school and averaged 18.5 points per game as a senior. She also played volleyball and lacrosse without interruption since sixth grade.
"I thought for a while that maybe I would play lacrosse in college, but I realized that would take a lot of time. Basketball is the only sport that I really love, so that's the one I want to continue.
"I met the coach at RPI and played pick-up with some of the players during a visit. I stayed in the dorms for two nights and it was fun. I really liked everyone on the team."
That will make the transition to college a bit less stressful, but not completely free of anxiety.
"I'm a die-hard. I've been here since kindergarten. Vero Beach and St. Edward's – this is all I know. I love it here and I'm really nervous. But I'm excited to go to Troy. You've just got to try new things or you will never know what you are missing."